The dramatic impact of the Inspector final speech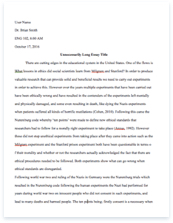 The whole doc is available only for registered users
Pages: 8
Word count: 1766
Category: Drama
A limited time offer! Get a custom sample essay written according to your requirements urgent 3h delivery guaranteed
Order Now
An Inspector Calls is a play inspecting the death of Eva Smith who from a terrible life ended it by swallowing a strong disinfected that burnt her insides out, as the Inspector stated she felt like she couldn't go on much longer. The play was set in 1912, two years before the war began. During the play Birling says that the war won't begin and that the titanic is indestructible. The importance of the play being set in 1912 is to warn the people of 1949, to show how far we have gone 33 years later.
Priestly was clever in the way he wrote A Inspector Calls to warn people not to make the same mistakes that was once made and not to go back to how society was, where men had power over women and people were unfairly judged by what social class they were/are in. Before the Inspector enters the room – all four of the Birling's and Gerald Croft were in the dinning room. Arthur Birling at one end and his wife Sybil Birling at the other, Sheila and Gerald seated upstage at and Eric is downstage.
Edna the parlour maid is just clearing the table of dessert plates and champagne glasses, and she then replaces them with decanter port, cigar box and cigarettes. Effects of this are showed by the champagne glass and everything else is that they are a wealthy family able to afford such luxuries such as alcohol and cigarettes. They is pink an intimate lighting that will soon change when is Inspector come to show the change in mood. The table is not fully dressed but because of the wealth of the Birling's it will not be because they are poor.
Which has no cloth" maybe because the table is so grade and fancy that they wanted to show it of with the family being is rich this table will help so off their wealth and look more rich. Everyone is jolly and is celebrating the engagement of Sheila and Gerald; they all are pleased with themselves. Showing the Gerald is happy he politely compliments dinner. "Absolutely first class. "
He is very pleased with dinner and agrees with what Birling said earlier about the dinner. Very nice. Good dinner too, Sybil. Tell the cook from me. " Effect of Gerald saying what he did straight after Birling may apply that he is sucking up to Birling because he wants to stay on Birling's nice side so that he accepts and respects Gerald's more. Birling being happy about this goes against what his wife Sybil about not saying such things cause as higher class people they shouldn't compliment lower class people that are also working for him.
Birling's says "Oh come, come – I'm treating Gerald like one of the family, and I'm sure he won't object" Gerald gets what I think he wants when called one of the family, even though he isn't yet a part of it, he doesn't object because he want to say on good terms with the Birling family especially with some of the things that is later revealed in the in the play. Not only does Gerald want to say on good terms with Birling but because the Croft family owns the bigger factory Birling would like to stay on good terms with Croft so that he can get a share of the fund.
Probably because Birling in is ways is greedy and cares more for himself than anyone else. "He is a heavy looking, rather portentous man. " When Birling talks about the future he is very serious and significant and believes strongly that WW1 won't start and it's all just rumours. "… fairly easy manners but rather provincial in his speeches. " In his speeches Birling empathies how happy he really is about his business and the engagement.
I think that the audience see Birling as a man caring very little about his family life and others around him outside his family and that he shows little attention about Eva Smith and what happen to her, which makes Birling seem very ignorant to the audience because of his attitude towards people in a lower class to him. When the Inspector enters the room, Birling acted like he wasn't interested or bothered and just wanted the Inspector out, he knew that if people outside his family knew that he had an Inspector round to ask questions enquiring into a death it could ruin his reputation.
The lightening in the room changed so that it's harder and brighter, making the Inspectors arrival more dramatic and immediate. When Edna comes in to tell Birling that they is an Inspector here, he just shrugs it off with jokes making Eric seem very edgy even though he tries to reassure Eric, "Only something we were talking about when you were out if the room, a joke really. "Birling says this in a light tone so Eric knows not to worry, but he's still rather uneasy even when the Inspector isn't here and if he's like this now, imagine how he will be when he is in the room.
The final speech is very dramatic in the way it's delivered with its strong language and structure. It shows that the Inspector is in charge "(taking charge, masterfully) Stop! " the Inspector buts in gracefully taking control again of the situation so that he deliver his final speech. It's clear the Inspector has left a lot to think about. Priestly's final speech is to grasp the audience attention by making it as dramatic as possible. His speech almost got Eric at breaking point. "Then – You Killed her … and my child she'd have had too – my child … ou killed them both – damn you. "
As Eric talked he stumbled his words for effect the he is upset and angry at his mother for denying her of help. Everyone was at each other's throat, from knowing the full extent of what they all have actually done to play at part in Eva Smiths death. Birling started it by firing Eva from her job at the machines. "A good worker … and they suddenly decided to ask for more money … twenty-five shillings a week" even though Eva was a good worker a ready for a promotion she still got fired for asking for a bit more to support herself.
Eva found herself another job, a good job working in a well known clothes shop, but that's where Sheila fits in, "I told him to get rid of that girl, I'd never go near the place again and I'd persuade mother to close our account with them. " The Milwards manager had no choice; the Birling's was one of his biggest costumers they couldn't really afford to lose them. She was fired as because she was smiling at the assistant and Sheila being in a bad mood already didn't help.
Sheila didn't want to try for another job she thought why bother so she tried for a different kind of life. She changed her name to Daisy Renton. Gerald first met her in March at the Palace music hall at the stalls "Obviously she wasn't enjoying herself Old Joe Meggarty half drunk and goggle-eyed wedged her into a corner… " it was impossible for her to escape on her own she needed him. So he went over to help he saw looking with a sad expression "Nothing less than a cry for help, so I went across and told Joe some nonsense.
He then went off and that got him out of the way. Gerald took Eva to the county Hotel, for a drink and a chat. Eva had no money and nowhere to sleep, Gerald got given a key to a couple of rooms, so he insisted that she stayed there and gave her some money, and in return she became his mistress. She fell in love but Gerald had to end it because of Sheila. Eva then ran into Mrs Birling, she went to her for help, but was denied, "She called herself Mrs Birling … simply a piece of gross impertinence.
Mrs Birling was so mad at Eva for used her name so she used her influence to have her case refused. Eric met her at the Palace bar as well and insisted to go home with her. "I was in the state when a chap easily turns nasty" even though Eva didn't want to let him in, she did. Eric got her pregnant when he found out this, he offered her money and even marriage, Eva refused both of them, she knew that the money was stolen and the Eric didn't truly love her. Inspector Goole's point of the speech shows a success for younger generation's in the future.
Birling representing the older generation insist that all of this is dome kind of 'joke' but Eric representing the younger ones restores hope as says: "And I say that the girl is dead and we all helped to kill her that's what matters. " Eric confirms that what Goole said really did take an impact and difference on the views of people, Goole's visit was justified and valuable lessons were learned. Through the Inspector, Priestly wants the society of 1946 to see these lessons and too remember them so they can adapt them into their own lives, this way people may be able to live a better life and get treated with dignity and respect.
I feel that this message is still relevant today, without it men may still have power over women. As cleared up by Gerald asking around about an Inspector Goole seeing what could possibly find out about him, but what he found was that no one has ever heard of him. The name Goole may suggest of a pun as it sounds like 'ghoul' some kind of ghost may be a ghost of Eva, which would explain how he knows so much of her and everything that was said and happen.
The inspectors final speech wasn't anything to do with crime which you would expect but more to do with their social responsibility and how they have ignored it. Goole gets very personal and emotional in the final speech "We are members of one body. We are responsible for each other. " This says that we all have to look after each other because if harm one person then you are bound to be hurt back in some way. Through the Inspector and Eva Smith, Priestly has been able to make sure that the Birling's and Gerald see the full horror of what they have done.
Related Topics