Performance Of Their Official Duties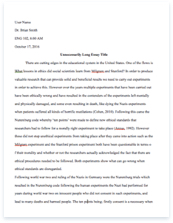 The whole doc is available only for registered users
A limited time offer! Get a custom sample essay written according to your requirements urgent 3h delivery guaranteed
Order Now
Thru my career as an enlisted Soldier, I have interacted with many substandard Noncommissioned Officers (NCO). All of them are the most fundamentals assets, as we are called on our creed" Backbone of the Army". We are referred to as the accomplishers of missions and served in each of them with pride in their job duties. To have a failed mission is unacceptable for us. I will explain some of the importance of having some professional NCO for the benefit of our futures Soldiers, the famous "quid-pro-quo", leading by example and our famous Branch Managers. In order to set the standard on train our future leaders, we need to be a good leaders. In the Army, we all have mandatory classes which in order to get next rank.
The NCO should train the Soldiers on the system in order for them to be successful. We need to also be proficient in the course in order to train our Soldier. These courses are also needed for career professional development. If the NCO is not motivated on finishing their courses they have no luck on the selection for his next rank. Soldiers across the Armed Forces will look up to their NCOs on their way to behave professional. Training our future Soldiers is the key to being a successful and prepare our future leaders. There are other trainings required in the preparation of being a Soldier. A few of those classes are need annually and are mandatories like for example Sexual Harassment/ Sexual Assault Prevention Program (SHARP), Equal Opportunity classes (EO), that will give the Soldiers some type of sustain on the battlefield.
Some of the time that the NCO fail their Soldiers is by not ensuring their Soldiers are trained to prevent things such as harassment, bullying and suicide. However mental health of the Soldier may be impacted by many factors like for example, personal or family matters, health problems, financial, marriage or separations, and more and other factors that may not be direct related to being a Soldier or any war conflict. There are some inappropriate and unacceptable practices that may occur in the militia. The famous word "Quid-pro-quo" is seen a lot in the military which indicates that an item or a service has been traded in return for something of value. Many times leaders use this to get what they want from junior Soldiers. This is inappropriate in any force and location.
Although some people say is more like the term "you got my back, I got yours" you never want to be accused of using quid pro quo as you may face a court martial depending the grade if the incident. Quid pro quo is a violation of the U.S. Army's values, creeds and warrior ethos. Any infraction of the integrity of this trust will degrades the organization's mission readiness and overall effectiveness. In order to be a professional, you have to lead by example. In order to do so, you should maintain your physical fitness, seek to better your education level and adhere to the Be-Know-Do. Maintaining physical fitness is a must in the Army. You should never be unprepared to take a physical fitness test regardless of location. The importance of this is a preparation for any situation that may arise.
Army enables you to handle certain missions to a high standard and without injury. It improves your job performance, overall health and maintains resiliency. The NCO corps should ensure their Soldiers are fit to keep the Soldiers thinking, making good sound judgments and learning skills for the battle field. Robin Sharma perfectly state leadership in his Little Black Book for Stunning Success: "Leadership is not about a title or a designation. It's about impact, influence and inspiration. Impact involves getting results, influence is about spreading the passion you have for your work, and you have to inspire team-mates and customers.
Education both military and civilian is extremely important for any Soldier. Lot of times they become complacent with the job and forget education is a self-starting task that they must complete. If a NCO feel the Soldier is falling behind, it is their job to ensure that Soldier is taken care of. Most Soldiers join the Army between the ages of 17 through 19. Some of them education is not a huge priority for them, therefore their NCO should ensure that is set up for success with all the necessary steps to enroll in a college course to further their education. In the Army the NCO corps they have branch managers which they are in charge of managing Soldiers duty stations and positions change.
The Officers have what is called career managers. Career managers stay with the officers careers and track what the best assignment is to achieve the next higher rank. Although they are designed to do the same things, they do not. Enlisted Soldiers branch managers look at the entire Armed forces and find which position needs filled immediately. This is done regardless to what is best for the Soldier or their families. They should look at the big picture of the assignment instruction and decide if they Soldier have a family? Or if the Soldier have any kids? What's their age? Is this Soldiers spouse in the military? Those are a few questions that need to be asked prior to being placed on assignment. This could have a big impact of the service member and their families.
Related Topics