Oscar Wilde's The Importance of Being Earnest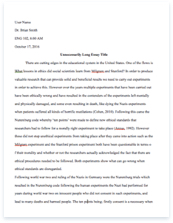 The whole doc is available only for registered users
A limited time offer! Get a custom sample essay written according to your requirements urgent 3h delivery guaranteed
Order Now
Oscar Wilde's The Importance of Being Earnest is one of his more prominent plays, and many years after it was written, it still makes audiences laugh throughout the world.  For a play that was produced in 1895, it keeps its humor intact at present time.  What could be the reason behind it?
            The Importance of Being Earnest is about two friends named Algernon Moncrieff and Jack Worthing, J.P. They both participate in what is called "Bunburyism," wherein one keeps an alter ego, either in the form of a relative or a friend, to further one's social interest.  In Algernon's own words in a conversation with Jack, "You have invented a very useful younger brother called Earnest, in order that you may be able to come up to town as often as you like.
I have invented an invaluable permanent invalid called Bunbury, in order that I may be able to go down the country whenever I choose (Wilde 13)." Trouble begins when both men pretend to be named Earnest for the sake of their respective inamoratas, and they get tangled on their web of lies.  Jack is known as Earnest by his lady love, Gwendolen Fairfax; Algernon, on the other hand pretends to be Earnest, supposedly Jack's brother, then he falls in love with Jack's ward, Cecily Cardew.  They all end up in the same place, and were then forced to reveal the truth.  In the end, more things were revealed than expected.
            How can such simple story be as appealing then as it is now?  Where does the funny part come from?  To begin with, false pretenses and mistaken identities are always funny.  Whether it may be in a movie or play, situations wherein characters pretend to be something other than their true selves always result in comedy.  It is simply because when people are preoccupied with the lies they create, predicaments arise and most often than not, they give way to hilarious occurrences.
For instance, there is the encounter of Cecily and Gwendolen, wherein they start off as friends but begin to argue with one another when they both thought they were engaged to the same man.  It is not to say pretension is advised for the sake of comedy; it merely shows that when one does something that he or she should not be doing, it can lead to entertaining scenarios.  Whether it is a play set in the 1900s or a movie made in the twenty-first century, the same premise holds true.
            Exchanges are also very funny, regardless of which generation it was conceived.  Take the scenario of the baby and Miss Prism.  She was supposed to leave the baby in the perambulator while the hand bag is the place for the manuscripts.  Instead, she puts the baby in the bag and the manuscripts find their way in the walker.  Misadventures of this kind always reaps hilarious feedback, may it be in the black and white episodes of the Three Stooges or the box office movies of the Ben Stiller or Vince Vaughn.
            Another reason why Wilde is still entertaining at present is because of his observations about society that still happens today.  This comes in the form of Algernon's dialogue.  In the play, he causes Jack much despair because of his senseless ramblings, but still, it holds true in certain areas.  More than once, Jack has uttered to Algernon: "Oh, that's nonsense, Algy.  You never talk anything but nonsense (Wilde 33)." For example, there is Mr. Moncrieff's opinion about romance and proposals: "It is very romantic to be in love.  But there is nothing romantic about a definite proposal.  Why, one may be accepted…then the excitement is all over.
The very essence of romance is uncertainty (Wilde 8)."  In this day and age, it is not unusual to hear a married woman mentioning the sudden change in her husband, with her complaining about the romance now gone.  In addition, there is Lady Bracknell, which has this to say: "Never speak disrespectfully of Society, Algernon.  Only people who can't get into it do that (Wilde 90)." It is very accurate observation which is still witnessed at present.  A hundred years after it was written, it still points out circumstances that are not far from our daily lives.
            Wilde is considered as seriously funny without being taken seriously because regardless of his audience, his humor still makes people laugh.  This body of work was created in the nineteenth century, but Wilde's comical genius makes it possible to affect viewers or readers in the twenty-first century.  He is seriously funny, insofar as no one can deny that talent he has for creating plays that surpass the test of time without losing its original charm.  At the same time, he is not being taken seriously, simply because this writer need not seek approval of critics.  His work speaks for itself.
            In essence, the secret to Wilde's comic influence all this time can be attributed to both universality and irony.  His themes and topics of discussion reflect ideas still present today, while his observant ramblings continue to strike a humorous chord.  Moreover, the irony of truth being unleashed from the guise of falsity makes room for more than a few laughs.  For man who continues to make audiences in the twenty-first century laugh with a nineteenth-century masterpiece, Wilde is very lucky indeed.
Works Cited
Wilde, Oscar. The Importance of Being Earnest and Other Plays. Ed. Cynthia Brantley Johnson. New York: Pocket Books, 2005.
Related Topics