"Oranges Are Not The Only Fruit" and "The Colour Purple"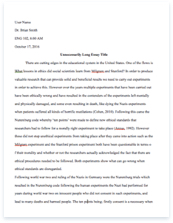 The whole doc is available only for registered users
Pages: 7
Word count: 1568
Category: Novel
A limited time offer! Get a custom sample essay written according to your requirements urgent 3h delivery guaranteed
Order Now
In both novels the narrator of the story seem to have a lot of people surrounding them, however both have someone they can turn to as their role model. Shug Avery has been presented as a rather likeable character in the colour purple, whom Celie has confided in, and has found true happiness with after the problems she faced throughout her childhood.
In Oranges Are Not The Only Fruit, Jeanette seems to rely on Elsie Norris as someone she can rely on and as someone she can go to get away from the life of an oppressed young girl who may not always want religion as her main priority.
In the Colour Purple, Celie starts the novel off by using a graphalogical effect in italic letters, this introduces the main event of the story about how Celie writes to 'god' because it seems she only turns to god for comfort. Then we enter the main novel being delimited with Celie's childhood life. The fact that her stepfather has raped her disturbs the readers thought about the story and how Celie is going to behave further on, we seem to be uncomfortable to be left with a vision of a young girl raped with no-one to help her get through it, the death of her mother and the role of her looking after her young siblings show us as the readers the hard life Celie has. The forced marriage she goes through effects us and we feel like this is the way her life is probably going to be till the end.
When Shug Avery is introduced and Celie seems to have an interest in her it makes us as the readers have a sense of hope for Celie. Shug Avery is firstly mentioned in letter number 6, where Celie has no idea of who she is, neither do we, and as much as Celie is anxious to know 'what it is' we too want to know what it is that has brought interest into. Shug Avery being someone Celie dreams after this makes us happy and want to know whether Shug Avery will be a role in Celie's life or not. Alice walker has probably deliberately used this style to make the readers like Shug Avery so far because it's a turning point in Celie's feelings about someone apart from her sister Nettie.
Jeanette in 'Oranges' starts her novel by talking about her own life and her relationship with her mother. She plays a slightly religious freak role that seems obsessed with her work and doesn't like her daughter to be too much involved in anything apart from religion. For instance she doesn't let Jeanette go to school and when Jeanette was ill (deaf ear) she changed her illness to something that had filled her with spirit, however she looks up to her mother admiringly without wanting to be like her, which is fair enough because it seems Jeanette isn't very satisfied with the amount of attention she is paid personally.
Elsie Norris however, seems to be someone whom Jeanette admits that she 'likes very much'. Elsie is an interest to Jeanette because in a sense she is rather different to Pastor Spratt who seems to be very hooked with Mrs Winterson's work, her father who doesn't even have a role yet in the novel. Elsie Norris provides Jeanette things that Jeanette finds a sentiment in, which are very different to the things found in her home. In her home she would be likely to find stacks of biblical books, and church hymns whereas in Elsie's home there is things like an organ which they play on, foreign coins and 'best of all she had a collage of Noah's ark'
Elsie seems to give Jeanette power over things that she doesn't necessarily believe in it to be the way she has been taught. She for example changes the 'Noah's ark collage' story to the way she would like it to happen, she decides that she doesn't want them to survive, therefore she 'drowns it'.
This shows that when she is with Elsie unlike with her mother she feels free to explore her inside feelings and to feel creative with her imagination; her mother doesn't give her this freedom. Elsie seems to play the mothers role or like a best friend role rather than Jeanette's mother.
Celie, through the thought of Shug Avery, can make anything possible when thinking about Shug Avery, for instance she says that when she thinks about Shug and that she knows that Mr.________ has done this with Shug she puts her 'arms around him'. This shows that even before Celie has actually got to know Shug she is already building confidence and reliability on Shug.
Alice walker uses a verisimilitude style of writing with the diary form to present Shug Avery as the 'dress to kill, beautiful woman ever seen' to bring connotation s of Shug being a loveable, kind and popular character. By using the description of the way she dresses, the way she poses in the picture Celie has seen it makes it easier for the readers to imagine Shug Avery.
Celie already, before meeting Shug, has filled her thoughts with obsessive feelings about Shug, whenever she is mention Celie's 'ears perk up' and when it is announced that Shug is coming to town she describes her excitement as 'the announcement is burning a hole in my pocket'. Therefore all these create an individual status for Shug, it shows that her role is a positive one played for Celie. Shug seems to have offered Celie confidence, happiness and a role of a person Celie dreams to be like. Like Celie mentions 'someone got to stand up for Shug'
Celie is a character that doesn't seem to be able to divide reality with an imaginary feeling, when Shug comes to stay with them in letter number 22, Celie doesn't mind when Shug calls her 'ugly' which is rather ironic because we expect Celie to be hurt about the fact that Shug her dream woman has called her something which she has been forced to believe. Therefore her state of existence has been portrayed as an ugly person which she now accepts as something normal, therefore this shows that Celie doesn't really have a mind of her own, she seems to accept people's words.
She takes care of Shug, whilst Shug behaves insensitively towards her, she doesn't mind the fact that she has slept with Mr._____. These show that because of her admiration of Shug she doesn't mind what she has done, she likes to accept her for her originality, she finds Shug's actions amusing. Celie seems to look up to Shug to provide her love.
Shug has been presented as the only one in the book apart from Nettie who can supply Celie the affection, pleasure and the thought of clearing her mind from her recent, past problems, which she needs. It seems that when the start a relationship it helps Celie find her true self and it helps her to be dominated and free to do what she wants even though she the same as before, deep inside herself she believes she has the power to do what she wants. It also shows that Shug's role has been to create a rebellion inside Celie's mind because she has the power to choose who she wants to sleep and love. It shows something that would be probably immoral that she has done. She didn't need to follow the rules she was set out by loving Shug.
When Jeanette in 'oranges' is admitted to hospital her mother doesn't really know her ole as a mother, she doesn't spend time with her however Elsie is Jeanette's main priority. It seems that if Elsie hadn't visited her she 'might have languished alone for the rest of the week' she doesn't really mention how disappointed she could be because her mother didn't come to visit a lot.
Elsie has been presented as a very close person to Jeanette, someone who tells her 'jokes to make her smile' a person that tells her 'stories to make her feel better'.
Elsie helps her to understand the other side to all the religious deeds that she has been hypnotised so much in depth with. This shows that Elsie tries to tech her many things that she should know about, Jeanette's too through the person she may look up to so loveably helps her to be rebellious. Elsie teaches her numerology Jeanette's feels a rush of 'excitement' because she knows that her 'mother would disapprove' this shows that she doesn't really care what her mother says, she will do the things she wants behind her back. Her mother doesn't seem to hold a parental figure. Jeanette recalls that she and Elsie 'had a good time' which shows that Elsie provides happiness and a sagacity of individuality unlike her mother.
Jeanette always see Elsie as a person who plays her mothers role because she admits that Elsie has 'encouraged' her and has helped her 'recover confidence' within herself ('thanks to her'). She doesn't see her mother like Elsie, I think that Jeanette would be bothered if Elsie minded something she did, but she doesn't think it matters if her mother disagrees with something.
Related Topics