Online vs Classroom Education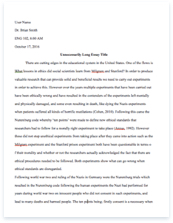 The whole doc is available only for registered users
A limited time offer! Get a custom sample essay written according to your requirements urgent 3h delivery guaranteed
Order Now
At first glance, online education might seem like an easy and undervalued way of obtaining your education. However, after years of testing and constant studies, online learning is gaining acceptance by the education industry as an acceptable and productive way of obtaining your education. One such study suggests that online learning is actually a more efficient and effective way for students to learn. Below are some of the pros and cons of online learning versus learning in a traditional classroom setting.
Online Learning
Pros
Allows for learning in in distant or disadvantaged locations Online education is easy to access and provides a convenient way to obtain course materials such as homework, exam schedules, test scores and more. Most online learning environments are accessible from a standard internet connection and typically require average home computer system requirements. Facilitates easy information transfer
For most online schools, all course information is obtained by browsing the internet and sending/receiving email. This instant and secure transfer of information provides a convenient way for students to communicate with their instructors and fellow classmates. Some classes participate in chat sessions on a weekly or even more frequent basis. This provides a means for students to interact with each other while learning a particular subject thus enhancing the overall learning experience. Also visit Online Degrees for further detail regarding distance learning and training. Cons
Changing technology may create barriers to accessing learning environments As with new teaching methods, online learning has faced much criticism from many sources as they claim it has devalued post secondary education and will reduce the effectiveness of obtaining quality career positions by obtaining higher education. These skeptics claim many existing barriers to effectively learning complex subjects in an online-only setting. They also feel that it isolates the students from one another as well as their instructor reducing the overall value of taking the course. Limited understanding of effective teaching methods due to youth of online learning
Due to the youth of online learning, there has been little research conducted to evaluate the teaching methods or the effectiveness of student comprehension through an online-only learning environment. Some programs also offer a combination of online and classroom style teaching for the same course. This allows for the benefits of both types of learning to be realized. Classroom Learning
Pros
Provides interactive classroom setting that promotes the open exchange of ideas.
Having numerous students learning in the same classroom has the added benefit of allowing students to exchange ideas and questions with one another providing another valuable learning medium that online envrionements cannot replicate. First-hand interaction with the educating professor also allows for ideas to be exchanged freely and without any communication barriers. Cons
Encourage passive learning
Depending on the level of interaction in the classroom setting, shy students may be allowed to attend classes without providing alternative ways to communicate ideas. Forcing students to learn by vocal exchange with a professor may limit their ability to learn. Ignore individual learning differences between students
Classrooms environments tend to group students together in large number often making it difficult for instructors to isolate learning deficiencies and provide the necessary close attention that individuals may need to learn. Online classes allow for a more individual persepective from the professors standpoint due to most of the communication being easily handled through email and chat. Neglect problem solving, critical thinking, and higher order learning skills The classroom setting can also hinder ones ability to learn by allowing other, more vocal, students to dominate the bulk of the discussion environments. Quieter personalities are limited in their communication options for exchanging ideas and information. Summary
The truth to the matter is that there are advantages and disadvantages to every type of learning environment. It is best to use the advantages that each method offers to their fullest extent. It appears from the initial studies, that a combination of online and classroom learning to convey subject matter to students will be the best teaching method. However, in some instances the inconvenience of maintaining a consistent school schedule prohibits potential students from furthering their education. Learning also highly depends on the individual's motivation to learn. So it still comes down to the effort that the students put into their education that ultimately determines how much they will retain and how beneficial the overall experience was to their future career.
Related Topics