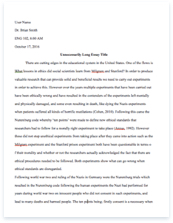 The whole doc is available only for registered users
A limited time offer! Get a custom sample essay written according to your requirements urgent 3h delivery guaranteed
Order Now
The use of Dialect is effective because it ties in with the persona, 'the Socouyant', who is part of our local 'folklore'. It also adds humour to the otherwise serious poem, because the poem deals with the matter of there always being a ' Dark side' to everyone.
Tone –
1. Argumentative
2. Wistful
3. Arrogant
Mood-
1. Contemplative
2. Curious
3. Offended
Themes
1. Self-worth
2. Folklore
3. Pride
4. Internal conflict
Summary
'Ol Higue' is a monologue about a socouyant trying to justify her lifestyle. She tells of all her toils and troubles she faces but in the end it is worth it. She punctuates the monologue validating her existence by stating the psychology behind it
Poetic Devices
Contrast-
The persona uses rhetorical questions and then answers them. She further changes her punctuation in stanza 2. The contrast from asking to answering and short broken sentence to long fluent ones shows not only the change in her behavior and form when she becomes the socouyant but also emphasizes to the contrast between the 'ol higue' and that what keeps her alive, a baby.
Rhetorical Question
The persona asks 'And who to blame- for the murder inside your head.' But before continuing the persona pause as though giving you time for thought. This time allows you to place yourself in the personas show and makes you empathise with her.
Irony-
Lines 15-18 'of that pure blood running in new viens,……………… tempting and old, dry-up women who been holding he final note …………. years.' This is ironic because what is keeping her alive and what she lusts over is what she, herself can never be again , a baby. Babies are innocent and embraced while the 'ol higue' is considered to be evil and they are feared .
Hyperbole-
Line 10&11 "and having to bend these old bones to count 1000 grains of rice". Their isn't literally a thousand grains of rice on the floor but she says a thousand to show how much. Thinking about the length of time it would take to count 1000 individual grains of rice not only would you be annoyed after but you would be even more determined to finish what you set out to do. This helps the reader to understand how much she wants the blood of a baby and what is worth to her.
Run-on-lines
The entire of stanza 2 is made up of 2 run-on-lines 'and if only…………………running in new veins, singing the sweet ………………… for years and year.' This is done to show how drawn out her life has been, it also add extra emphasis to continuity of having to survive of the babies blood. Which was the main base of the stanza
Suspense –
She persona beings with suspene by say 'You think I like this stupidness-.' By doing this you are immediately find yourself in the middle of an intense conversation with the ol higue. She keeps using rhetorical questions and not responding to leave you thinking and wondering why does she really do what she does. The suspense is to show you how she feels about having to take off her skin and leave it, not knowing if she will come back to it being in salt and not being able to return to her human physique.
Related Topics