NASCAR Is Historically Known For Cheating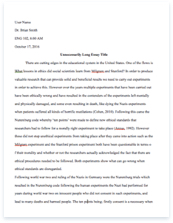 The whole doc is available only for registered users
A limited time offer! Get a custom sample essay written according to your requirements urgent 3h delivery guaranteed
Order Now
Penalties are handed out but no one seems to care. Many drivers continue to have no respect for the rules. In 2010, driver Clint Bowyer won the first race in the Chase for the Sprint Cup at New Hampshire. Afterward, his car was found to have not met official NASCAR qualifications, as the Chevrolet did not have proper body template specs. In November 2018, Kevin Harvick won the AAA Texas 500 at Texas Motor Speedway. But Harvick's car failed inspection days later for having his spoiler offset to right 0.2-0.3 inches at the NASCAR Research and Development center. Both of these examples have a lot in common aside from the obvious, that they cheated to win. The punishment can be a suspension of crew members or the loss of points or the vehicle. While this can be costly, most drivers are willing to continue taking the risk as long as they keep winning. This has begun a serious decline in the entertainment value and interest in the sport. Drivers who were able to get away with cheating proved how weak the rules are. This inadvertently brought upon more cheating for NASCAR when drivers were able to retain trophies.
Cheating significantly hurt the sport and made it much less interesting to be a part of or to watch. Many races one would not know the winner of or where their favorite driver actually placed because post-race inspections found cheaters. Many problems lied within this including fans leaving the sport as a whole. For fans who stayed, disappointment usually followed days later with different drivers being named winners. However, just a few weeks before the 2019 season started at the Daytona 500, NASCAR decided to make a much-needed change. A new set of rules were put in, completely changing the way drivers view the game. The biggest difference this upcoming season is that cheating drivers and crews will have their wins stripped away. If a car is found to be illegal, the second place driver is awarded victory. A car can be found illegal for many different reasons including tampered engines and different measures of rear spoilers.
"Our industry understands the need to focus on what happens on the race track," said Steve O'Donnell, NASCAR executive vice president of competition and racing development in a press release.  "We cannot allow inspection and penalties to continue to be a prolonged storyline. Race vehicles are expected to adhere to the rule book from the opening of the garage to the checkered flag." NASCAR is also doubling down on those with multiple failed inspections. Before, crews could bring cars through the garage and fail inspection multiple times without harsh punishments. Now the rules have changed significantly. After failing multiple inspections, team members will be ejected, practice times deducted and penalty laps given out. The rules are becoming strict but fitting for a professional sport.
The last driver who was stripped of a win for cheating dates back to Dale Jarrett in 1995. Now the hysterical culture of cheating in NASCAR will be changed for the better. Cheating drivers are given the last place finish they deserve and stripped of their win. The change in the rules leads to hope that fans will know the winner before leaving the track as inspections usually take days to find results. This new rule is also meant to discourage more drivers away from cheating with harsher penalties. Fans can now be more engaged within the race and the league knowing the cheaters are being dealt with properly. Their favorite drivers who have lost to cheaters in the past now have more of a chance of winning. Some might say that this new rule will lead to more drivers trying to find new ways to cheat. While historically it has been known that teams continue to find new ways around the rules, NASCAR has begun to take care of this problem already.
They have now shown that they are willing to add any rule it takes to keep cheating out of the sport. NASCAR made the right decision. The cursed culture of cheating might not end just yet, but when drivers see their trophies start to disappear, lots will change. A decline in NASCAR's popularity might halt and younger drivers may begin to place better in races as a new generation of drivers begins to emerge. The new rules lead to NASCAR will lead to more respect from the drivers, fans, and media again. NASCAR should become much more enjoyable to watch and follow without fans having to worry about false winners. It is one thing for rules to be said, but when they are properly implemented, NASCAR will become a totally different sport. Now they are starting to find their way back on track. If a driver cheats, they do not deserve to win.
Related Topics