My Lai Massacre – History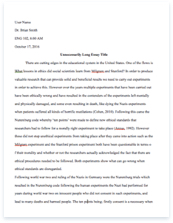 The whole doc is available only for registered users
A limited time offer! Get a custom sample essay written according to your requirements urgent 3h delivery guaranteed
Order Now
The My Lai massacre was a mass murder of innocent Vietnamese civilians. It is known as the worst atrocity of the Vietnam War. Lieutenant William Calley led the first platoon of Charlie Company during its service in the Quang Ngai province in Vietnam. The massacre took place in the hamlets of My Lai and My Khe of Son My village in South Vietnam (e.g. 'Pinkville'). Before the My Lai massacre, the United States tactic was to kill 'Viet Cong members' until they gave up. Entire villages were destroyed to abolish Viet Cong sanctuaries and support. Civilian casualties in Quang Ngai reached 50,000 each year. 70% of villages in the province were already ruined by American air attacks. The Americans fought an industrialized war. They used B52 bombers, artillery, helicopters, Agent Orange and napalm. The Americans forced civilians to leave Viet Cong controlled areas to create 'free fire zones'. The idea of 'free fire zones' was that it was an area where civilians had been removed.
The people left behind were thought to be part of the Viet Cong. The tactic of the Americans is to have 'search and destroy' missions in these areas. The Viet Cong took advantage of the jungle, hiding behind trees and hedges. The 1st Battalion, 20th Infantry Regiment, 11th Brigade of the 23rd Infantry Division and Charlie Company suffered 30 attacks from the Viet Cong (booby-traps and land mines) causing many injuries and five deaths. The American army's comeback was to attack the villages suspected of containing to Viet Cong. They were to burn houses, kill off livestock, spoil crops, and pollute wells so it would deny essentials to the Viet Cong and their supporters. The purpose of the massacre was to kill the people that were part of the Viet Cong. They believed everyone in the My Lai was either Viet Cong or Viet Cong supporters and that actual civilians would be away at the markets.
The villagers hadn't gone to the markets that day because they heard the shelling and helicopters, instead they were hiding in their homes. On the morning of March 16th Calley commanded the first group of men to land at My Lai after they had created a landing zone (firing 120 shells into rice paddies). His orders were to start killing villagers when they arrived at 7:30am. Calley ordered his men to enter the village firing, even though there was no report of opposing fire. It was a 'search and destroy' mission. The American troops killed between 347 and 504 un-armed civilians. The majority of civilians killed were women, children, infants and the elderly. Some of the women were gang raped, their bodies left mutilated on the ground. Many of the women were raped before they were killed.
Some of the soldiers treated the killings like a game, brutalizing the murders. They had carved 'C Company' or the shape of the ace of spades into the victim's chests. As the murders continued, men started getting more comfortable with the idea, boasting about the number of Vietnamese they shot. Charlie Company assumed that all of the Vietnamese people were involved with the Viet Cong, even babies. Hugh Thomson stated that when he created flares to mark the locations of wounded civilians, soldiers came and killed the wounded. The American soldiers also fired machine guns into huts. The U.S. army tried to cover up and suppress information about the raping and murdering at My Lai. They downplayed the event saying that the majority of the people they killed were the Viet Cong.
Journalist Seymour Hersh released information on what really happened in November 1969. The army was under intense pressure from newspapers so they put William Calley on trial. On June 5th 1969 William Calley was called back to the U.S, as a suspect in an authorised army investigation. Eyewitnesses at the event later confessed that Calley had rounded villagers into a ditch and shot them all with a machine gun. Calley was at first charged with the murder of 109 civilians. There were many cases trialled with a jury of army officers; in the end they dropped all charges against all the defendants (26 others were originally charged with criminal offences) except for Lieutenant William Laws Calley. He was charged with killing 'at least 20 civilians', he was sentenced to life imprisonment. Calley ended up serving only three years, largely under house arrest, after his original life sentence was reduced by the Army.
The significance of My Lai massacre is that it is a reminder to armed forces around the world of what can happen when soldiers refer to their enemy as less than human. The Americans also realised that their military is flawed, that Americans are capable of committing atrocities. They realized that they are not always the hero's, horrifying the general public. The My Lai massacre turned more citizens against the war, they now truly realised the cruelty and brutality of it. A mother of one of the soldiers accused of killing civilians stated that "I sent them a good boy, and they made him a murder". Support for the Vietnam War never recovered, eventually leading onto the withdrawal of troops from Vietnam. It had a huge affect on the Vietnamese, their despair turned into a strong hate towards the Americans.
The American soldiers took away their brothers and sisters, the civilians had to live with the memories and depression from the event. Troung Thi Le lost nine members of her family in the My Lai massacre. She spoke to the authors of 'Four hours in My Lai' saying "I won't forgive. I hate them very much. I won't forgive them as long as I live. Think of those children… still at their mother's breast being killed… I hate them very much." It is also significance because it enlightened the American public of the United States government's policy of concealment – how well they had covered the event up for 18 months. It also shows the lack of truthfulness of the armed forces. The My Lai massacre is significant today because it educates the army to carry out missions within the expectations and standards of our society.
Lieutenant William Laws Calley
William Laws Calley is a convicted American war criminal and former U.S. army officer found guilty of murder for his role in the My Lai massacre on March 16th 1968. Calley led the first platoon of Charlie Company during its service in the Quang Ngai province in Vietnam. Calley commanded the first group of men to land at My Lai, ordering them to kill villagers. William believed that there was a massacre, but he was only following orders. After the memorial service on March 15th for the dead soldiers involved in Charlie Company (killed by mines, booby traps or snipers), Medina apparently briefed them on a three day 'search and destroy' mission to be put in place on March 16th.
"The men were hurt real bad, real bad," said a member of the Company. Captain Ernest Medina was the commanding officer of Charlie Company, 1st battalion, 20th infantry of the 11th brigade and the Americal Division – the group accountable for the My Lai massacre. Numerous men claimed that Medina, in that briefing, ordered the killing of 'every living thing in My Lai'. Also the burning of homes, killing of livestock, destruction of crops/other foodstuffs, closing of wells and killing of people found at My Lai. Calley believed that the people there would be a member of the Viet Cong (or Viet Cong supporters) and that actual civilians would be away at the markets. When Captain Medina was court martialled in 1971, he denied that was his instruction, stating that his men killed civilians under their own commands. In captain Medina's testimony he stated that Colonel Barker had received permission from the Army public of Vietnam that My Lai could be destroyed as it was a Viet Cong stronghold. Lieutenant Colonel Barker was the task force commander.
He was in control of A Company, B Company and C Company, and many other divisions. Medina also said that he was not aware of his men's atrocities until it was too late. He stated that he informed his men that the residents might be Viet Cong or sympathizers. The prosecutor thought it was 'incredible' that Captain Medina had constant radio communication with Charlie Company, but yet had no idea of the crimes the soldiers were committing. Calley had testified at his trial that he was ordered by Captain Ernest Medina to kill everyone in the village. The trial over William Calley ran for 77 days, it occurred in late 1970 to early 1971. Over 20 Charlie Company soldiers declared to the court that Medina sent out instructions to slaughter everybody in the village.
William Calley referred to himself as a dutiful soldier – "I was ordered to go in there and destroy the enemy. That was my job on that day….I carried out the orders that I was given, and I do not feel wrong in doing so, sir." Psychiatrists inspected Calley testifying that 'he did not feel as if he were killing human beings but rather that they were animals with whom one could not speak of reason.' Calley and his platoon overlooked the humanity of the villagers because they believed that all Vietnamese people were the 'enemy'. They were thought as less than human because the American military policy secured the stereotypes/beliefs. All ranks of the US forces called them 'gooks', racism was very common.
'The mere gook rule' developed in Vietnam. Vivienne Sanders believed that dead bodies meant 'promotions' for American soldiers. 'If it is dead and Vietnamese, it's Viet Cong". Calley believed that he was a scape goat of the United States policies. The army had been pressured by the American media, so they had put him on trial to cover up everybody else's crimes. Even though his charges are justified, more people needed to be sentenced that were involved in the My Lai massacre. He believed this because he had watched many others commit atrocities. The soldiers took their own initiative; the majority of the men apparently did not need Lieutenant Calley's encouragement or directions to commit murders.
Lieutenant Calley recalled seeing one of the members of his platoon raping a woman. He told the soldier to "get his pants back up and get over to where he was supposed to be". Every soldier had been trained according to the Geneva conventions, so they certainly knew them. Calley defended himself at the trial stating that the army trained him to hate the Vietnamese. He was told that the Vietnamese children were very good at planting mines. Fred Widmer (radio operator with Charlie Company) defended William Calley's decision by stating "When we first started losing members of the Company, it was mostly through booby traps and snipers… We had heard a lot about women and children being used as booby traps and being members of the Vietcong… There was no question they were working for the Vietcong… you didn't trust them anymore. You didn't trust anybody… And I would say that in the end, anybody that was still in that country was the enemy." Before William Laws Calley was assigned into the army he had dropped out of school and was unemployed.
The general public wondered why Calley had been assigned his position in the army, due to his bad emotional and intellectual stature. Despite his high rank, the men in his platoon felt resentful towards him. Some of them reported to army officials that Calley lacked common sense and could not read a map and compass properly. Many members of Charlie Company witnessed Captain Ernest Medina treat Calley with disrespect. As Lieutenant Calley was an officer that was not respected, some soldiers had a history of antagonizing him about instructions they had found foolish. Lieutenant Calley's plans would have been abandoned if the other soldiers did not agree, so it was unfair to give him the entire blame. Calley wanted to earn respect from Medina so he followed all orders accordingly. Lieutenant Calley believed that he was as innocent as the soldiers; he was only following orders like they were. Calley stated "When my troops were getting massacred and mauled by an enemy I couldn't see, I couldn't feel, I couldn't touch… nobody in the military system ever described them anything other than communists".
Calley's comments gained sympathy from the American public. Calley was "as much as a victim as the people he shot" according to Seymour Hersh. Jerry Cramm (a student from Oklahoma City) sent a letter to life magazine during December 1969 stating "Under no circumstances do I think a person placed in the situation of being required to kill should be punished for killing the wrong people". The 'Ledger-Enquirer 'published that William Calley publicly apologized for his actions at My Lai during the week of the 21st August 2009 in Columbus. "There is not a day that goes by that I do not feel remorse for what happened that day in My Lai," Calley told members of the Kiwanis Club of Greater Columbus on Wednesday. His voice started to break when he added, "I feel remorse for the Vietnamese who were killed, for their families, for the American soldiers involved and their families. I am very sorry." He admitted to thinking the people in My Lai were part of the Viet Cong but now had realised they were civilians. Ronald Lee Ridenhour
Ronald Lee Ridenhour was a helicopter door gunner who served in the 11th infantry brigade during the Vietnam War; he flew over My Lai a few days after the massacre noticing the destruction. He played an immense role in the investigation of the My Lai massacre. On March 18th 1969, after he was discharged from the army (December 1968), he wrote a letter with all of the evidence he had found concerning 'Pinkville'. In early April 1969 he sent letters to 30 government leaders, including President Richard Nixon, Secretary of Defence Melvin Laird and other members of congress. The letters prompted an official investigation against the accused, leading to the conviction of Lieutenant William Laws Calley. If Ron Ridenhour hadn't made an effort on exposing the My Lai event, it may have stayed a secret. Ronald's perspective on the event is that a massacre did occur and that the people involved should be punished.
Ronald stated that "I wanted to get those people. I wanted to reveal what they did". (http://www.historynet.com/something-dark-and-bloody-what-happened-at-my-lai.htm). Ronald Lee Ridenhour first heard of the massacre from his friends when they were serving in Vietnam. He believed, according to his letter, that 'something rather dark and bloody did indeed occur' (https://sites.google.com/a/lakewoodcityschools.org/my-lai-massacre/massacre-ends/cover-up-failed). While Ron served in the army, he collected eyewitness and participant accounts from people involved in the My Lai massacre. When Ron returned to the United States he was determined to do something, the situation made him miserable "My God, when I first came home, I would tell my friends about this and cry—literally cry". (http://www.historynet.com/something-dark-and-bloody-what-happened-at-my-lai.htm) Ronald stated in his letter that it was hard to believe that 'not only had so many young American men participated in such an act of barbarism, but that their officers had ordered it'.
His perspective on the event is that people do anything authority tells them to. Ron Ridenhour talked about the cover up and peoples responses to authority to the Los Angeles times (on March 16th 1993) stating that "Some people—most it seems—will, under some circumstances, do anything someone in authority tells them to… Government institutions, like most humans, have a reflexive reaction to the exposure of internal corruption and wrong doing: No matter how transparent the effort, their first response is to lie, conceal and cover up. Also like human beings, once an institution has embraced a particular lie in support of a particular cover up, it will forever proclaim its innocence." (http://en.wikipedia.org/wiki/Ronald_Ridenhour). One of Ron Ridenhour's closest friends in the army was called Mike Terry. He had spent four months away from Ronald in Lieutenant Calley's platoon before they were both assigned to the LRRP (long-range reconnaissance patrol unit). He told an account of My Lai, how his company massacred forty women and kids from a small hamlet one night.
After being questioned of how he could do it, he said that "I just closed my eyes and followed orders'". Ronald Ridenhour's other perspective on the event was that all of the soldiers were trained to be racially prejudiced towards the Vietnamese. The Vietnamese were called 'gooks'. Ron stated in 'Nobody gets off the bus: The Vietnam generation big book' that one of his first drill sergeants had said to him "When you get to Vietnam, you'll have one job. Killing gooks" (http://www2.iath.virginia.edu/sixties/HTML_docs/Texts/Narrative/Ridenhour_Jesus_01.html) When Ron was situated in Vietnam late 1967, all of the soldiers were speaking about killing gooks. Ron did not understand how soldiers could tell the difference between the Viet Cong and the good Vietnamese, as time passed he realised that they didn't, 'all gooks were VC when they were dead'. All of the ranks in the United States army reflected racism. The word 'gook' is traced far back to 1912 with Americans involvement in Nicaragua. Not all of the soldiers thought with that scheme though. Ronald Ridenhour's letter contained evidence that one man in the company shot himself in the foot so he didn't have to take part in the My Lai massacre.
The common way for the soldiers was to just follow orders. Ron Ridenhour's introduction to the dreadfulness of Vietnam was when a pilot called to the officers in the ground company. He asked frantically for them to help a Vietnamese man, the infantry officer got more frustrated as he ran to him. When the officer found him after twenty minutes, he took a look and shot him in the head. The officer then said to the pilot "This man no longer needs any help" (http://law2.umkc.edu/faculty/projects/ftrials/mylai/myl_hero.html). Ronald Ridenhour also recalled flying over civilians that were bleeding to death. Ronald believed that the Congress of the United States should be taking action. In Ronald's letter he wrote that the reason he sent it to the congress instead of the media was because he didn't want to damage the image of American servicemen.
In the letter he stated "I remain irrevocably persuaded that if you and I do truly believe in the principles, of justice and the equality of every man, however humble, before the law, that form the very backbone that this country is founded on, then we must press forward a widespread and public investigation of this matter with all our combined efforts.". Ronald wanted to work with the government to catch whoever was to blame for the My Lai massacre. Even though their response was slow, Ronald Ridenhour's letter pressured the government into launching an investigation. The army inspector general's office and its criminal investigative division examined the event eventually, leading to the conviction of Lieutenant William Laws Calley. Members of the army tried very hard to cover up the event.
Oran Henderson found out about Viet Cong leaflets and stated in a report 'At no time were any civilians gathered together and killed by U.S. soldiers….The allegation that U.S. Forces shot and killed 450–500 civilians is obviously a Viet Cong propaganda move to discredit the United States in the eyes of the Vietnamese people'. (http://www.historynet.com/something-dark-and-bloody-what-happened-at-my-lai.htm). Ron Ridenhour wanted to expose the individuals that tried to deceive the public. In November 1969, Ron Haeberle's photos were released in the Cleveland Plain Dealer newspaper (published November 20th) and Life magazine backing up what Ronald Ridenhour had stated in his letter.
Related Topics