My Expectation of English 098/108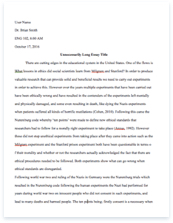 The whole doc is available only for registered users
A limited time offer! Get a custom sample essay written according to your requirements urgent 3h delivery guaranteed
Order Now
Before I moved to Philadelphia I didn't even have a high school diploma. I left Newark, New Jersey three years ago with the desire to better myself. After getting my state identification card I started looking for programs that provided the resources that would lead me in the right direction. After some time I found a program called Ready, Willing, and Able (RWA). On November 9, 2011 I was accepted in (RWA) full of anxiety, ambition, and the desire for change. The first thing I did was enroll into the adult education classes that they provided. These classes prepared the residents of the program for a high school diploma or a General Education Diploma (GED). I drop out of high school after the ninth grade so I chose the path toward a General Education Diploma. My first priority was to receive this diploma upon the completion of the program. Through prayer, hard-work, and dedication I passed the practice test which consisted of five parts; reading, science, social studies, writing, and math.
Then I set a date to take the test to receive my diploma. I passed every test except the math part and I completed the program without a diploma. It wasn't until December 30, 2013 that I set a date to take the math test. A month before taking my last and final test I studied with a tutor three days out of the week. It took a little over six weeks before I found out that I passed the test and I was extremely happy. I was so overwhelmed with the news of passing my (GED) that I told everyone I knew and didn't know and I posted the results on Facebook. After receiving my General Education Diploma I made my mind up that I wanted to continue my education. I enrolled into the Community College of Philadelphia and after a few weeks of college I realize by dropping out of school so early I lacked communication skills in reading, writing, and listening. In the English 098/108 course that I'm taking the skills I lack are becoming clearer to me and I have some expectations that I tend to meet at the end of this course. My expectation of this course is to improve in my communication skills.
The first skill I like to improve is reading. I want to learn how to make predictions, Read/write, summarize from my notes, and figure out if my prediction was true. In addition to reading I want to enhance my writing skills. Learn how to brainstorm to help me flush out ideas and build up a word bank to visualize the content of my writing. Learn to categorize and outline to avoid repetition, and compose the formal writing; know the point of the script, how to develop it with the major/minor detail and how to wrap up the disclosure. Finally I expect to improve my listening skills. This can be obtained starting with my sitting position: to have one-on-one eye contact with the speaker. Avoid distractions by turning off all electronic devices and ignoring all wise conversations. I must anticipate the speaker draw inferences from my own personal experiences which will helps me develop alertness, and enjoyment of the disclosure. Application of the listening strategies will help me create something new from the disclosure and understanding will be the outcome of the communication skills I expect to learn from this course of English 098/108.
Related Topics