Macbeth, Unnatural Deeds & Unnatural Troubles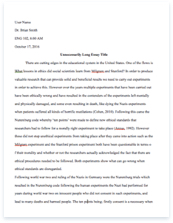 The whole doc is available only for registered users
Pages: 3
Word count: 515
Category: Play
A limited time offer! Get a custom sample essay written according to your requirements urgent 3h delivery guaranteed
Order Now
The forces of "unnatural" are present throughout the play. Even from the setting and content of the first scene, the audience can see and sense the supernatural theme that will prevail throughout the play.
In Macbeth I think that the witches are one of the main unnatural troubles. This is indicated from the very first scene where the witches are alone in "a desolate place". This gives a feeling of empty, barren, isolation and abandonment. This could be a ploy used by Shakespeare to describe old women of that era who were often accused of being witches. If they were accused, they would be outcast or even exiled from society.
There is thunder and lightening which is associated with fear and could also be described as threatening. On line 45 of Act I Scene3 the witches speak in formal blank verse to hail Macbeth. This is an unnatural deed because it is a custom usually reserved for the King.
I think that Shakespeare tried to turn Lady Macbeth into a witch. I got this impression when Lady Macbeth said, "Unsex me now" she wants God to take away everything which is natural about her, even emotions and let her be evil or 'unnatural'. In this speech Shakespeare tries to use sibilant words to make Lady Macbeth sound more sinister and evil. For example, when she says "sightless substances". I think that he also uses oxymorons to surprise the audience, because in each example used in the oxymoron he goes to the extreme opposite of the other. "Come to my woman's breasts and take my milk for gall" is an example of this because her milk would be to help a baby live but instead she wants to be filled with poison, so if she did feed her baby, it would die. The sub-text seems to be an oxymoron as well because a Baby is the beginning of life but a poison is usually used to end a life.
Also in the same soliloquy, the line "the raven himself is hoarse" is another indication of troubles in nature. The Raven's call or noise is often described as unnatural or preternatural. When the king is killed, nature is unbalanced. The thing, which I think is most unbalanced, is when the horses eat each other. Mainly because horses are not usually renowned for hurting each other. And horses don't eat meat so it is unnatural for them to even eat anything, which was once a living animal.
In Macbeth, the unnatural deeds are described differently from the general speech of the book. Shakespeare seems to use Oxymorons, Metaphors or other Descriptive methods to describe them.
Shakespeare uses phantasmagorial images to show how Macbeth progresses to get more and more evil but he also gets more and more mentally unstable. He shows this by only, only letting Macbeth see a 'Dagger' in his first hallucination, but he then lets Macbeth see Banquo's ghost. It is obvious to me by Macbeth's reaction, that he is scared and shows anger to hide it.
Related Topics