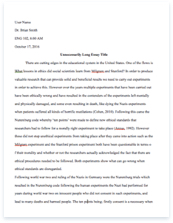 The whole doc is available only for registered users
A limited time offer! Get a custom sample essay written according to your requirements urgent 3h delivery guaranteed
Order Now
1. Evaluate LensCrafters operations strategy and explain how the organization seeks to gain a competitive advantage in terms of sustainability.
LensCrafters is an optical chain founded in 1983 by Dean Butler to provide a better experience to customers. Butler had a simple vision that you could walk into his store needing a new pair of glasses and walk out wearing them in about an hour. Butler's idea was to have his stores located in shopping malls where customers could shop while they waited an hour for their glasses to be made. The total concept of eyeglasses in an hour was new and many doubted the company would succeed. Despite these doubts, the company's sales totaled two million dollars in its first year drawing investors and opening more stores (http://www.lenscrafters.com/lc-us/about-lenscrafters).
After thirty years in the industry, LensCrafters has become a household name operating stores throughout the United States, Puerto Rico, and Canada. LensCrafters success can be credited directly to its operating strategy which has been to provide a full range of services under one roof to make eyeglass shopping a fast and friendly one stop experience. LensCrafters operations strategy is successful because of the company's focus on innovation and with providing a unique customer experience throughout its thirty years of operation (http://www.lenscrafters.com/lc-us/about-lenscrafters).
LensCrafters operations strategy is supported by their mission statement which is on being the best by creating customers for life by delivering legendary customer service developing and energizing associates and leaders in the world's best place to work crafting perfect-quality eyewear in about an hour delivering superior overall value to meet each customer's individual needs (Collier & Evans, 2013).
LensCrafters offers a wide range of products and services for the whole family including designer frames, sunglasses, and contact lenses. Independent Doctors of Optometry to provide vision care services and on-site optical labs to make and fit eyeglass lenses. Independent Doctors of Optometry offer personalized eyecare in a patient-friendly environment utilizing the latest equipment like the Optomap which digitally performs a retinal exam in under a second without dilating the eyes. LensCrafters is able to offer "custom crafted glasses in about an hour" through its use of innovations and cutting edge technology.
LensCrafters optical labs use state of the art technology like their new Anti-Reflective coating machine that coats lenses with a special film that helps relieve eyestrain by eliminating glare from computers and night driving as well as repelling dust and smudges to make caring for and cleaning your glasses easier. Features like these have enabled the company gain a competitive advantage in an industry where discount eyeglass retailers offer low prices in exchange for inferior quality, an a-la-carte menu of features, and considerable wait times which often exceed two weeks pick-up time for glasses. (http://www.lenscrafters.com/lc-us/about-lenscrafters). 2. Analyze how operation management activities affect the customer experience. Select two (2) operation management challenges and provide the solutions for confronting them.
With LensCrafters operations management activities include facility layout and design, technology selection, quality management, resource and capacity management, process design, service encounter design, and sustainability. With regards to facility layout and design LensCrafters stores are usually located in high-traffic areas, they are spacious, open, and clean with merchandise professionally displayed. This gives the customer a sense of quality when they enter a store. Technology selection with the use of state of the art eye examination and optical lab equipment allows customers to receive quality eyecare and lenses without typical waiting periods. LensCrafters focus on quality management gives the company the confidence to offer a no excuses, no explanations 30-Day Unconditional Guarantee which allows the customer to get a replacement or refund if they are not satisfied with their glasses.
With resource and capacity management LensCrafters have to ensure that there stores have adequate labor, equipment, and materials in order to fulfill their one hour promise to deliver eyeglasses. Process design is tied into the choice of technology that LensCrafters utilizes as far as the equipment along with the quality of the materials, frames, and lenses used to produce eyeglasses and contact lenses. Service encounter design refers to having a highly trained and professional staff to create quality eyewear and meet the individual needs of each customer. With LensCrafters, sustainability is the company's ability to successfully duplicate its design concept in a market filled with discount retailers offering similar services.
Perhaps the most serious operation management challenge faced by LensCrafters is economic sustainability due to competition from low cost chains and retailers. Optical chains such as America's Best Eyeglasses and Contacts offer discounted contact lenses and two pairs of eyeglasses with an eye exam for $69.99
(http://www.americasbest.com/shop/default.asp kw=BrandSearch+BroadPhrase&utm_source=278&utm_medium=ppc&utm_term=BrandSearch%20BroadPhrase&utm_campaign=278). Discount retailer like Wal-Mart have also opened their own vision centers which offer customers everyday low prices while accepting many types of vision insurance (http://www.walmart.com/cp/1078944). One way of confronting this challenge would be for LensCrafters to offer alternatives to their one hour service time for customers who are willing to wait longer periods for their glasses. This would reduce the cost to the customer without sacrificing quality.
Another operation management challenge facing LensCrafters is process design and utilization of technology. With the use of so many high-tech machines and equipment used to produce eyeglasses and contact lenses, cost of this technology is definitely a concern for the company. With all locations using this technology to provide one hour service to customers the company has to ensure that the equipment and machinery is being properly utilized. One way of confronting this challenge is by only offering one hour service at specific LensCrafters locations. This would free up valuable resources which would allow the company to invest in other areas to help manage sustainability. 3. Examine LensCrafters value chain and evaluate its effectiveness to operations in terms of quality, value creation, and customer satisfaction.
With regards to the quality of LensCrafters value chain the company is very effective in delivering high quality products to their customers through the use of quality materials, innovative technology, and a highly trained and professional staff. LensCrafters value creation process starts with providing quality eyecare for their customers through eye examinations to detect any vision problems customer currently have or are at risk of developing. It continues with using the information gather from the eye examination to make glasses, contact lenses, or sunglasses for the customer based on the results. This involves helping the customer choose a suitable frame and features for their eyewear. Then highly trained staff utilize the optical lab to make the customer's eyewear to their individual specifications. Finally, upon completion of the eyewear the customer is fitted to ensure quality and satisfaction.
LensCrafters provide customer satisfaction by offering a customer benefits package that sets the industry standards. First, customers receive all their eyecare services on-site using the most advanced technology in the business. Second, professional and highly trained staff assist customers to meet their individual needs. Third, a state of the art lab provides the technology to provide customers with their eyewear in about one hour. Finally, LensCrafters offers customers a 30-Day Unconditional Guarantee to have their eyewear replaced or refunded with no questions or explanations. 4. Determine the different types of performance measurements that can be used to measure LensCrafters service-delivery system design. Select at least two (2) types that can be applied and provide justifications for the selection.
The types of performance measurements that can be used to measure LensCrafters service-delivery system design are customer and market, quality, time, flexibility, and innovation and learning. One performance measure I would apply to LensCrafters is customer and market. Since LensCrafters is highly focused on customer satisfaction and they spend so much time and money on ensuring customer satisfaction, this would be a good way to measure how good a job their customers think they are doing. Another performance measure I would apply to LensCrafters is time. Since one of the company's major selling points is a wait time of about an hour I think that this would be a good measure to see how often they actually deliver on that promise. This would be a good indicator on if the company is achieving its vision which is at the core of their success. 5. Examine the different types of technologies applied to LensCrafters service operations and evaluate how the technologies strengthen the value chain.
LensCrafters uses both hard and soft technology in their service operations however, they mostly apply hard technology in the way of manufacturing. LensCrafters uses highly specialized equipment and machinery to perform eye examinations and make lenses. These technologies strengthen the value chain by allowing LensCrafters to offer one hour service to their customers. This technology creates a setting where the customer can watch their eyeglasses being made which makes the customer feel like they are a part of the actual process adding overall value and satisfaction. LensCrafters uses soft technology in their computer software and information systems to control the flow of information in the form of prescriptions, billing and storage of customer data. This technology strengthens the value chain by ensuring that customers receive the correct products, are billed correctly, and it helps to facilitate returns and replacements that are crucial with LensCrafters 30-Day Unconditional Guarantee with no excuses or explanations.
References
About LensCrafters. (n.d.). In LensCrafters. Retrieved July 28, 2013, from http://www.lenscrafters.com/lc-us/about-lenscrafters America's Best Contacts & Eyeglasses. (n.d.). Retrieved July 28, 2013, from http://www.americasbest.com/shop/default.asp?kw=BrandSearch+BroadPhrase&utm_source=278&utm_medium=ppc&utm_term=BrandSearch%20BroadPhrase&utm_campaign=278 Collier, D. A., & Evans, J. R. (2013). OM: 2013 custom edition (4th ed.). Mason, OH: South-Western Cengage Learning. Wal-Mart. (n.d.). Retrieved July
Related Topics