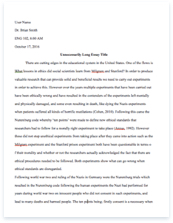 The whole doc is available only for registered users
A limited time offer! Get a custom sample essay written according to your requirements urgent 3h delivery guaranteed
Order Now
The three law enforcement agencies that I have chosen to describe are Sheriff and County Law Enforcement, State Police and Highway Patrols, and the Federal Law Enforcement Agencies. These three departments of justice play a major role in the protection of our citizens and country. The Sheriff and County Agencies patrol a vast expanse of the county in which their department is assigned. A sheriff is elected by the members of the community for two to four year terms. When a sheriff is elected he or she usually will repay their political debts by appointing new deputies or promoting (Boston: Allyn &Bacon, 1980) those who have given him or her support. The responsibility of the sheriff department is patrolling the county that they are assigning to. The duties of the sheriff department are assigned by state law. They have the responsibility to investigate violent crimes in their jurisdictions.
The sheriff department is mostly involved in the county courts and jail operations and to perform certain services such as search and rescue. The state police and highway patrols are other agencies that are important to our country and state. The state police were created to assist local police agencies, investigate criminal activities in their jurisdictions, and to provide law enforcement in rural areas that do not have local or state police agencies. There are several state police organizations known as the Texas Rangers, New Mexico Mounted, and the Arizona Rangers. There are twenty-three state police agencies in the United States. These agencies have statewide jurisdiction and authorized to perform a wide variety of law enforcement tasks. The highway patrols are law enforcers that mostly concentrate on regulating traffic specifically, traffic laws and investigating traffic accidents. Highway Patrols have limited authority, they are limited by their jurisdiction or by the types of offenses they have the authority to control.
The federal law enforcement agencies are probably the main function of the law to me. They are usually authorized by Congress to enforce specific laws or attend to specific situations. This agency was created to protect our land from terrorism, illegal transport of contraband, and to keep our borders safe. ("Feds Have a Plan if Terrorists Strike".1998) There are plenty of agencies that were created to help protect our borders and land known as the Department of Homeland Security, which oversees several other departments such as; * U.S. Border Patrol, they are responsible for protecting the borders of the U.S. * U.S. Custom Services, have agents at every port entry and exit to the U.S. * U.S. Secret Services is mainly to protect U.S. president, vice president, and their families, also the former presidents too. The Department of Justice is another agency under federal law that is responsible for enforcing criminal law and supervising the federal prisons, which also plays a role in the American criminal justice system.
This agency is consisted of several agencies that carry out these duties, they are; * Federal Bureau of Investigation (FBI) has jurisdiction over numerous crimes including espionage, kidnapping, bank robbery, interstate gambling, and civil rights violations. * Drug Enforcement Administration (DEA) is to enforce drug laws and regulations. * Bureau of Alcohol, Tobacco, Firearms, and Explosives is concerned with illegal sales of different types of contraband. Finally I have described to you three of the most important forms of the law enforcement agencies. These agencies are very important to the safety of our country's security and the safety of our U.S. citizens. These agencies were formed to protect this land from terrorism and criminal activities. I feel that these agencies have done their duties in keeping this country of ours safe.
References Pages
"Feds Have a Plan if Terrorists Strike" UPI Online (February 19, 1998) Pub. 1., No. 107-296, 116 Stat. 2135.
Vern T., Folley, American Law Enforcement (Boston: Allyn & Bacon, 1980). 228
Related Topics