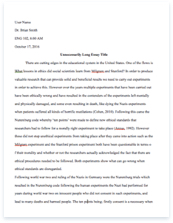 The whole doc is available only for registered users
A limited time offer! Get a custom sample essay written according to your requirements urgent 3h delivery guaranteed
Order Now
By referring to key scenes, assess how the character of Lady Macbeth is presented in the play. You should compare how Lady Macbeth is characterised in Polanski's version and in Trevor Nunn's RSC production of the play. Which version of the original text do you think makes the greater dramatic impact?
————————————————————————————————————
William Shakespeare based the play on 'Holinshed's Chronicles' and 'Faerie Queen'. It is a Jacobean play, which was written in 1606 for King James I, who was fascinated by witchcraft. The play was set in Scotland; however, in the Polanski adaptation the characters have a strong English accent, whereas a definite Scottish accent is more evident in Trevor Nunn's Royal Shakespeare Company (RSC) production.
The plays are staged very differently. Polanski's version uses a naturalistic setting and characterises Lady Macbeth as feminine. The RSC production is staged with a theatrical black backdrop, which makes it more sombre and reflects the darker side of Lady Macbeth. The soliloquies are more dramatic and revealing against the bland background and therefore are more easily distinguished, from other dialogues in the play.
Two very different actresses play the part of Lady Macbeth. She is depicted by the RSC as an older woman, played by Judi Dench, dressed in plain black clothes, her hair covered, and she wears no make-up or jewellery, except earrings. Even during her husband's coronation, she still wears black, but she does wear a necklace and coronet. She also seems to be a lot older that her husband. The majority of the cast were also dressed in dark costumes. However, King Duncan was cast as a frail, old man, with long white hair and beard – in Polanski's version he was depicted as a younger man – he wore white and the lighting effects gave him an almost godly-like glow.
In Polanski's version, the part is played by Francesca Annis, a younger actress. She has long hair, wears brightly coloured clothes and make-up. Polanski implies that Lady Macbeth is romantic, feminine, sympathetic and respectful to her husband. On the other hand, the RSC make Lady Macbeth out to be very dominant, strong-willed and respected by Macbeth.
Lady Macbeth enters the play reading a letter sent to her by her husband after he had met the three weird sisters. She appears as a ruthless, totally committed woman, who is pre-occupied with striving for the glory of her husband. Macbeth tended to speculate and think around problems, however, his wife see this as a crucial weakness. He does not lack ambition, but is concerned about the ways to go about achieving this ambition. This is noted when she says:
"yet do I fear thy nature,
It is too full o' th' milk of human kindness,
To catch the nearest way. Thou wouldst be great,
Art not without ambition, but without
The illness should attend it.
The actresses approach this scene in differing ways. Francesca Annis used her feminine charm to manipulate her husband into doing as she asks. However, Judi Dench influences Macbeth in a domineering way, she says:
"I have given suck, and know
How tender 'tis to love the babe that milks me:
I would, while it was smiling in my face,
Have pluck'd my nipple from his boneless gums,
And dash'd the brains out, had I so sworn
As you have done to this."
Judi Dench as a shock tactic to her husband used this violent imagery. It was omitted from Polanski's adaptation, as it would dramatically change the viewer's perception of Lady Macbeth as romantic and feminine. In the RSC production it emphasises her as a dominant and strong-willed woman, who will stop at nothing to get what she wants. It also suited the theatrical version better as she was dressed in black, which made her appearance seem so much more sadistic.
When Judi Dench tries to call up the dark powers, she resembles the weird sisters:
"That I may pour my spirits in thine ear,
And chastise with the valour of my tongue…"
It seems as if she is trying to cast a magic spell to instil some bravery and callousness into her husband so that he could perform the evil deed required of him.
"Come you spirits
That tend on mortal thoughts, unsex me here,
And fill me from the crown to toe, top-fill
Of direct cruelty: make thick my blood…"
She begs the spirits to "unsex me here", because she sees her gender as a weakness. It is worth noting that in Jacobean England, women gained power, only, through their husband or father. She uses the imperatives, 'come', 'fill', to give her speech a special urgency and determination.
When the body of King Duncan is discovered, Lady Macbeth faints. Could this be that she faints to distract attention, as the others might see through her husband's elaborate excuses? Or is it because she is genuinely shocked and overcome and her strength suddenly leaves her?
At the beginning of the play, Lady Macbeth had to use all her influence to persuade Macbeth to murder. After he killed the grooms, without consulting his wife, she became concerned as murder was becoming frighteningly easy for him. Also, Macbeth may have been directing some of his angry words at her. His fury and menace could be really frightening, especially as earlier in the play, Lady Macbeth believed her husband would be to weak to murder the King. Her disbelief is further compounded when she discovered her husband had murdered the grooms, which she was not prepared for:
"My hands are of your colour, but I shame
To wear a heart so white…
A little water clears us of this deed
How easy is it, then!"
She thought the slaying of Duncan would be the end of the story. She was wrong; it was only the beginning. She shows the first signs of weakness when she professes that Duncan's resemblance to her father unnerved her and she could not kill him.
Lady Macbeth says that Night is "almost at odds with morning". She cannot tell whether it is night or day. In their world, Lord and Lady Macbeth do not know darkness from light or evil from good. Fair has become foul and foul has become fair. This is the last time we see a "sane" Lady Macbeth.
The lighting and costume effects of the RSC production show this scene aptly, with the black backdrop and clothing enhancing the severity of the scene.
When Lady Macbeth enters Act 5, scene 1, she begins to rub her hands as if struggling to clean them and before she leaves, she refers to the deaths of Duncan, Lady Macduff and Banquo. She is sleepwalking and reveals her guilt and anxiety, which is causing her torture. Now, alone, her loyalty to her husband remains intact; only once does she reproach him, "no more o' that, You mar all with this starting." Her behaviour is revealing and moving. She has given all and now she is overwhelmed by her past, "what's done cannot be undone."
Several characters in the play complained of dreadful nightmares, especially Macbeth, and sleeplessness has been a common theme in the play. This has not, until now, affected Lady Macbeth. The doctor says that her eyes are open, but her lady-in-waiting says, "their sense are shut" meaning that she is unconscious. Lady Macbeth now spends her nights wandering around in the darkness – literally a lost soul – she is afraid of the darkness, now perhaps in more ways than one.
Her mental collapse is caused by her secret acknowledgement of her shame and guilt.
The roles are now reversed. She is no longer his "dearest partner of greatness". Lord Macbeth is more decisive and strong, whereas, Lady Macbeth is pitiful and weak. The Doctor cannot cure her, as she is not suffering from a physical illness.
Of the two productions we saw, I thought the RSC adaptation made the greater impact. It was easier to follow with the text, as it did not jump from scene to scene like Polanski did.
The black backdrop make it more serious, and I can concentrate on the individual characters' speeches whereas in the cinematic version there are a lot of people in the background and it makes it more difficult to understand and listen to the individuals concerned. In addition to this, the lighting and music also make the RSC production more effective, as it stresses the significance of the key scenes. For instance, when Macbeth is talking to the murderers the spotlight shines directly on his face. This enhances the severity of the scene and that Macbeth is serious as to what he is saying to them. While music is played in both the plays, it is more obvious in the RSC adaptation, as once again, there are no other distractions, just you and the main characters to concentrate on.
Lady Macbeth seemed to be a very strong-willed person, who could have been perceived as a monster in the early stages of the play. However, at the end she breaks down, and you realise that all she is being is a caring and supportive wife, who only wants the best for her husband and dies because of her fortitude and ambition for him. It is as if she has gone through a metamorphosis of psychological state in that she starts as a strong, driving force, then exercises her ambition by proxy, getting her husband to murder, and finally her mental instability shows through as she cannot cope with the guilt as she realises what she has forced her husband to do in the beginning.
Judi Dench was powerful in her role as Lady Macbeth and was well suited to this production. Francesca Annis was also very good in her role in the Polanski version; however, she did not give the articulate as the domineering woman that Lady Macbeth actually was.
Macbeth is like a tyrant who will stop at nothing to get what he wants, even if his wife has coerced him into it in the beginning. There is a contemporary link with recent history, for example, President Milosevic was involved in war crimes, his wife, like Lady Macbeth, was an equally strong character who pushed her husband to even greater things.
Related Topics