Kai Leigh Harriot – Wyy She Should be Considered a Hero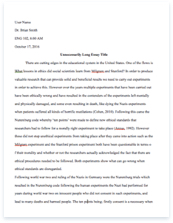 The whole doc is available only for registered users
A limited time offer! Get a custom sample essay written according to your requirements urgent 3h delivery guaranteed
Order Now
It's sometimes difficult to forgive others, especially if they've wronged you in any way. You see yourself holding back malicious thoughts or feelings. Now, put yourself in Kai Leigh Harriott's shoes. When Kai Leigh Harriott was only three-years-old, she was hit by a stray bullet and lost the ability to move from the chest down. I believe Kai Lee Harriott should be considered a hero because she is a role model and activist for the improvement of humanity. Not only was she able to move past and not let her disability define her, but she was also able to forgive the man that had paralyzed her.
One of the many reasons why Kai Leigh Harriott should be considered a hero includes how she was able to forgive the man that unintentionally disabled her. As stated in the article, She was paralyzed by gunfire as a child in Dorchester. Now she's graduating from high school, "Anthony Warren, a convicted felon from Hyde Park, had fired three shots to scare two women on the first floor of Harriott's building after an argument. He had pleaded guilty and apologized to Harriott and her family. But it was Harriott's message to Warren that cemented her mark on the city. 'What you did to me was wrong,' she said in court. 'But I still forgive him.' Her sister, Kailana Harriott, 19, said Harriott didn't discuss her plan to forgive Warren in advance. 'It was such an experience to see her forgive. I don't think anyone was prepared for that,' she said. 'At the time, we didn't expect Kai to be that vocal. . . . When she did that.it was her taking the initiative and leading us through.' Harriott said she visited Warren in prison during her sophomore year of high school.'I didn't have animosity towards him," she said. "I just wanted to get to know him as a person.' " (Crimaldi, Page 2). At the age of five, she was able to forgive someone for disabling her, doing something that would be incredibly difficult for others much older than her to do. Not only did she demonstrate how she could forgive Mr. Warren, but she also showed her acceptance of him, when she continued to visit him after her trial. She was able to 'forgive and forget.' Her forgiveness and acceptance to the man that greatly hurt her, is inspiring and demonstrates how and why she should be considered a hero. Even at the mere age of 5, Kai Leigh Harriott exhibited such mature and genuineness that some people older than her could never show in a situation like hers.
jSecond Handedly, Kai Leigh Harriot was able to use her experiences to fight for a difference against gun violence, so that no one else would endure what she had to. As stated in the article, She was paralyzed by gunfire as a child in Dorchester. Now she's graduating from high school, "In April, Harriott helped organize a walkout at Newton Country Day, a Catholic school for girls, as part of national protests marking the anniversary of the Columbine High School massacre in Colorado, said Brittany Borders, assistant director of admissions. Harriott spoke during the demonstration, telling the gathering that she's a living example of gun violence's toll. 'She was really vocal speaking about her experience,' said Borders. Harriott doesn't conceal the scar on her back from the gunshot wound or hesitate to discuss being shot, but her friends and family said the shooting and its aftermath don't define her." (Criminaldi, Page 3). Rather than allowing her experiences to silent her, she took the opportunity to contribute to the fight against guns. She chose to use her experiences to educate others for the sake of futurity. Kai Leigh Harriott was able to do something, yet again, that would be hard for some to do; going out of her comforts and speaking about her traumas, so that some type of change can happen.
Continuing, Kai Leigh Harriott was able to achieve higher education and not be confined to the street violence that upended her life as well as using the education to act out against a rather hushed matter of how the disabled can navigate through Brazil. Bill Brett, a Boston photographer of nearly 40 years, preserves the history and events from Boston with his photos. Bill Brett has met with tens of thousands of people in the last decade and a half that he has published his six books. Among the many remarkable people that he's met in that time, a few stand out. One is Kai Leigh Harriott. Bill photographed Kai for his second book, "Boston: An Extended Family," and the whole Bill Brett Boston team has followed her many successes with great interest. As stated in Bill Brett Boston's article, Kai Leigh Harriott: A Chance to Help a Remarkable Young Woman, "Last June, Kai graduated from Newton Country Day School and is now studying at the University of Arizona in Tucson. Kai let us know recently that she has started a Go Fund Me campaign to raise the money she needs to participate in a program through her university to study how people with physical disabilities can navigate in Brazil. How she explained the opportunity: 'I'm doing a study abroad this year in Brazil for my Portuguese minor and am hoping to not only improve my fluency but also observe how disabilities and accessibility in foreign countries like Brazil are handled. Any donation is a blessing towards something that means a lot to me. Please donate and share with others that genuinely would like to support and join in on a rather silenced issue within foreign countries.' " (Boston, Page 1). From the excerpt stated above, it can be concluded that Kai is a wholehearted and compassionate young woman. Not only is she invested with the wellbeing of our society's anti-gun movements, but she is also seeing that others from foreign areas are being represented, too. She is joining the forces to give the helpless a voice on an issue that is overlooked and hushed. Kai Leigh Harriott strives hard for improvement in our world and for the generations following to live in tranquility.
Also, Kai Leigh Harriott should be considered a hero because of how she greatly expresses the importance of forgiveness in life and embodies the idea that character "flaws" don't define a person. She was interviewed by the WCVB from ABC News. According to Business Insider, among all American adults surveyed about the most and least trusted news outlets in the U.S, 60% of adults said ABC is credible. As stated in the article, Shot and paralyzed as toddler, 15 years later teen girl reunites with EMT who treated her, "At age 5, Harriott courageously took the stand to forgive Anthony Warren, the man who shot her. 'I forgive Anthony Warren. What he has done to me was wrong. But I still forgive him,' Harriott said in court. Forgiveness is something that Harriott feels strongly about. 'The message of forgiveness I shared when I was younger still holds the same message really. And I just hope that people apply it to their lives cause I still apply it to mine,' she told WCVB. The teen has fought back from her injury with perseverance and determination. Her proud mother says she has never let her disability define her as a person. 'Kai's always had the strength, willingness, and determination to succeed,' her mom, Tanya Davis told WCVB." (Mayorga, Page 2-3) As you can see, Harriott has always manifested the significance of forgiveness. Even from when she was just 5 years old, she was able to forgive the man that paralyzed, something that would be especially difficult for anybody, old or young, to do. We can also see how she is undeterred in her life. Despite the utmost setback of becoming disabled, she was able to persevere in her life and efforts for differences to occur. It is easily said that Kai Leigh Harriott integrates the many traits that we can define as being a hero; forgiveness, compassion, determination, moral integrity, and being inspirational.
Despite my claims, some people might say Kai Leigh Harriott shouldn't be considered a hero because she easily forgave the man that intended to harm when firing the shots in her area. The man, Anthony Warren, had deliberately shot at Harriott's area to cause fear. His plan backfired and, instead, one of his stray bullets wound up hitting Harriot and paralyzing her. Mr. Warren, though not set on doing so, disabled Harriott. He poses a threat to the wellbeing of society. If he could turn a gun to strike fear to two women on the first floor of Harriott's building after an argument, imagine what he would do with full intentions of physically wanting to harm someone. However, even though forgiving Mr. Warren posed a threat, Harriott did it to demonstrate how sometimes certain measures are necessary for the greater good. In her acts of demonstrating forgiveness, she showed how even someone who didn't seem like they deserve it, could receive mercy. Her forgiveness to Mr.Warren moved people deeply because at her age, forgiving someone that greatly wronged you seemed so out of reach. It is with Kai Leigh Harriott's example that people are encouraged to forgive and persevere despite any setbacks.
In conclusion, there are many reasons why Kai Leigh Harriott should be considered a hero. Her forgiving ways and undeterred attitude can inspire others to take action against wrong, too. I feel, as a tribute to Ms. Harriott, a movie be made to tell her story. The movie should include how she became paralyzed and when she forgave Anthony Warren as well as how she persevered through her life despite being disabled. It will display Harriot's compassion, forgiving, and determined ways. Kai Leigh Harriott can show how goodness comes from within. She is such a sincere and wholehearted young lady that does so much and for those reasons, I feel, she should be considered a hero or of heroic standards.
Related Topics