"Just Walk on by: Black Man in Public Space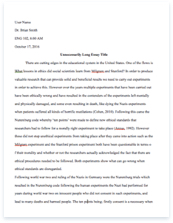 The whole doc is available only for registered users
A limited time offer! Get a custom sample essay written according to your requirements urgent 3h delivery guaranteed
Order Now
Brent Staples, author of "Just Walk on By: Black Man in Public Space." discusses when the white woman he comes across one day late at night was constantly turning back as if she feared him for the way he looked. Brent highlights racism that has occurred to him during the 1970s. This encounter happened in an impoverished part of Chicago; he describes himself as a "youngish black man–a broad six feet two inches with a beard and billowing hair, both hands shoved into the pockets of a bulky military jacket" as he was walking late at night he did not understand why this woman was acting strange as if she feared him, and she soon picked up her pace as if running away from trouble. After a decade of the encounter Brent now twenty-two years old and new the University of Chicago still remembers the white woman. Constantly thinking of all the bad things this lady thought of him as he walked behind her, "a mugger, rapist or worse" these thoughts occurred to him and he was embarrassed, he tried comparing himself to all these awful things that would have come to her mind that night but he knew he could never be closely compared to these things.
A year after her moved away from his home town, and tried to learn the language of fear. Soon he grew accustom of people crossing the street instead of passing him as he walks down the street. Two years later he moved to New York and often sees women walking the streets of Brooklyn at night that brace themselves as if her were going to attack them "women are particularly vulnerable to street violence, and young black males are drastically overrepresented among the perpetrators of that violence." Brent lived in Chester, Pennsylvania in a poor neighborhood. Growing up there at a young age in the 1960s Staples has seen much violence and also seen many men go to jail. In the Neighborhood he grew up in there was gang warfare, street knifings, and murders. "I grew up one of the good boys, had perhaps a half-dozen fistfights." Brent grew up a survivor and tried not to mess up and get into the activities that surrounded him. Widener University that he attended on a scholarship and received a Doctrin in Psychology.
A little after that he became a teacher for a while. Another racial encounter Brent faced was in the late 1970s and early 1980 when he worked as a journalist for a magazine in Chicago, "One day, rushing into the office of a magazine I was writing for with a deadline story in hand, I was mistaken for a burglar." He had to go near someone who can identify that he actually worked there. Another time he experienced racism was one day when he was killing time before an interview and walked into a jewelry store in the city, and the owner excused herself and came back with an enormous Doberman dog lashing towards him; he looked around and just nodded his head saying good night. Brent also explores another incident where a black man working for a newspaper nearby Waukegan, Illinois was working on a story about a murderer who was born there. The police mistaken him for the murderer and the reporter was dragged out his car by gun point. If it wasn't for his press credentials the police would have probably tried to book him. "Such episodes are not uncommon. Black men trade tales like this all the time" says Brent.
After being so often mistaken for a criminal Bent learned to be careful for how he approaches people and place, also if he is walking to the someplace as others in front of him that they clear the lobby before he enters. Late evenings while he is walking in the streets he whistles peaceful Beethoven so that strangers won't feel threatened by him. Brent Staples essay relates to many people in the world, racism still happens in present time. Many people not just black people can say they have had similar encounters. Situations like these are unfair; some people are intimidated and think that because the color of your skin is not the same as theirs they can treat you however they please. The reason Brent wrote this was to share personal experiences of racism that he has come upon in his early life. The author uses Emotional appeal to write this essay, by including the personal events and putting feeling into it. Even though this essay was written in and published in 1986 and uses experiences from the 1970s it is still relevant to time today.
This Essay impacts the audience in both a negative and positive way because, it is a sad to know how people in earlier times acted towards this black man who was not causing any trouble but it is positive to known that he overcame this and learned to not feel so bad for the way others saw him as a person. The significant importance of this essay is to share one man's experiences with racism. To know Brent's back ground, living in a poor neighborhood where bad things happened such as gangs violence, murders and fighting and for someone to judge him with put knowing him is wrong. As Brent said before "Such episodes are not uncommon." For a black man to be judged no matter where he is. Brent Staples is a great author who has come to many obstacles in life because of his color but overcame them. "Just Walk on By: A Black Man in Public Space" is a great example of a black man who put up with others discrimination to be where he is now.
Related Topics