"It Can't Happen Here" by Sinclair Lewis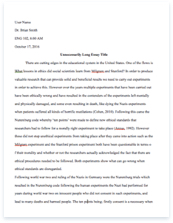 The whole doc is available only for registered users
A limited time offer! Get a custom sample essay written according to your requirements urgent 3h delivery guaranteed
Order Now
            Sinclair Lewis demonstrates a vivid imagination as he writes the story, "It Can't Happen Here" as he uses ridiculous names for his characters such as Berzelius Buzz Windrip and offers a good look into politics, as he brings up the possibility in our minds that a man could promise people whatever he assumed would make them happy, in order for him to take the seat as President where he could demand so much more that what he had initially offered.
            The author uses writing that stumbles into both politics and religion as he writes, (p.77) "When fascism come to America, it will be draped in the flag and carrying a Bible." Religion has been utilized in American politics very often as a means of forming trust between citizens and those who run for important political offices and take a huge part in making and passing laws that affect each citizen.
            The book wasn't exactly easy to follow but the main point was very clear to me and that point was that we should be extremely careful while casting our ballots during each election. There is always the possibility that we could elect an extreme narcissist who would spend their time in office to control and operate in a fashion that could cause many, such as those who attend college, to sign papers that would alter their former educational plans and be solely dedicated to a person who desires to make himself rule similar to a dictator.
            I wasn't greatly fond of this book because it does remind you of the days of Hitler, even though this book was written before the time of Hitler's reign. It does also bring up questions about our government today, and if we think about it long enough, we could probably see many similarities in today's political arena.
            This story does make us wonder if it is possible that we may give up more of our rights as Americans when we think about the chaos that is occurring with other countries that we are directly involved in and the men who left their families and countries to fight for reasons that they were told were correct and worth fighting for. I believe that individuals who are currently holding high offices in our government do make decisions and use citizens as pawns in their game, as I recall a woman who voted for President Bush because she said he offered to lower her taxes. She wasn't getting a proper look at the big picture, which was the future of everyone involved, including the many soldiers that have lost their lives in the past years, fighting for a reason that our leader told them was accurate and valid.
            This book does open up the imagination and I did get a clear view of what people are truly capable of and the lengths they will resort to, when they want something so strongly, such as the title; President. We have to beware of false promises and the people who offer them.
            The author uses his writing to make us laugh but at the same time, I think he does desire that his audience becomes aware of situations that could and have taken place with leaders, who we depend on in making decisions for all citizens and we must be certain that we don't, after being deceived by false promises, elect someone like Lewis's outlandish character, Buzz to lead our country.
Reference Page
Lewis, Sinclair. It Can't Happen Here .Signet Classics. 1993
Related Topics