Investigation Related to Natural Disasters: Hurricanes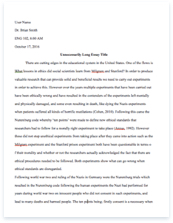 The whole doc is available only for registered users
A limited time offer! Get a custom sample essay written according to your requirements urgent 3h delivery guaranteed
Order Now
Natural disasters have been happening all across the world for centuries. Natural disasters are natural events such as: floods, earthquakes, hurricanes, and volcanic eruptions that cause great damages or loss of life. The most common natural disasters that occur in the United States are heat waves, droughts, floods, earthquakes, thunderstorms, wildfire, and winter weather. A few hurricanes that have occurred in the United States within the past 20 years include: Hurricane Katrina (2005), Hurricane Rita (2005), Hurricane Wilma (2005), Hurricane Ike (2008), Hurricane Sandy (2012), Hurricane Irma (2017) and Hurricane Harvey (2017). The focus will be on Hurricane Katrina, Hurricane Harvey, and Hurricane Sandy the three costliest hurricanes in the United States, and will start by discussing the natural disaster, what happened after (the aftermath) and then will end by discussing the impact of the hurricane and how the country has moved on since the hurricane. Then conclude by discussing the role of social workers in the aftermath of disasters and how social workers can help disaster survivors.
Hurricane Katrina
Hurricane Katrina was an extremely destructive and deadly Category 5 hurricane that made landfall on Florida and Louisiana, including mostly the city of New Orleans and the surrounding areas on August 29, 2005, causing damage from central Florida to eastern Texas. A Category 5 hurricane is considered to be the worst/major hurricane that has sustained winds usually 157 mph or higher, 137 kt or higher, or 252 km/h or higher. When this type of hurricane occurs, usually a high percentage of framed homes will be destroyed, fallen trees and power poles will isolate residential areas, power outages will last for weeks to possibly months, and most of the area will be uninhabitable for weeks or months. According to an article written by The Editors of Encyclopaedia Britannica (2018), Hurricane Katrina surfaced on August 23, 2005 as a tropical depression over the Bahamas, approximately 350 miles east of Miami. Over the next two days it made landfall between Miami and Fort Lauderdale, Florida as a Category 1 hurricane. Sustained winds lashed the Florida peninsula, and rainfall totals of 5 inches were reported in some areas. It quickly intensified when it reached the warm waters of the Gulf of Mexico. On August 27, 2005, Hurricane Katrina strengthened to a Category 3 hurricane and by the following afternoon Hurricane Katrina had become one of the most powerful Atlantic storms. It continued on a course to the northeast, crossing the Mississippi Sound and making a second landfall later that morning near the mouth of the Pearl River. A storm surging more than 26 feet high slammed into the coastal cities of Gulfport and Biloxi, Mississippi, destroying homes and resorts that were along the beachfront. In New Orleans, where much of the greater metropolitan area is below sea level, officials believed that their city had "dodged the bullet." Boy, boy, boy were they wrong. While New Orleans did spare a direct hit by the intense winds of the storm, the levee system that held back the waters of Lake Pontchartrain and Lake Borgne had been completely overwhelmed by 10 inches of rain and Hurricane Katrina's storm surge. Areas that were east of the Industrial Canal were the first to flood and by the afternoon of August 29, 2005, almost 20% of the city was underwater. The New Orleans Mayor at the time, Mayor Ray Nagin, had ordered a mandatory evacuation of the city the previous day and an estimated 1.2 million people left ahead of the storm. However, tens of thousands of residents could not or would not leave. The either remained in their homes or tried to seek shelter at locations such as the New Orleans Convention Center or the Louisiana Superdome. As the levee system continued to give way, the remaining residents of New Orleans were faced with a city that by August 30, 2005, was 80% underwater. Many local agencies in New Orleans found themselves unable to respond to the increasingly desperate situation, as their own headquarters and control centers were under 20 feet of water. With no relief in sight and the absence of organized effort to restore order, some neighborhoods experienced substantial amounts of looting and helicopters were used to rescue many people from rooftops in the flooded Ninth Ward. On August 31, 2005, the first wave of evacuees arrived at the Red Cross shelter at the Houston Astrodome, which was about 350 miles away from New Orleans, but sadly tens of thousands of people still remained in the city. By September 1, 2005 an estimated 30,000 people were looking for shelter under the damaged roof of the Superdome, and an additional 25,000 people had gathered at the Convention Center. Shortages of food and potable water soon became an issue, and daily temperature reached 90 °F. An absence of basic sanitation combined with bacteria-rich floodwaters all worked together to create a public health emergency.
Aftermath of Hurricane Katrina
Hurricane Katrina is considered to be one of the deadliest hurricanes to ever hit the United States and ranks 6th overall in strength of recorded Atlantic hurricanes. It is also considered to be the most destructive storm to strike the United States and according to the National Oceanic and Atmospheric Administration, Hurricane Katrina was also the "costliest storm in United States history, causing $108 billion in damage" (Zimmerman 2015). Statistics say that "an estimated 1,833 peopled died in the hurricane… and millions of others were left homeless along the Gulf Coast and in New Orleans" (Zimmermann, 2015). According to "Hurricane Katrina Statistics Fast Facts" (2018), the total fatalities from Hurricane Katrina (directly or indirectly) included: Alabama (2), Florida (14), Georgia (2), Louisiana (1,577) and Mississippi (238) which leads to the grand total of 1,833 fatalities. In an analysis of 971 fatalities in Louisiana and 15 additional deaths of storm evacuees, 40% of the deaths were caused by drowning, 25% of the deaths were caused by injury and trauma and 11% were caused by heart conditions and almost half of the fatalities in Louisiana were people over the age of 74. Insurance companies had paid an estimated "$41.1 billion on 1.7 million different claims for damages to vehicles, homes, and businesses in six states. 63% of the losses occurred in Louisiana and 34% of the losses occurred in Mississippi. By the year 2007, 99% of the 1.2 million personal property claims had been settled by insurers" ("Hurricane Katrina Statistics Fast Facts" (2018).
Hurricane Katrina Impact & Moving Forward
Impact on the Gulf Coast: The article "Hurricane Katrina Statistics Fast Facts," (2018) states that in addition to bringing devastation to the New Orleans area, the hurricane caused damage along the coasts of Mississippi and Alabama, as well as other parts of Louisiana. After Hurricane Katrina, more than one million people in the Gulf region were displaced by the storm. At their peak, hurricane relief shelters housed an estimate of 273,000 people. Later, approximately 114,000 households were housed in FEMA trailers. During the first ten years after the storm, FEMA had provided more than $15 billion to the Gulf states for public work projects, which included the repairs of roads, schools, and buildings. FEMA also provided $6.7 billion in recovery aid to more than one million people and households. The majority of all federal aid, which is approximately $75 billion of $120.5 billion, funded emergency relief operations.
Impact on New Orleans: Hurricane Katrina led to a numerous amount of job losses for the citizens of New Orleans. During the first 10 months after Hurricane Katrina, "the city suffered an over-the-year average loss of 95,000 jobs" (Dolfman, Wasser, & Bergman, (n.d.). Hurricane Katrina also caused "$260 million in damage to New Orleans' port, even thought it was open to ships a week later. The city's tourism industry generated $9.6 billion a year before Katrina because it attracted 7.1 million visitors each year, but in 2006, it only received 2.6 million tourists" (Amadeo, n.d.). Since Hurricane Karina, the population of New Orleans fell from 484,674 in April 2000 to 230,172 in July 2006. Nevertheless, according to the Census, by 2017, the estimated population had increased to 393, 292, which shows that even despite Hurricane Katrina's overwhelming damage, there is a light on the horizon and people are deciding to flock back to their city.
Moving forward: Since Hurricane Katrina, government officials have tried to learn from the tragedy and start implementing better environmental, communications, and evacuation policies. The Army Corps of Engineers has rebuilt the levee system, which makes the barriers higher and supporting them with steel beams that extend as far as 65 feet below sea level. In terms of policies, in 2006, Congress passed an act to reorganize FEMA. The Post-Katrina Emergency Management Reform act "offers grants to help cities revise evacuation plans, includes provisions for better communication with non-English speaking people and those with disabilities and recognized the evacuation needs of people with pets" (Zimmerman, 2015). This act also increases the funding for Urban Search and Rescue teams and requires the establishment of a family registry within six months after a storm. The city of New Orleans has worked to improve resident access to evacuation and alert information. For example, they now have an e-mail and text message system called NolaReady that already 13,000 residents have signed up for (number has increased since then).
Hurricane Harvey
Hurricane Harvey made landfall in Texas on August 25, 2017, as a Category 4 hurricane. Hurricane Harvey made landfall three separate times in six days. A category 4 hurricane is considered to be the second worst/major hurricane that has sustained winds of 130-156 mph, 113-136 kt, or 209-251 km/h. When this type of hurricane occurs, some well-built framed homes could sustain severe damage with loss of most of the roof structure and/or some exterior walls, most trees will be snapped or uprooted and power poles downed, fallen trees and power poles will isolate residential areas, power outages will last weeks to possibly months, and most of the area will be uninhabitable for weeks or months. Hurricane Harvey began August 17, 2017, as a slow-moving tropical storm in the Gulf of Mexico, that originated from a tropical wave off the west coast of African on August 13, 2017. Tropical Storm Harvey hit the Windward Islands on August 18, 2017, and then. Weakened to a tropical wave on August 19, 2017. On August 23, 2017, Tropical Depression Harvey reformed and grew into a Category 1 hurricane with 80-mph winds on August 24, 2017 and continued to gain strength as it made its way towards Texas. Hurricane Harvey first made landfall over San Jose Island and then near Rockport, in south-central Texas, late August 25, 2017 as a Category 4 hurricane threating millions of residents with 130-mph winds, heavy rains, and a massive storm surge that swamped coastal areas. It stalled around southern Texas for a few days as a weakening hurricane, producing catastrophic flash and river flooding. Then on August 26, 2017, Hurricane Harvey downgraded to a tropical storm where in moved on to Houston where it remained for four days. Two reservoirs ended up overflowing, the highways became waterways, and between 25-30% of Harris County, which was home to 4.5 million people was flooded. By August 27, 2017, winds had died down to as much as 40 mph, but the storm dumped a year of rain in less than a week on Houston and much of southeastern Texas. On August 29, 2917, Hurricane Harvey made landfall for a third time as it hit the coastal cities of Port Arthur and Beaumont, Texas on the border of Louisiana bringing widespread flooding. It dumped 26 inches of rain in 24 hours and flooded Port Arthur, which was a city of 55,000 people. While authorities and first responders handled as many as 10,000 rescue missions around Houston, at least 30,000 people fled to temporary shelters. Tropical Storm Harvey was then downgraded to a tropical depression late August 30, 2017, but it continued to drop massive amounts of rain on parts of eastern Texas, Louisiana, and southern Arkansas. Still alive a week after making landfall, Hurricane Harvey cause abnormally high rainfall and 35 mph winds, while traveling northeast through Tennessee and Kentucky before dissipating.
Aftermath of Hurricane Harvey
Hurricane Harvey ended up causing about $125 billion in damage and is ranked as the second-most costly hurricane to hit the United States mainland since 1900 (Hurricane Katrina is ranked number one) and the costliest United States disaster in 2017. Hurricane Harvey dumped an estimated 27 trillion gallons of water on Texas and Louisiana and seems to also be one of the most damaging natural disasters in United States history. Hurricane Harvey kicked of a historically destructive 2017 storm season for the Caribbean and the southern United States, because within a month of Hurricane Harvey, Hurricanes Irma and Maria soon followed affecting Florida, Puerto Rico, and much of the Caribbean causing $50 billion and $90 in damages. With Hurricane Harvey, an estimated "13 million people were affected, nearly 135,000 homes were damaged or destroyed in the historic flooding, up to a million cars were wrecked, and the death toll is at 88" ("2017 Hurricane Harvey," 2018).
Hurricane Harvey Impact and Moving Forward
After Hurricane Harvey, the number of Americans filing for unemployment benefits after the storm jumped to a more than two-year high amid a surge in applications from Texas. According to "Hurricane Harvey Facts, Damage and Costs" (Amadeo, n.d.), Harvey ended up damaging 204,000 homes, and three-fourths of those homes were outside of the 100-year flood plain. Federal forces ended up rescuing 10,000 people that were trapped in their homes or on flooded highways, private boats rescued an unknown number of additional victims, and the Houston Police Department's Dive Team rescued 3,000 in four days. There were 37,000 people in shelters in Texas and 2,000 people in shelters in Louisiana. Almost 7,000 people were in the George R. Brown Convention Center in Houston, Texas, where 1,7000 received medical treatment. FEMA moved 14,900 people to temporary housing and 8,000 families had moved into 9,000 hotel rooms. Almost three weeks after the storm, at least 3,900 homes were still without power and 77 boil0water notices were still in effect, 19 water systems were down, and 31 wastewaters systems remained offline. Houston Independent School District, which is the largest school district in Texas and the nation's seventh largest still district, reported that 75 of its 275 schools were closed due to flood damage. In the Gulf area, one million vehicles were ruined beyond repair and that figure included 300,000-500,000 vehicles owned by individuals. Hurricane Harvey flooded 800 wastewater treatment facilities and 13 Superfund sites which spread sewage and toxic chemicals into the flooded areas. The highest storm surge in Aransas County was 12.5 feet and it did not create a lot of damage to humans or property because it occurred in a wildlife refuge. Hurricane Harvey's impact spread across the country as gas prices rose. It forced 25% of oil and gas production to shut down in the region, which affected 5% of nationwide output. United States average gas prices rose from $2.35 a gallon before Hurricane Harvey hit to $2.49 a gallon on August 31, 2017, which was six days after the storm first made landfall. Hurricane Harvey affected the Northeast because it relies on pipeline from the Gulf for its gas, so to maintain supply, the Department of Energy released 500,000 barrels of oil from the Strategic Petroleum Reserve.
Moving forward: According to "Rebuilding commission calls Hurricane Harvey a 'wakeup call' for Texas," (Anchondo, 2018) it states that since Hurricane Harvey, there is a plan of more than 4,000 potential projects that are geared toward future-proofing disasters. One recommendation is to consider "buy outs" of properties that are consistently or severely damaged, while underscoring that homeowners would need to request or volunteer for a buy-out. This would help property owners that have establishments that are consistently or severely damaged to still receive some type of income for their property. Another strategy is to prevent building homes in vulnerable locations and to place public infrastructures such as sewers and water lines in the least flood-prone areas within a community. There also has been discussion of the benefits to build a "coastal spine" to protect the greater Houston area from a hurricane's storm surge which depending on a given storm's strength, there could be savings of $400 million-$7 billion per storm if a coastal spine system was built.
Hurricane Sandy/ "Superstorm Sandy"
Hurricane Sandy was the deadliest and most destructive hurricane of the 2012 hurricane season. According to "Superstorm Sandy" (Rafferty, 2018) and "2012 Hurricane Sandy: Facts, FAQs, and how to help" (2018), it states that according to the Federal Emergency Management Agency (FEMA), Hurricane Sandy affected 24 states and all of the eastern seaboard. Hurricane Sandy caused an estimated $71 billion in damages and is the fourth costliest United States storm behind Hurricane Katrina and Hurricane Harvey. Hurricane Sandy was a massive storm that brought significant wind and flooding damage to Jamaica, Cuba, Haiti, and Dominican Republic, The Bahamas, and the United States Mid-Atlantic and Northeastern states in late October 2012. Hurricane Sandy began as a tropical wave (a trough of low pressure) in the warm waters of the central part of the tropical North Atlantic on October 19, 2012. The system traveled westward into the Caribbean Sea during the next few days and was classified as a tropical depression on October 22, 2012 in the waters south of Jamaica by the National Hurricane Center (NHC) in Miami. Absorbing energy as it moved northward, the depression grew into a tropical storm, and the NHC named the system Sandy. On October 24, 2012, with sustained 80 mph winds, Sandy became a Category 1 hurricane in the waters located just south of Jamaica. After its maximum sustained winds that increased to more than 90 mph during the late evening, NHC officials decided to reclassify the storm as a Category 2 hurricane. Shortly after midnight on October 25, 2012, Hurricane Sandy's winds rose to 110 mph and by dawn the eye had passed over eastern Jamaica and eastern Cuba. Between October 25, 2012 and October 28, 2012, Sandy continued northward but declined intensity, and was reclassified as a Category 1 hurricane and later as a tropical storm. After passing over The Bahamas and paralleling the coastline of the southeastern United States, the storm had again grown into a Category 1 hurricane. On October 29, 2012, Hurricane Sandy approached the East Coast of the United States as a Category 2 hurricane and the weakened to a post-tropical cyclone. By 12:30 p.m. Hurricane Sandy brought high winds and drenching rain from Washington, D.C., northward and then by 8:00 p.m. the storm curved westward toward the Mid-Atlantic states and made landfall near Atlantic City, New Jersey, with hurricane-force winds of 9- mph. In combination with a full moon and high tide, a 14-foot wave surge in New York Harbor tops the seawall in lower Manhattan and floods parts of New York's subway system and a crucial tunnel. It downs power lines, uproots trees, inundates Manhattan, and causes extensive damage in New Jersey, New York, Connecticut, Rhode Island, and Massachusetts and heavy wind and rain continued all night through three tidal cycles. By October 30, 2012, Hurricane Sandy moves away from New York, towards Pennsylvania, but is still drenching the Northeast and on October 31, 2012 Hurricane Sandy dissipates over western Pennsylvania, leaving heavy snow in the Appalachian Mountains.
Aftermath of Hurricane Sandy
Hurricane Sandy was the fourth worst storm in United States History and had been considered a Category 3 storm, but by the time it made landfall it was downgraded to a tropical storm. A Category 3 hurricane is right in the middle of the worst/major hurricanes and has sustained winds of 111-129 mph, 96-112 kt, 178-208 km/h. When these types of hurricanes do happen, usually devastating damages will occur. Well-built framed homes many incur major damage or removal of roof decking and gable ends, many trees will be snapped or uprooted, blocking numerous roads. Six months after Hurricane Sandy left parts of the East Coast leveled and underwater, there were reports of destruction that included: 11 billion gallons of partially or untreated sewage leaked into rivers, lakes, and waterways because of the storm. According to "Superstorm Sandy," (Rafferty, 2018) by early 2013, the official number of deaths from Hurricane Sandy was 147. There were 72 deaths reported in the Caribbean region, 72 in the continental United States, 2 deaths at sea in the Atlantic, and 1 death in Canada. In the Caribbean, Hurricane Sandy was responsible for approximately 54 deaths in Haiti, 11 deaths in Cuba, 3 deaths in the Dominican Republic, 2 deaths in The Bahamas and 1 death each in Jamaica and Puerto Rico. In the immediate aftermath of the story, property damage was estimated at between $30 billion and $50 billion however, this estimate had grown to $71.4 by 2014.
Hurricane Sandy Impact and Moving Forward
Hurricane Sandy ended up damaging or destroying at least 650,000 homes and 8 million customers ended up losing power. Several cities and towns along the Atlantic coast of New Jersey and New York were devastated and the storm surge was made worse by high tides amplified by the full moon that occurred on October 29, 2012.
Impact on New York: In New York Cite a storm surge measuring nearly 14 feet combined with heavy rains caused the Hudson River, New York Harbor, and the East River to flood the streets and tunnels of Lower Manhattan. Parts of the subway lines were inundated along with the Hugh L. Carey Tunnel and the Queens-Midtown tunnel. Flooding and power outages nearby forced the closure of the New York Stock Exchange for the first time in 27 years since Hurricane Gloria.
Impact on New Jersey: Along the coastline of New Jersey, damage was extensive. Part of the Atlantic City's world-famous Boardwalk was destroyed and many of the city's homes and businesses that were not protected by seawalls were also heavily damaged or destroyed by the storm surge. The boardwalks of Seaside Heights and Belmar were also destroyed, along with many coastal developments along New Jersey's shoreline. During the storm, water from the Hudson River overtopped the seawall protecting Hoboken and flooded much of the city, isolating an estimated 20,000 residents in their homes.
Impact throughout the Northeast and the Mid-Atlantic States: The effects of Hurricane Sandy were felt throughout the Northeast and the Mid-Atlantic states. Rainfall records were broken throughout the area, and roughly 3 feet of snow fell in mountainous parts of West Virginia, eastern Tennessee, and western Maryland. Wind and rain disrupted electricity service from parts of Quebec to North Carolina and as far west as Indiana and Illinois.
Moving Forward: Even though there is no place in America that is truly prepared for climate change and the tempests it could bring, after Hurricane Sandy, there have been some coastal protection projects that are moving forward. According to "Recovery continues 5 years after Superstorm Sandy," (2017) there is a government-funded competition called Rebuild by Deign that produced ideas for defending the coast. One concept, called The Big U, would create 10 miles of floodwalls, berms and gates around lower Manhattan. Other ideas include erecting breakwaters around Staten Island that would double as oyster beds, and reconfiguring the Meadowlands, the polluted wetlands of urban New Jersey, with berms and mashes. The United States Department of Housing and Urban Development did put up $1 billion to get those projects started, but construction have not begun on any of them. New Jersey does have a plan which is carry out of the Rebuild by Design concepts: anti-flood system for Hoboken. The project will cost $230 million, funded by HUD and it involves building a series of floodwalls, pumping stations and water retention tanks. Construction is due to start sometime in 2019 and will take at least three years.
Communities on the New Jersey shore built sand dunes to hold back surf or fortified existing ones. Power companies and New York's subway system have put flood protections around key infrastructure. Hospitals moved electrical equipment out of basements. The Army Corps of Engineers is scheduled to begin construction in 2019 on a 5-mile-long (8-kilometer-long), 20-foot-high (6-meter-high) seawall and promenade that would run along New York's Staten Island in front of the neighborhoods hit hardest by Sandy. The project, which is still being designed, has an estimated price tag of $600 million and is scheduled for completion by 2022. Michael Cappannari, a spokesman for the Federal Emergency Management Agency, said the administration is committed to helping communities recognize the risk and defend against flooding. He cited several federally funded projects underway, including construction of boardwalks with seawalls hidden beneath them and flood-proofing of sewage treatment systems. These are all ideas that will help protect cities from hurricanes, but these ideas are far from reality because there has been little progress.
Role of Social Workers
Social workers can play a number of crucial roles in disaster relief situations that help the entire recovery process flow more smoothly. Sometimes, social workers could even remain on the scene for months or even years after a traumatic event to assist members of the local population that stuffer from PTSD or other trauma-related disorders. With a growing number of people that face traumatic events, it is important as a profession, that we are clear about the role social workers have in the disaster planning, response, and recovery phases. In fact, the profession of social work, has already played an important role in the disaster field, as many are informed trained and experienced in the basic necessary skills to respond and social workers have the potential to bring a unique understanding to the disaster field by underscoring the values of our profession and giving attention to oppressed and disadvantaged populations. This perspective is vital for the development of individual, family, and community response plans. Additionally, the social work perspective is needed for conducting research after a disaster or traumatic event" (Bauwens & Naturale, 2017). All this to say, social workers can play various roles after a disaster or traumatic event and are important key components in helping provide relief to the communities that are affected by the natural disaster.
In conclusion, natural disasters such as Hurricane Katrina, Hurricane Harvey, and Hurricane Sandy are great examples of how one can never really be prepared to face a natural disaster. These three hurricanes are not only considered to be the top three costliest hurricanes in the United States, but also, they are considered to be some of the deadliest hurricanes in the United States as well. Social workers are needed after natural disasters like hurricanes, because social workers are considered to be referral resources. Social workers can connect the people that need help with whatever they may need including: temporary shelter/housing, food, clothing, or financial aid. Social workers can also provide emotional support and education about the psychological impact of disaster and consequences and also fill the role of community organizers working in conjunction with local spiritual leaders. Moving forward, professions such as social workers and different disaster relief organizations and resources should be able to all work together as a nation and do all we can to come up with the best preventions for the future, which is not something that is easy to do, so we need to all work together and be there for one another in case another natural disaster strikes again.
References
Amadeo, K. (n.d.). Hurricane Harvey Shows How Climate Change Can Impact the Economy. Retrieved from https://www.thebalance.com/hurricane-harvey-facts-damage-costs-4150087
Amadeo, K. (n.d.). Why Was Hurricane Katrina so Damaging to New Orleans, and the World? Retrieved from https://www.thebalance.com/hurricane-katrina-facts-damage-and-economic-effects-3306023
Anchondo, C. (2018, December 13). Rebuilding commission calls Hurricane Harvey a 'wakeup call' for Texas. Retrieved from https://www.texastribune.org/2018/12/13/rebuilding-commission-calls-hurricane-harvey-wakeup-call-texas/
Bauwens, J., & Naturale, A. (2017). The Role of Social Work in the Aftermath of Disasters and Traumatic Events. Clinical Social Work Journal, 45(2), 99-101. doi:10.1007/s10615-017-0623-8
Britannica, T. E. (2018, August 16). Hurricane Katrina. Retrieved from https://www.britannica.com/event/Hurricane-Katrina
Dolfman, M. L., Wasser, S. F., & Bergman, B. (n.d.). The effects of Hurricane Katrina on the New Orleans economy. Retrieved from https://www.bls.gov/opub/mlr/2007/06/art1full.pdf
Hurricane Katrina Statistics Fast Facts. (2018, August 30). Retrieved from https://www.cnn.com/2013/08/23/us/hurricane-katrina-statistics-fast-facts/index.html
Rafferty, J. P. (2018, October 12). Superstorm Sandy. Retrieved from https://www.britannica.com/event/Superstorm-Sandy
Recovery continues 5 years after Superstorm Sandy. (2017, October 28). Retrieved from https://6abc.com/weather/recovery-continues-5-years-after-superstorm-sandy/2574104/
2017 Hurricane Harvey: Facts, FAQs, and how to help. (2018, December 08). Retrieved from https://www.worldvision.org/disaster-relief-news-stories/hurricane-harvey-facts#damage
2012 Hurricane Sandy: Facts, FAQs, and how to help. (2018, December 08). Retrieved from https://www.worldvision.org/disaster-relief-news-stories/2012-hurricane-sandy-facts
Zimmermann, K. A. (2015, August 27). Hurricane Katrina: Facts, Damage & Aftermath. Retrieved from https://www.livescience.com/22522-hurricane-katrina-facts.html
Related Topics