Importance of Computer Literacy for e-Learning education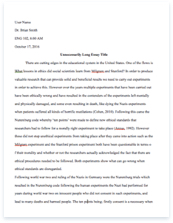 The whole doc is available only for registered users
A limited time offer! Get a custom sample essay written according to your requirements urgent 3h delivery guaranteed
Order Now
E-learning is one of the main innovative features included also in the long-term plan of our faculty for the current period [1, p.5] through these points: • to realize innovation of existing degree programs aimed at reducing direct contact hours of teaching, and their replacement by other modern methods of study. • to process the teaching support using multimedia educational tools, using e-learning, using interactive teaching program for these forms of studies. We decided to examine possible problems following implementation of e-learning in the dissertation work 'E-learning in Professional Technical Subjects' [2]. In this article we would like to introduce our basic background and partial results of the research. WHAT IS E-LEARNING
There is not only one definition of e-learning. Earlier it was associated firstly with multimedia CD-ROMs; nowadays e-learning education is using usually internet technologies. The constant is the computer. For our research we defined e-learning as long-term systematic learning through computer use. The difference between e-learning and traditional teaching is only in the used material resources, all other factors can be preserved: objectives, teaching principles, curriculum, methods and forms.
WHAT IS COMPUTER LITERACY
Based on this knowledge, we can express that application of e-learning brings one new problem to solve – insufficient computer literacy of students. Computer literacy is the human competency to use one's own knowledge, skills and abilities from the close sphere of the hardware and software computer equipment, as well as from the wider sphere of ICT, for the collection, storage, processing, verification, evaluation, selection, distribution and presentation of information in a required form and quality to achieve their relevancy to a specified destination.
EMPIRICAL RESEARCH PROPOSAL
The main objective of our research is to verify the measure of interdependence between the effectiveness of teaching through e-learning and the computer literacy of students. The effectiveness of teaching consists of the achieved results, applied resources and subjective feelings.
EXPECTED BENEFITS AND CONCLUSION
The research results provide unique information about the relationship between students' computer literacy and study skills through e-learning. In that the research is realized on the students of faculty using the e-learning environment, which is used also in common education, it will be possible to define specific requirements in computer literacy for applicants to handle their future studies. Conclusions can be also the recommendation for extending the curriculum of courses increasing students' computer literacy. Computer literacy is increasing efficiency not only in education but also at work, and it makes available new forms of entertainment too.
This article is the partial result of solving the grant projects supported by the agency KEGANo.3/6026/08 Innovation study program teaching of technical professions subjects on MTF STU.
REFERENCES
Dlhodobý zámer Materiálovotechnologickej fakulty so sídlom v Trnave Slovenskej technickej univerzity na obdobie20072010 (Long term plan of the Faculty of Materials Science and Technology in Trnava, Slovak University of Technology for the period 2007 – 2010).Trnava: MTF STU.11p. Availableat:
KVASNICA, Ondrej. Elearning v technických odborných predmetoch (E learningin Professional Technical Subjects). [Written workfor dissertation examination].Supervised by Roman Hrmo.Trnava:ÚIPHMTFSTU,2010.57p.
ŠTEFANČIKOVÁ, Anna. Prieskum kompetencií študentov z aspektu počítačovej
gramotnosti. In Vedecký seminár Divai200 4Dištančné vzdelávanie v Aplikovanej Informatike. Nitra:Katedra informatiky FPVUKF,2004. Availableat:ISBN80-8050-691-4
Related Topics