Identifying Rhythm and Meter in "An Essay on Criticism" by Alexander Pope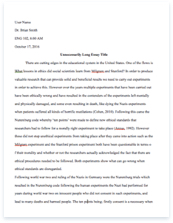 The whole doc is available only for registered users
Pages: 2
Word count: 452
Category: Poetry
A limited time offer! Get a custom sample essay written according to your requirements urgent 3h delivery guaranteed
Order Now
The lesson for this week I felt that I struggled with identifying the rhythm and meter. In the first line of lines 344 to 347 I identified the rhythm and meter as trochaic pentameter. The word 'required' is identified as iambic and it is important to the meaning, because it emphasizes that these syllable have to be equal. The second line of this section of lines is iambic tetrameter. The third line of this section of lines is identified as anapestic pentameter. The fourth line of this section of lines is identified as anapestic pentameter. The different types of rhythm and meter in this poem help emphasize
In the second set of lines (348-353) there are a couple different types of rhythm and meter identified that play a part in the meaning and emphasis of this poem. The rhythm and meter in the first four lines I identified as anapestic pentameter. The last line however, I identified as spondaic pentameter. I identified it as spondaic pentameter, because 'in vain' is very similar to the example big deal. This emphasizes the feeling/emotion of that line making it essentially a big deal.
In the third set of lines (364-373) I identified the first seven lines and the ninth line as iambic pentameter. Then in the eighth line down I identified the rhythm and meter as iambic tetrameter. The last line of this section is also iambic hexameter. The rhythm and meter give the poem a loud tone helping the reader hear the poem. For example, "But when loud surges lash the sounding shore," the strong accented words in this poem make the tone loud and one can almost hear the ocean hitting the shore.
In the last section of lines (374-383) I identified the first line with 2 different rhythms, trochaic in the beginning and then anapestic pentameter. The second line I identified as iambic hexameter. The next two lines are both identified as trochaic pentameter. In lines five and six the rhythm and meter is identified as anapestic hexameter. Lines seven and eight in this section is identified as trochaic pentameter and the last two lines are identified as iambic pentameter. An example of how the rhythm and meter help with the meaning of this poem is, "And bid alternate passions fall and rise." This example is important to the meaning of this poem, because fall is unaccented word and gives the reader the sense of low or falling, but the word rise is accented, which will give the reader a strong sense of rising. In conclusion, I noticed in this poem that most of the lines were pentameter or hexameter, which keeps the poem consistent in meter.
Related Topics