How to organise and evaluate data that has been researched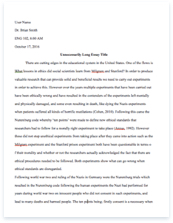 The whole doc is available only for registered users
A limited time offer! Get a custom sample essay written according to your requirements urgent 3h delivery guaranteed
Order Now
1.1 Describe the purpose and benefits of organising data so that it can be analysed.
The purpose and benefits of organising data so that it can be analysed as you will be turning this data into information. Data is commonly known as information which is lacking meaning, therefore it cannot be analysed easily, however information is much more meaningful. We can filter the data and use it as needed which saves time scrolling through lots of unnecessary data. The benefits of organising data are that is can be easier to read and to understand. It also makes it quicker to find the information you need from it.
1.2 Explain how to evaluate the relevance, validity and reliability of data
To evaluate the relevance of data you need to go back to why you gathered the data initially. If your end results answers the question then you know that you have compiled relevant data. To evaluate the validity and reliability of the data you can compare it to your own personal knowledge and expectations or someone else's in the team. Alternatively, you can see if any of the information has ever been gathered before and if so, do the results follow a similar pattern?
1.3 Explain how to analyse and prepare researched data so results will be accurate and free from bias
To analyse and prepare researched data so the results will be accurate and free from bias you can be self-critical of the data asking yourself whether it reflects the reality or not. Also, you could have a co-worker work on the same query and see if the outcomes are alike. If there are different then you will know that one of the outcomes is inaccurate and slightly biased. Depending on the different types of information, you want to ensure that the data isn't anonymous as you have no guarantee that it is accurate and free from bias. Also, depending on the type of information, you want to make sure it is in no way discriminatory towards others.
1.4 Explain the differences between primary and secondary research methods
Primary research is original research conducted by you to collect data specifically for the current objective. You might conduct a survey, run an interview or a board meeting, observe behaviour or do an experiment. You are going to be the person who obtains this raw data directly and it will be collected specifically for your current research need.
Conversely, secondary research involves searching for existing data that was originally collected by someone else. You might look in books, libraries or go online. You will apply what you find to your personal research problem, but the data you are finding was not originally collected by you, nor was it obtained for the purpose you are using it for.
1.5 Explain the differences between quantitative and qualitative research methods
Qualitative
Qualitative research is primarily exploratory research. It is used to gain an understanding of underlying reasons, opinions and motivations. It provides insights into the problem or helps to develop ideas or hypotheses for potential quantitative research. Qualitative research is also used to uncover trends in thought and opinions and dive deeper into the problem.
Qualitative data collection methods vary using unstructured or semi-structured techniques. Some common methods include group discussions, individual interviews and participation/observations. The sample size is typically small and respondents are selected to fulfil a given quota.
Quantitative
Quantitative research is used to quantify the problem by way of generating numerical data or data that can be transformed into useable statistics. It is used to quantify attitudes, opinions, behaviours and other defined variables and generalize results from a larger sample population.
Quantitative research uses measurable data to formulate facts and uncover patterns in research. Quantitative data collection methods are much more structured than Qualitative data collection methods. Quantitative data collection methods include various forms of surveys, face-to-face interviews, longitudinal studies, online questionnaires and systematic observations.
1.6 Describe how to search for relevant data sources
There are many ways of searching for relevant data sources such as the internet, books, previous reports and speaking to the team. However, you must take in to account how long it will take to research these different sources, whether they are available and how accurate and unbiased they are.
Understand how to report data that has been researched
2.1 Describe ways of reporting data so that it:
a) The ways of reporting data, so that it meets agreed aims and objectives are:
Always make sure that the data you collect serves the purpose of the report you are going to prepare It is best not to name or label people in the report
Check to see that the report is in the agreed format and that it can be understood easily by anyone involved Keep the language as simple as possible if the report is to be distributed to a wide range of people, again this depends on the purpose of the report and what you are trying to achieve or report Arrange data clearly and neatly in different section with notes or explanations wherever necessary The conclusion has to be clear with the results of your research or analysis Include any recommendations
It is always good to summarise at the start as to what the report is about, its purpose and what is discussed. You can also include the reason why this report has been created. You can mention any limitations if any and suggest areas of improvement b) The ways of reporting data, so that it is accurate and free from bias are:
Never make any assumptions on data or conclusions as this can pose a threat to the functioning of the organisation Check for grammar, spelling an accuracy of figures involved as these reports represent the quality of the organisation. If there are any calculations involved, double check them to see if there are any errors. It is always best to run this through another person or two for a review, to avoid any literary or numerical errors Do not have any repetitive or irrelevant information
Related Topics