How Stylistic Techniques Define Character and the Speaker's Attitude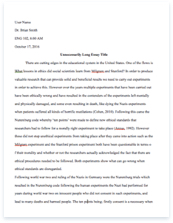 The whole doc is available only for registered users
A limited time offer! Get a custom sample essay written according to your requirements urgent 3h delivery guaranteed
Order Now
In the given passage, Captain MacWhirr, a simple yet mysterious sailor, recollects his past choices and relationship with his now deceased parents. Although the achievement of becoming a captain would normally be praised, the disapproval of his parents reduces the accomplishment in the eyes of the reader, which reveals the attitude of the speaker and defines the captain's character.
The speaker's diction juxtaposes Captain MacWhirr's peaceful simplicity with his father's resentment. By choosing to use "simply ordinary," which carries a negative connotation, when describing the Captain the author forms a negative attitude from the beginning. In contrast, ordinary people like to be recognized for their achievements, especially by one's parents. Since the Captain's father shows no signs of love, this could be what instigated his departure. Also, the further use of adjectives such as in the first paragraph of the passage where the speaker calls the Captain, "irresponsive, and unruffled" shows that the Captain does not have the qualities necessary to be a consistent leader.
The speaker's attitude of the Captain being dull and plain is displayed through his techniques in drawing quotes from the letters exchanged between the captain and his parents and also through the use of short simple sentences. In the letters to and from the Captain and his parents, MacWhirr writes about unemotional subjects such as "We had a very fine weather on our passage out," and "Because I can do the work." This implies that he is a man of few words and few thoughts as well. The use of short simple sentences such as "She was called Lucy," and "and then they died," are declarative and to the point which is enhancing the "ordinary" demeanor and character of the Captain.
The speaker's use of anaphora in "with the names of the skippers… with the names of Scots and English ship owners… with the names of seas… with the names of islands" shows that the Captains parents gained their worldly knowledge through their son's journeys. The author relates the world to the captain by never calling him by his first name, "Tom," only mentioned once in the passage by his father. Instead he uses impersonal names such as the "Ordinary Seaman," and "Captain MacWhirr."
In closing, through the use of diction, short simple sentences, and anaphora the speaker gives off the impression that he views the Captain as a plain yet normal person. The Captain's parents die without the satisfaction of having a, what they perceive as successful, son. But at the end of the passage, it was MacWhirr who lived a fruitful and rewarding life; at his funeral, more would be said than, "and then he died."
Related Topics