How Is Blanche's Illusionary World Broken Down in the Play by Others?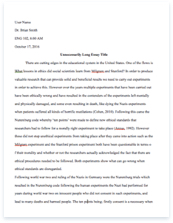 The whole doc is available only for registered users
Pages: 4
Word count: 842
Category: Play
A limited time offer! Get a custom sample essay written according to your requirements urgent 3h delivery guaranteed
Order Now
In the 1947 play A Streetcar Named Desire written by Tennessee Williams, there is an on going battle of rivalry between Stanley and Blanche, resulting to Blanche retreating into a world of illusions in order to protect herself. The two come from completely different societal worlds and have contrasting personalities, Stanley being powerful, controlling and strong and Blanche, being fragile, weak and vulnerable. Despite their hatred for each other and their differences they have many similar traits, including their use of sexuality and desperation to control others.
The primary noticeable difference between Stanley and Blanche are the worlds that they both come from. Blanche believes in an illusionary world of which the upper and lower class people are separated, education is valued, races are separated and purity is preserved. In contrast, Stanley comes from a patriarchal society, which is morally corrupt, sinful and amoral. In the opening scene, the stage directions "her expression is one of shocked disbelief. Her appearance is incongruous to this setting" conveys her difference in class and how Blanche already does not fit into this new world foreshadowing the end of the play when Blanche is pushed out of the new world.
The dialogue " they mustn't have- understood- what number I wanted" highlights Blanche's confusion as she arrives at Elysian Fields, which suggests that Blanche is entering into a world that she does not belong in. The use of the derogatory terms "negro", "brown" and "one white and one coloured" all suggest that unlike in Blanche's illusionary world, Stanley's world, New Orleans does not separate races instead they intermingle. Throughout the play there are many references to animalistic qualities. Blanche is represented, as a "moth" of which is fragile and attracted to light, which leads to danger and death. Stanley is compared to a lion, a predator of power and strong with pride. Stanley is also described in the stage directions ass having 'lordly composure' this conveys his desire to be in charge or control of others around him, including Blanche. The use of the verb, "stalk," suggests Stanley's predatory nature. It is aggressive and masculine which is shown through Stanley's hatred towards Blanche.
The conflict between Stanley and Blanches is a fight for Stella's love and control over their worlds. Stanley aims to break down Blanche's illusionary world and dismantle her by revealing the truth and invading her privacy. Blanche's statement "Everything I own is in that trunk" highlights that Stanley intends on ownership to break Blanche. Furthermore Stanley reveals the truth about Blanche's sexual promiscuity. This is evident in his dialogue "You're god dam right I told him. I'd have that on my conscience for the rest of my life if I knew all the stuff and I let my best friend get caught." Stanley's exposure of Blanche's secret not only breaks the relationship between Blanche and Mitch, but further breaks down her illusionary world. Stanley's intrusion of Blanche's trunk marks the beginning of his invasion of Blanche. The use of the motif lights is a representation of Blanche attempting to hide from the truth as light symbolizes the harsh reality of the truth. The lack of light symbolizes Blanche's need to avoid light, meaning reality and the truth.
Stanley and Stella's love for each other contributes to the break down of Blanche's illusionary world. It is evident from the beginning that Blanche does not understand their marriage as it is based on opportunism and unlike Stella, Blanche has not yet accepted reality. Blanche is holding onto the past making her unable to accept reality. Blanche attempts to break down Stella and Stanley's happiness, which was based on sex not genuine love. When Stanley says "I done nothing to no one. Let go of my shirt. You've torn." It represents that their relationship has been broken, like the 'torn' shirt. In scene Ten Stanley's rape of Blanche is a physical manifestation of his attempt to dismantle her privacy throughout the whole text, going through her bags, finding out about Laurel and revealing her secrets to Mitch. Stanley represents reality. He will not allow Blanche to retreat into her illusionary world.
Clearly, the 1947 play A Streetcar Named Desire by Tennessee Williams reflects the on going battle of rivalry between Stanley and Blanche, resulting to Blanche retreating into a world of illusions in order to protect herself. Although Blanche lives in an illusionary world she is unable to sustain it, she attempts to hold onto this world in order to survive in the New World and protect herself. However Stanley's ongoing rivalry to win over Stella by revealing the truth and breaking Blanche makes it almost impossible for Blanche to survive in the patriarchal society, resulting in her ending up in a mental institution. The new world is patriarchal and corrupt and violence has been normalised. Williams critiques these values suggesting that balance between "magic" of illusion and reality is needed. This is symbolic of the greater societal clash of values in the struggling world of late 1940's America.
Related Topics