History of Special Needs Provision in Ireland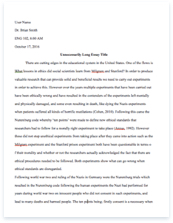 The whole doc is available only for registered users
A limited time offer! Get a custom sample essay written according to your requirements urgent 3h delivery guaranteed
Order Now
Swan (2000) described special needs education in Ireland in three phases, the neglect and denial, the special needs school and the integration or inclusion. The national Education System was first set up in 1831 making it compulsory for all children from age six to fourteen. By 1892 children had to go to school for 150 days in the year. At this time the government only seen children with special needs as being purely medical, and that it wasn't necessary for special needs to get an education. Children with special needs lived in hospitals and county homes at this time, however some religious-run special needs schools were set up at the time for example in 1946 the school for deaf girls was opened in Cabra called St. Marys, and in 1857 opened by the Christian brothers St josephs for deaf boys also in Cabra and St josephs for the blind opened in 1884 in drumcondra.
Children from all around the country boarded in these schools from a young age. From 1919 to early 1990s all education including special needs education was carried out by religious orders in Ireland, and as a result there was no policies or legislations for special needs provision in Ireland. This remained like this for some time until people started to decline rapidly and eventually the state took over all of these schools that was run by the religious. The religious started to spread awareness among parents, teachers and other professionals of how Ireland had fallen behind in special needs provision comparing to other countries and this resulted in the government policy of the introduction to new and important pieces of legislation in Ireland.(flood.2013)
In 1947 St Vincent's home for special needs was officially recognised and this school at the time their belief was that children with special needs should not be educated alongside children with no special needs and that it was detrimental to the education of 'normal' children. Children with additional needs at the time were all assessed in county clinics and after assessments all that was offered to them was institutional care or basic training. In 1959 the first inspector for special needs education was came into place and in the 1960s to the early 1980s a lot of special needs schools opened that catered for children with physical, mental and sensory disabilities, and this represented the era of special needs. Today there are 107 schools opened with some schools catering for more than one special need with a total of 129. In early 1980s there was a worldwide lobby for the integration for children with special needs, and this influenced the Irish education policy and classes for special needs in the mainstream schools and in 1993 two thousand children were getting an education in special classes in mainstream schools.
In 1991 there was a review on all special needs in Ireland of provision from preschool to secondary and after this review the Report of Special Education Review Committee was published in 1993 and this report was important as it provided a definition of special needs, that children with special needs be educated in mainstream schools, the report also included that there be a psychological service linked to the schools, integration and many more In 1995 the white paper on education stated that all students regardless of their circumstances had a right to access to and participate in the education system (flood.2013). The medical model is a view of disability as requiring medical intervention and the social model is a view of disability as a problem within society (Beaver.et al.2001). Was set up to ensure inclusion for children with special needs Legislation and policy developments relating to children with special needs Special needs Act2004
Special needs and to educate a child in an environment along with children who don't have special needs. Education rights are changing all the time and have become more and excepting over time and there is more out there to help special needs, however there is still a long way to go (www.ainelawlor.hubpages.com) The National Disabilities Act 1999
Was set to recognise the achievements of good standards and quality in the provision of programmes and services to children with additional needs and also to liaise with other bodies both corporate and unincorporated, involved with provisions of services to children with special needs it was also set up to facilitate and support the development and implementation of standards and programmes available to them.(www.ainelawlor.hubpages.com)
The Welfare Educational Act 2000
Came into place to help all children including children with special needs in school or at home the act promotes the importance of education in the lives of all children.(www.ainelawlor.hubpages.com) A range of special needs impairments
There are lots of special needs that range from mild, moderate, and severe for example physical needs are spine bifida and cerebral palsy .An example of intellectual impairments are dyslexia and hearing impairment; emotional and social impairments are adhd and odd. Complex impairments include autism and fragile x syndrome Conditions.
Epilepsy is recurrent and unprovoked. The human brain is the source of human epilepsy and seizures affect any part of the body how long the seizure last and how much of the brain is affected has profound affects and all factors determine the character of a seizure and the impact on the individual.(www.epilepsy.com) Signs and symptoms
There are different types of seizures that last from a few seconds to a few minutes, and may be alert during the seizure or lose consciousness and may not remember what happened. Some seizures make u fall to the ground .Some seizures happen without a warning and the person may have a aura at the start of the seizure .The seizure ends when the abnormal electrical activity in the brain stops and returns to normal and either partial or generalised, partial seizures begin in a specific part of the brain and the most common one is simple partial seizure that don't affect consciousness 'or awareness. Complex partial do affect level of consciousness completely. Partial seizures with secondary generalisations spread to the rest of the brain and look like tonic-clonic seizures and these two types can be easily confused but treated differently (www.webmd.com). Causes
The cause of epilepsy vary in two thirds ,however a head injury can contribute in adults with a blow to the head ,diseases and infections that affect the neurological system in the brain also causes epilepsy (www.ehow.com). How it's diagnosed
A complex examination is performed when u has the first seizure or recurrent ones. The doctor will ask certain questions concerning the characteristics of the seizure and take a complete history. The doctor will then do multiple tests to determine if you have epilepsy as well as a treatment plan (www.epilepsy.about.com) Condition
Dyslexia is believed to be caused by a neurological language processing disorder (www.learningdisabilities.about.com). Signs and symptom
Dyslexia symptoms are a broad range of characteristics and range from mild to severe and not all people will have all the symptoms. Symptoms include early fine or gross motor difficulty such as drawing, pencil grip, and the ability to learn between right or wrong, also have delays in development of expressive and receptive language skills can be early signs. Symptoms include difficulty in correct pronunciation of words and making sentences, difficulty in remembering, understanding between letters, sounds, and words. In other areas symptoms can also be seen i.e. Low self-esteem, memory, processing speed and making and keeping friends along with behaviour problems.(www.learningdisabilities.about.com) Cause
There are several theories about this but is accepted that its passed on through families however there is a significant change that if a person has dyslexia their child will also have it and if one twin is born with it is like the other twin will also have it .Research has showed there are six genes that contribute to dyslexia which four have been shown to affect the neuronal migration, which is part of the process in the brains development.(www.nhs.com) Diagnosis
The earlier the child is diagnosed the more effective treatment will be ,however it can be difficult to identify dyslexia in a child as the signs and symptoms are not always obvious. Parents can talk to the teacher if they have any concerns and if concerns continue take the child to the doctor and if the child as no underlying problems it could be that the child is not responding well to the teaching method and try a different approach and if concerns are still there an assessment is then needed and this is carried out by an educational psychologist or dyslexia teacher (www.nhs.com) Condition
Fragile x syndrome
Is a mental impairment and inherited and child with this condition have development delays ,level of mental impairment and behaviour and emotional difficulties ,males are affected with moderate mental impairment while female with mild mental impairment (www.genome.gov/com) Signs and symptoms
There are learning difficulties with both male and females with boys being more affected ,it ranges from borderline to moderate general learning and many have short-term memory .There are difficulties with speech and language and signs are first picked up on this as children may repeat words and phrases and have difficulty with comprehension. Behaviour and attention present also and may sleep very little and always be on the go, and most lack concentration and avoid eye contact and engage in repeat behaviours and this is why fragile x is often classed as being on the autistic spectrum (www.genome.gov/com) Causes
Boys have one x and one y chromosome while girls have two x chromosomes. Even if girls have the condition they still have one healthy x chromosome to compensate for the fragile one so normally have less severe symptoms than boys (www.genome.gov/com) Diagnosis
Fragile x syndrome is a newly diagnosed genetic condition and affects one in every 4,000 boys and one in every 8,000 girls .This condition causes learning disability but they are also some physical characteristics.(www.genome.gov/com)
Bibliography
Available at:www.epilepsy.ie/index.cfm/spkey/about.services.html.[accessed27th December 2014] Available at:www.learningdisabilities.about.com/od/specifiedtypes/qt/dyslexia-Symptoms.htm?utm-term=Symptoms%20dyslexia&utm-content=p1-main-7-title&utm-medium=[accessed 27th December 2014] Available at:
www.nhs.uk/condition/dyslexia/pages/causes.aspx [accessed 27tDecember2014] Available at: www.nhs.com/conditions/dyslexia/pages/diagnosis.aspx. [accessed 27th December 2001] Beaver, M., Brewster, J., Jones, P., Keene, A., Neaum, S., Tallack, J. (2001) Babies and young children. Diploma in Child Care and Education. Cheltenham: Nelson Thornes.
Related Topics