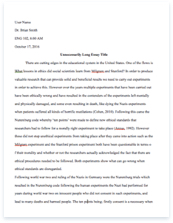 The whole doc is available only for registered users
A limited time offer! Get a custom sample essay written according to your requirements urgent 3h delivery guaranteed
Order Now
Lacrosse is an ancient sport that was used to pass time and was played to practice and improve the Native American people's skills. The way lacrosse was played then is a lot different than how is played today. Also, the rules have changed a lot over the years regarding positions, equipment and even how the game is played. The history of lacrosse can be traced all the way back to our ancient ancestors, the Native Americans. Lacrosse is an old, Native American, and highly technical sport which is played today by elementary school students through professional leagues.
Lacrosse is a very old sport and can be traced all the way back to the Native Americans. Back in 1636, a French missionary named Jean de Brebeuf had first recorded the game of lacrosse. Lacrosse had soon become a very popular game around the world. Queen Victoria of England had watched and even "endorsed" a lacrosse game in Windsor, England. Sometimes, this sport was even used to settle disputes over land and other things to avoid war and bloodshed. Dr. William George Beers, who is also known as "the father of modern lacrosse", had finalized the first set of playing rules in 1867. Twenty-four years later, in 1881, the very first college tournament was held in New York. Lacrosse has continuously evolved into what it is today.
Lacrosse was played differently back then compared to how it is played today. The most major change is the field size. At first, when the Indians started to play it, the fields could be as long as 15 miles in length and today the fields are only 110 yards long and 60 yards wide! In some early games, there could be as many as 1,000 players on each side from the same or different tribes. Today, a team is only allowed to have 9 players and a goalie. Another major change is the equipment. Back then, southern tribesmen used two, two and a half foot sticks while northern tribesmen used one, three foot stick (Vennum). Modern day lacrosse sticks can either be 40 to 42 inches or 52 to 72 inches long. The lacrosse ball has even changed a lot over the years. The balls were first made of deerskin, wood, baked clay, rock or stone. Lacrosse balls today are made out of solid rubber. The protective equipment has also changed. At first, the Indians didn't even use any protective gear at all but now you are required to wear gloves, a chest pad, elbow pads, a helmet and a mouth piece. There are many huge changes that have taken place in the game of lacrosse since the Native Americans started to play it.
Lacrosse is a highly technical sport that involves a lot of athletic ability. Today, passing the ball and dodging other players is the key to winning the game whereas when the Native Americans played the game, it was considered foolish and cowardly to pass the ball or dodge another player. Also, the Native American's games could last for days while our games today have a maximum playing time of sixty minutes. The Native Americans did not have positions like we do today. Now, a lacrosse team has 3 attack players that stay on the opposing teams half of the field, 3 defensive players that stay on their own teams half of the field and 3 mid field players which run up and down the field playing both attack and defense. There is also a goalie that tries to block the opposing team's shots from going in their goal.
In conclusion, lacrosse can be a very interesting sport if you know and understand where the sport came from. The game was originally played and founded by Native Americans and is one of the fastest growing sports in history. Today, lacrosse is played a lot differently than it was back then and the equipment has even changed a lot too. All of these factors lead up to how lacrosse is played today.
Related Topics