History of Early Childhood Education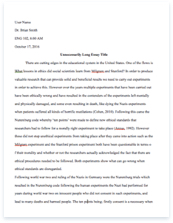 The whole doc is available only for registered users
A limited time offer! Get a custom sample essay written according to your requirements urgent 3h delivery guaranteed
Order Now
The seed of the education begins around 1500. Children were not sent to school till they are seven. Kids were taken care of their mother or others in the family till then. They were taught about social behavior by introducing them to outside world. Till seven they were taught to speak and learned one's culture (V. Celia Lascarides, Blythe F. Hinitz). Martin luther started realizing learning is for all. He thought it will aid everyone to read bible and can help community. Many were not educated during that period, he wants everyone to be literate. Next one was John Amos Comenius, who believed that books with illustration can help children to learn better. Learning through play came into existence by Friedrich Froebel who designed kindergarten. He believed activities should based on child's capacity/skills. Next one is Maria Montessori, who thought education is vital and educating environment also important. She wanted senses to grow and then the brain.
This went into next step when Jean Piaget had a theory that child's growth are in stages. He opinionated that kids pick up easily through environment influence. Lev Vygotsky thought kids grasp by social communication. Community will help to them progress. Mixing age groups aid them in intellectual/skill growth. Learning must purely due to self interest, thats what John Dewey thought. Educators should impart enthusiasm among kids, guide to succeed. Parents has extensive role in child's growth. Erik Erikson thought parents/educator plays vital role in child's emotional development.
Legislation for children with Special Needs
Individuals with Disabilities Education Act
Enacted in 2004, Individuals with Disability Education Act (IDEA) establishes every capable child with special needs can have free public education. Law sketches special education advantage comprising individualized special education services. Every state have different procedures, but must go along with IDEA. According to six principles given in Part B of IDEA, every school must:
Furnish free and suitable communal education – All schools should give an education at no cost, under public direction and administration.
Conduct an evaluation – Schools should gather all data to aid determining child's learning requirements, help them in choosing suitable one.
Make a IEP – to make sure child's educational wants are satisfied.
Make a least restrictive environment – Children with special needs are eligible by law to get a suitable education which is specially designed for child's wants. They should not be isolated from their nondisabled classmates unless the nature of the special needs wants them in different environment.
Provides opportunities for significant participation – schools should give opportunities for parents and also students, when needed to get them involved in special education plan.
Execute procedural protection – Procedural protection checks the child's and parents rights are protected and gives a clear pace to address discussion. It guarantees that the parents can involve in meeting, inspect all records and can get an individualized education assessment.
Americans with Disabilities Act
The American with Disability Act (1990) gives authority security to people with special needs, its anti-discriminatory law (Hooper, Stephen; Umansky, Warren). Act explains people of mental/physical impairment greatly impacts considerable life tasks. ADA disallow bias of special needs by public/schools. It requires skilled people with special needs are combined in idea/activities of public body (Hooper, Stephen; Umansky, Warren).
Section 504 of the Rehabilitation Act of 1973
The Section 504 (1973) tells no one shall be discriminated by their special needs (Hooper, Stephen; Umansky, Warren). It safeguards right of person with special needs obtaining federal funds. Beneficiary of funds are public school, advanced education institute, local firm. It always helps children with amenities given by schools like accommodation/modification. But, it doesn't give IEP. Even if child not qualified under IDEA, is eligible for accommodation under Section 504 (Hooper, Stephen; Umansky, Warren).
Anti-bullying laws
Law explains bullying as undesirable, violent conduct in school going children, demands an actual/perceived capacity imbalance. Creating threats, extend rumors, verbally/physically bombading person, intentionally rejecting person from a group includes bullying. Nowadays, bullying has attained media interests, especially cyber bullying, having disastrous consequences. As of April 2012, all state in nation except montana gave anti-bullying law (Hooper, Stephen; Umansky, Warren). By interactive map at end bullying site, state laws/policies which includes describing banned conduct, initiation/implementation of policies and coaching and preventive education are learned (Hooper, Stephen; Umansky, Warren).
Empirical evidence
Every parent wants children to get a perfect education wherever feasible. One strategy to make child win is to check school is using the good teaching and intervention methods. But how will we know whether they use best methods? It can be done through evidence/research to exhibit work.
IDEA and Elementary and secondary education act (ESEA) needs schools to utilize programs, course and execution based on research. It means whenever feasible the academic interventions should be supported through evidence from proper research studies. Research are scientific when it:
Use the good research plan. The result of students obtaining rated teaching program or intervention are compared with same type of students not entitled for intervention.
It depends on good quality data analysis. Researchers are sure to carefully gather, store and inspect data.
Researchers to analyse the results. The research are recorded in a journal. Other researchers will analyse the technique used, replicate the research in various settings.
Children with special needs must also educated in best beneficial way to fulfill their skills. Educators for them successfully use practices to maximize results. Researchers discover/use best practices in most effective way.
References:
V. Celia Lascarides, Blythe F. Hinitz (2000), History of Early Childhood Education, Routledge Publishing.
https://blog.himama.com/early-childhood-education-then-and-now/
Stephen R. Hooper
Hooper, Stephen; Umansky, Warren. Young Children with Special Needs (6th ed), Pearson Education.
Related Topics