Epping Forest Biology Field Study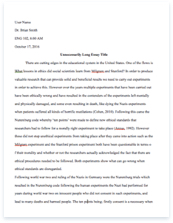 The whole doc is available only for registered users
A limited time offer! Get a custom sample essay written according to your requirements urgent 3h delivery guaranteed
Order Now
Background Information:
Oak trees are occasionally covered on one side, with an orange looking substance. This is due to the presence of a simple alga called Trentepholia aurea (Trentepholiaceae). It is made up of filaments of cells that contain high concentrations of carotene, giving it the bright orange colour.
Hypothesis: The Trentepholia aurea will be found on the north side of trees, as this is where they
receive the least amount of direct sunlight.
Null Hypothesis: Trentepholia aurea is not affected by aspects of a tree.
Variables:
Dependent Variable – I am measuring the percentage cover of Trentepholia aurea on four different
aspects of a tree (North, south, east & west)
Independent Variable – The dependant variable will be plot against the aspect of the tree.
Control Variable
Affect on results
Means of monitoring control
Oak tree
Different types of trees may encourage a faster Trentepholia aurea growth rate than others.
Ensure only algae on Oak trees are recorded.
Temperature
Warmer temperatures promote growth of living things more than cooler temperatures, therefore increases rate of Trentepholia aurea growth.
Thermometer
Light intensity
Living plants need sunlight in order to grow. Therefore light will further the growth of Trentepholia aurea.
Light meter
Equipment:
Equipment
Use
Justification
Flexible Quadrat
To calculate the area cover of Trentepholia aurea at each aspect of the tree
The flexibility allows you to calculate the most accurate area of Trentepholia aurea growth on each oak tree
Tape Measure
To ensure the height the Trentepholia aurea is measured at remains consistent
Gives an accurate and equal level at which can easily be measured on every tree.
Compass
To accurately find each aspect of the tree
Easy to use and gives the best indication as to the aspect
Thermometer
For surrounding temperature measurements.
As temperature is a control, it is just to be monitored. A thermometer is sufficient to do so and will also give accurate results.
Light meter
To record the light levels at every 4th reading.
The light, also a control, is just to be monitored. The light meter gives a very accurate reading and will ensure reliability of results.
Trial Method:
Site area: Rushey plain
Using a compass, find the north side of the oak tree.
Measure 1.5 metres up the oak tree from the base and line up the bottom of the quadrat.
Place the quadrat flat on the bark of the oak tree.
Roughly calculate the area the Trentepholia aurea fills and record your results.
Repeat this for the south, east and west sides of the tree.
Continue collecting results until you have enough data.
Preliminary Results:
Aspect
North (%)
East (%)
South (%)
West (%)
Tree 1
75
12
2
46
Tree 2
70
31
6
34
Tree 3
60
26
14
60
Tree 4
20
0
9
46
Tree 5
20
17
3
0
Tree 6
28
8
6
18
Tree 7
27
1
0
7
I found that there was a clear correlation between Trentepholia aurea growth and aspect of the tree, with the Trentepholia aurea growing more on the north side of the oak tree.
I have chosen to investigate this further in my final study.
Amendments:
I found that there was no evidence of control recordings, and when I stepped back onto the path I could not remember which of the oak trees with Trentepholia aurea on I had already recorded.
In order to incorporate this into my investigation I will record temperature of the surrounding area and light intensity at every forth data reading.
I will also ensure that I tie a piece of wool around each tree that I take recordings from.
To carry out a Mann-Whitney U-Test I will need to take a larger number of samples, so I will aim to take 20 in my study.
Related Topics