Epigraph of "Cold Mountain" by Charles Frazier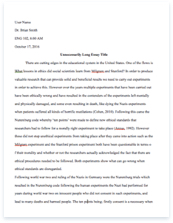 The whole doc is available only for registered users
A limited time offer! Get a custom sample essay written according to your requirements urgent 3h delivery guaranteed
Order Now
            Cold Mountain by Charles Frazier is a story of a wounded Confederate soldier, W. P. Inman, on his journey home to the mountains and to his love, Ada Monroe. This novel is believed to be partly based on the author's great-great-grandfather's own experiences as a Confederate soldier as stated in The Best Novels of the Nineties: A Reader's Guide (Lesher 210). According to the Encyclopedia of American War Literature, it is amply praised for its humane and hopeful vision of healing and love in the midst of chaos and destruction (Allred 126). But what is the real genre of this story? Critics have labeled it with so many names, as a picaresque, a historical novel, a narrative of quest, a tragedy, a love story, and many more. On the purpose of analyzing and understanding this literary piece, I will use the critical essays written by Brent Gibson titled Cold Mountain as spiritual quest: Inman's redemptive journey and On the Trail to Cold Mountain by Kathryn Stripling Byer.
            Classifying a novel to a particular genre or comparing it to another literary work sometimes limits the readers from perceiving the different literary elements but is a good start to comprehend the context of the story. Both Gibson and Byer used the book's epigraph–"Men ask the way to Cold Mountain. / Cold Mountain: there's no through trail"—to describe how hard it is for critics to find a particular genre for this piece. Gibson openly stated that this epigraph might be a metaphor for critics trying to uncover the novel's genre while Byer, pondering on the story, illustrated the difficulty of categorizing the novel as reaching the summit of Cold Mountain itself. Although, they deemed that the novel is not a picaresque since Gibson claimed that Inman is a dynamic character who grew and changed through his journey rather than a static character who had a series of episodic, unconnected adventures, and  "Inman was surely no rogue out seeking adventure for its own sake" as affirmed by Byer. In addition, Gibson believed that this novel is more of a comedy rather than a tragedy even if the novel's ending is the death of Inman since he was triumphant in his journey and his dying vision was a concrete proof of his redemption.
Brent Gibson and Kathryn Stripling Byer both consider this novel as a narrative, specifically, a "narrative of quest" for Gibson and a "narrative tour de force" for Byer.  Gibson used Thomas Foster's definition that "a quest narrative as a journey of self-knowledge in which the quester may or may not know the true purpose of the quest and he compared Cold Mountain to another narrative of spiritual quest, Pilgrim's Progress. Inman, like the Christians, is in a pilgrimage and was in a quest for faith which was lost in the war and was being recovered throughout the story though he was not fully aware in the nature of this quest. Gibson explicitly pointed out how Inman's journey led to the growth and transformation of his spirit since in the beginning, before leaving the hospital, Inman was physically and spiritually devastated and that he was in doubt if he will ever "heal up and feel whole" again, as quoted from Frazier.
Inman's "burned out" spirit started to change when he helped Veasey's lover where he experienced kindness for the first time and that she reminded him of Ada. Thus, the next day, as Frazier expressed it, he "walked all through the day with some brightening of his spirit". But then, his spirit was again under fire upon his encounter with Junior and the home guards, though Gibson believed that the experienced clearly gave us a Christian symbolism of death, burial and resurrection. The next person he meets was the old goatwoman who provided him with companionship, food, shelter and medicine to heal his physical wounds but eventually, also healing his spiritual wounds. The healing power of the human touch from the goatwoman's hand, then Sara and finally, Ada made Inman's spiritual journey almost complete. His spiritual condition was completely reversed upon making love with Ada because the experience made him realized that he is no longer alone. Being a quest narrative, the psychological journey and transformations of Ada as she learn to manage the farm with the help of Ruby, contributed as well.
On the other hand, for Kathryn Stripling Byer, the novel is a narrative tour de force of Inman's journey home. She used Ursula Le Guin's "The Carrier Bag Theory of Fiction," in defining which stated "that the proper shape of narrative is that of the arrow or spear starting here and going straight there and Thok! hitting its mark (which drops dead) … that the central concern of narrative, including the novel, is conflict … that the story is no good if he [the Hero] isn't in it" and that "A book holds words. Words hold things. They bear meanings. A novel is a medicine bundle, holding things in a particular, powerful relation to one another and to us."
 Relating Cold Mountain "as a medicine bundle of words holding things together in powerful ways" and the protagonist striking his goal towards the end, Byer perceived Inman's reaction to Bartram's Travels' description of home as a clear evidence showing "the power of language" and consequently revealing Inman's character who is longing for relationships and rather than heroism. But this argument of Byer was contrary to her previous claim that the novel is a love story, not of Ada and Inman but the love for the physical mountain. Exploring this statement, maybe the mountains represented both home and his pre-war sweetheart, thus we may regard Inman's journey as his love for the mountains since coming back will make him complete. Another aspect that the novel revealed being a medicine bundle was the rightful place of Ada and Ruby, that is, the kitchen, garden, animals and the endless domestic and agricultural chores. These scenes, according to Byer, showed "the novel's tenderness and humanity".
Cold Mountain has also been labeled as a historical novel and a Civil War novel as mentioned by Brent Gibson and as stated earlier that part of the story was based on the experiences of the author's great-great-grandfather. Without the ideas given by the two critics, I might accept this classification since Inman's and Ada's encounters can be viewed as the direct effects of the Civil War to the people and their struggles for survival. In addition, the critics analyses evidently explained that the novel is about healing and love.
Works Cited
Byer, Kathryn Stripling. "On the Trail to Cold Mountain". Contemporary Literary Criticism 224 (2006). 112-117.
Gibson, Brent. "Cold Mountain as spiritual quest: Inman's redemptive journey (Charles Frazier)". Christianity and Literature. 55.3 (Spring 2006). 415.
Lesher, Linda Parent. The Best Novels of the Nineties: A Reader's Guide. McFarland, 2000
"Charles Frazier." Encyclopedia of American War Literature. 2001.
Related Topics