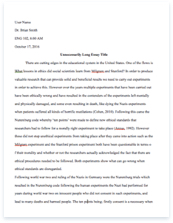 The whole doc is available only for registered users
OPEN DOC
A limited time offer! Get a custom sample essay written according to your requirements urgent 3h delivery guaranteed
Order Now
The Non-Commissioned Officers are the backbone of the United States Marine Corps. This is an punctual statement thats helps show the functioning of the Marine Corps today. NCOs keep order and discipline within the ranks, they are the example for all junior Marines. There is a matter of respect earned when promoted to a rank as such. This is what makes the orders given by an NCO a vital aspect of obedience. As well as regarding your leadership with respect is a fundamental attribute instilled within every Marine in recruit training. Respect in the chain of command provides horizontal cohesion within the section.
Disrespect of a Non-commissioned Officer is a punishable offense in the United States military, and falls under Article 91. The punishment for the offense varies depending on the severity of the disrespect shown and the history of service for the perpetrator. Disrespect of a Non-commissioned officer includes striking, acting in an insubordinate manner, disregard for a lawful order, use of disrespectful language or general deportment. For disrespecting an NCO you will be held accountable.I have shown disobedience and a lack of respect, damaging not only my own growth as a Marine but acted selfishly to everyone around me. Junior marines and my fellow peers seeing my actions could give the wrong impression and the incorrect example of how a Marine is supposed to act. This can cause a chain of reaction of future disrespectful acts and issues amongst the ranks.
I did not address the NCO reiterating me with the proper title and I was being blatantly disrespectful towards the NCO in charge of me. As Marines we are taught to control our bearing and always be tactful. It is one of the most important leadership traits that are instiled in us in recruit training. All Marines have an obligation to conduct themselves as adults and to show respect to the ranks above them. Straying away from these obligations are not an option due to the rules and regulations set in place by regulations and UCMJ.
In the Marine Corps bearing is paramount. We can not act erratic in a situation not ideal to our standards. That is why it is stressed to contain you personal thoughts because it does not apply. We are trained to be obedient for that purpose alone. In the end, respect is an aspect integrated all over the Marine Corps. If it is not properly instilled into each and every Marine, unit cohesion will never be created. Without respect the relationships between the ranks will be nothing but a misguided view. Without respect, a Marine is likely to do the bare minimum that is asked of him with no desire to aspire in the Marine Corps. Without respect there is no desire to help your peers and those lower in rank that truly need help. Respect is what makes every other aspect of a Marine possible. Without it, there is only selfishness and desire to do what will lead to the most comfortable conclusions for themselves.
Related Topics