Discrimination around the world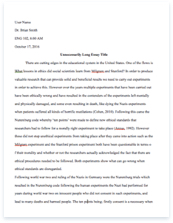 The whole doc is available only for registered users
A limited time offer! Get a custom sample essay written according to your requirements urgent 3h delivery guaranteed
Order Now
Discrimination is acting towards someone or something with partiality or prejudice.Contrary to what we have achieved over the years as far as human rights and equalbenefits for everyone, we still face discrimination and prejudice in our day to day living.In today's contemporary society minorities play a huge role in every aspect of the social
world. They play a part in the economical, educational, entertainment, sports, and manymore aspects of which makes our society complete. Due to the existence of discrimination against these minorities, there are a lot of conflicts and difficulties which makes our contemporary society more complex to some extend.
Many times the skin color, country of birth, religious differences, social status and other factors have made life difficult and complicated for these minorities. Minorities have faced many difficult challenges in the past in order to become a part of the social world.In many cases they have been challenged to make extreme changes in their ordinary livesto overcome their apparent differences and become accepted as a part of theirenvironment. There are vivid examples of prejudice for racism that shows how the minorraces have to struggle much more than major ones to get what they deserve.
Consequently due to the existence of discriminatory actions against minorities there are many different conflicts in our contemporary society. These conflicts can be seen in different areas of family(like the preferring boys over girls), schools ( not paying attention to how is their grades but what is their race and etc.) workplace (not rating working based on their fulfilling their duties but something else), neighborhoods, and etc.Prejudice has caused too many wars between countries throughout the history, like the one in Palestine and Israel.
The fact remains that to this day there are still some places of employment which are discriminative against some of the minority groups. These employers will not employ a person due to their qualification, rather they give employment to the applicants because of the color of their skin or social status or fame or race. Even if the minorities are employed they will not awarded as much as the majorities will be. The consequences of this action is that some minorities who are qualified for certain responsibilities and job opportunities in our society will not be given a chance to participate in the economical
aspect and the growth of our society.
Another problem that we have in today's society is the discrimination seen in our school systems. Certain minority groups are paid a closer attention to in the classrooms and other educational places. It is assumed by the educational system that certain minorities are smarter, and more capable of learning than others, or that other minorities are less willing to learn and participate in the classroom than others. The consequences of this action is more apparent in the number of students who chose to continue their education after high school. The minority groups who have not been given the opportunity to have a fair chance in their years of schooling will not likely continue their education and therefore will not use all their capabilities.
In today's contemporary society minorities are forced to have their own neighborhood. In past certain minority groups have been rejected, humiliated and discriminated against,due to the color of their skin, or other social factors. Living amongst themselves is an easy way of escaping the discriminatory actions by prejudice people. The consequence of this way of living for these minorities is the fact that by doing so, they will always remain separate part of the society. They will not only live amongst themselves, but also shop at their own stores in their own neighborhoods, which ultimately results in an economical imbalance.
There are many ways of reducing discriminatory actions against minorities. One of the most effective ways is the educational system. Our children can learn from the time that they are very young about the rights and wrongs, and the dues and the don't of prejudice. We can teach our children from history about the effects of discriminating against someone else only because of their skin color or other social factors. Another way of reducing discriminatory actions against minorities is by taking a step which needed. We all have a responsibility to our society. We each must take action against injustice and unfairness, and by doing so we will make a better society for our children and grandchildren.
Future is made by us today. We can learn from history about our mistakes and we can make a better future for our children. Discrimination against minorities has become less throughout years due to better education and affirmative action. We must all learn from history, and we must all as individuals teach our children about right and wrong, and how we have all been created equal and what makes us individuals in life is the input that we put in daily in our own lives which ultimately touches the life of everyone around us, whether it is in work or personal places.
Related Topics