Demonstration of The Virtuous Gualities Of An Engineer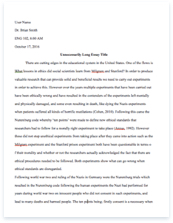 The whole doc is available only for registered users
A limited time offer! Get a custom sample essay written according to your requirements urgent 3h delivery guaranteed
Order Now
The term virtue is associated with performing a task well. Simply, a virtue can be viewed as, "an excellent trait of character." Displaying virtuous traits as an engineer is of crucial importance. From engineering design to general data collection, a primary responsibility of engineers is to complete tasks with technical and professional excellence. Beyond this, a virtuous engineer considers public safety, health and welfare as primary concerns in the pursuit of technical success. Having a full understanding of the workings and motivations of virtue ethics is essential in employing its use. Aristotle believed that good for human beings consists in excellent or virtuous activity and that a good person is defined by certain virtues.
A large focus on Aristotle's understanding of virtue focuses on the terms eudaimonia and arête. Eudaimonia is a term used to characterize human happiness or flourishing and can be considered the highest end. As the highest pursuit, other goals should be considered subordinate. For example, if wellbeing is considered the highest end, goals such as contentment and safety may still be pursued to promote wellbeing but not in place of it. Arête can be defined as virtue and excellence. Virtue can be divided into virtues of thought and virtues of character. Virtues of thought are gained through teaching, experience, and time. Virtues of character are gained through practice or an ingraining of actions.
An example of a virtue of thought would be having the intellectual capabilities and experience of a medical practitioner. An example of a virtue of character would be for the practitioner to use his capabilities in a positive way and for the right reasons. Aristotle believed that neither virtues of thought or character could exist without the other. Aristotle understood that as human beings go through life, their outlook on the world continually changes due to new experiences and developed skills, such as practical reasoning. This is especially true of children. Though a child can be seen to have a base understanding and capacity to display certain virtues, it takes practical life experience to fully develop these traits.
In order to properly develop these desired virtues, an individual must go beyond learning to act virtuously and also develop the correct responses and desires. For example, instead of simply being generous, it is required that an individual desire doing so. This process does not happen in an instant and may take years of practice. Once virtues are fully developed, it is also important to maintain them. Without proper maintenance, one has a tendency to form bad habits or become selfish. Texas A&M University gives students incredible opportunities to develop and refine virtues of thought and character. These virtues include discipline, integrity, selfless service, and leadership. Through a rigorous curriculum, Texas A&M strives to continually challenge its students. In order to be successful at the university, it is essential to develop and maintain discipline in time management. Leadership is highly valued at the university and is considered an expectation.
Occasions to engage in service projects on campus or in the surrounding community can easily be found. Texas A&M helps its students to fully develop these traits and ultimately flourish in their careers. In the field of civil engineering, developing the right virtues is of crucial importance in becoming a high quality engineer. One of the most important of these virtues is humility. Civil projects can range from the development of a storm drainage system to the design of highway to the construction of a skyscraper. These projects can require millions of dollars to complete and affect millions of people.
As a civil engineer, the number one priority is to maintain public welfare, health, and safety, even at the expense of pride. Knowing your limitations and when to seek assistance as an engineer is essential for success. Another virtue that is a priority for civil engineers is taking criticism well. With so much to learn in the profession, it is impossible to know everything and to perform the correct practices every time. Learning to take criticism effectively is a virtue that will allow continual technical and personal growth throughout an engineer's career. Additionally, a desire to learn on the job is an essential virtue for civil engineers.
Civil engineering disciplines include land development, construction science, geotechnical applications, as well as water resources. With many disciplines coming together on a single project, having a strong desire to learn is key for progressive development as an engineer. By developing strong virtues of thought and character, professional engineers are more equipped to better serve the needs of the public. These virtues are developed over the course of their schooling and careers, but they must also be maintained over time. Integration of virtues of thought and character within the engineering profession is essential for developing moral and virtuous engineers. By developing engineers of virtue, the world will surely progress in a positive direction.
Related Topics