David Helwig's, "Haunted by lives unlived"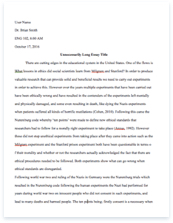 The whole doc is available only for registered users
A limited time offer! Get a custom sample essay written according to your requirements urgent 3h delivery guaranteed
Order Now
David Helwig's, Haunted by lives unlived, utilizies many of the strategies used in assignment writing. Helwig mainly concentrates on anecdotes and how they relate to audience appeal, but he still includes the other strategies for assignment writing.
Anecdote's are frequently being used in Helwig's essay. Primarly, he explains his teaching career and his presentation of Robert Frost's poem, The Road Not Taken: "I sometimes presented this poem to students", (Helwig 55). Secondly, he explains his first thoughts of his reflection of the ghost existence: "…when I first began to reflecton the ghost existences that haunt us, was something less painful", (55). Also, he talks about his ghost existence playing a role in his professional life, in which he turns down a singing opportunity: "I was offered a job as one of the professional soloist at a large church", (56). Following his decision to abandon a singing career he got a glimpse of what he turned down: "What happened, in my case, is that in later life I had a taste of things I had abandoned", (56). Again, at the end of the essay he explains the extent to which the ghost life is existent: "The singer I did not become, the athlete or dancer or actor you did not become, have an existence of some sort", (57). Anecdotes strengthen the use of audience appeal factors in his essay by relating the idea of ghost existence to personal experiences, which everybody experiences throughout their lives. These ghost existences are at times expressed by Helwig to great extremes.
His metaphor of ghosts as the choices that are not taken are stretched to emphasize his vies. The style, in which he expresses these ghosts as being able to haunt us creates a hyperbole: "…and if our life is defined by the choices we have made, it is also haunted, at least i moments of thoughtfulness, by those that weren't", (55). Another metaphor used : "…regret, that eats away the heart…" (55), in its nature, creates a vivid illustration of the effect of regret on a person's sanity. The entire essay is a hyperbole in the sense that he contiously refers to the choices we do not make as ghosts and the terminology he uses to express his thoughts. A few of his thoughts are incomplete and he leaves the reader to decide the answers them.
Firstly, he introduces to us the rhetorical question: "How many lives are haunted by huge regrets?" (55). He follows up with a few illustration to clarify his point: "If only I had married…maried, not married, been braver…" (55). Again, a rhetorical question is asked by Helwig but this time the question is only concerning himself: "If I had taken the job, gone on studying voice, who is to know?" (56). Eventually, he come back to asking the directed audience a general rhetorical question: "How often, I wonder, do people return to what has been loved and abandoned as an avocation?" (56). He makes a reference to both a literary reference and an allusion.
Helwig refers to Robert Frost's poem, The Road Not Taken, in order to strengthen his interpretation of the ghosts that haunt us. Helwig also sets himself as an authority figure through the representation of the poem. Frost's poem is refered to again, although this time it is in the form of an allusion: "..and the first few steps on the road untaken are as vivid as the first few steps on the one…" (56). Another allusion that is refered to in Helwig's essay is Edith Piaf, who was a famous singer in the 1940's.
In retrospect, Helwig's essay is an execellent example of a piece of work, which applies many of the strategies used in essay writing. His thesis is clearly stated, his points are emphasized with anecdotes, and a clear understanding of his views is reached by the end of the essay.
Related Topics