Currently In The United States Air Force (USAF)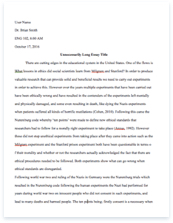 The whole doc is available only for registered users
A limited time offer! Get a custom sample essay written according to your requirements urgent 3h delivery guaranteed
Order Now
There is a problem with not enough Explosive Ordnance Disposal (EOD) personnel graduating the EOD pipeline in order to sustain the force. There are two-phases for the EOD pipeline that are both physically and academically challenging. The preliminary (prelim) phase, at Sheppard Air Force Base (AFB), is 26 days long that takes recruits directly from basic training and puts them through physical challenges everyday along with rigorous academic tests. The second phase of training is 143 academic days of training at the Naval School Explosive Ordnance Disposal School (NAVSCOL) at Eglin AFB. Currently, the attrition rate for the prelim course is around 70%, while the attrition rate for NAVSCOL is around 10% for USAF candidates.
With these attrition rates, USAF EOD is going to struggle with future force sustainment. Currently for fiscal year 2018, there are 79 personnel scheduled to graduate NAVSCOL; however, in order to sustain the required number of EOD technicians for the USAF, there needs to be approximately 108 graduates each year from NAVSCOL ("TWG Minutes," 16 Mar 18). There are a number of factors that can be looked at to increase student graduation; however, for this paper we are going to look at the the recruiting side before candidates ever arrive at basic.
The job of an EOD technician is very physically demanding and requires greater physical stamina than the average job within the USAF. With physically demanding job responsibilities, there needs to be physical standards set for recruits that are similar to the standards encountered in the EOD pipeline. Currently, the physical pre-screening for EOD recruits consists of a 1.5 mile run in under 11 minutes and a minimum of 33 push-ups within one minute. After recruits arrive at prelim, they are put through more physical training that incorporates pull-ups and rucks marches on a weekly, if not daily, basis.
When students are put through this type of physical conditioning, they start to drop-on-request (DOR), also known as self-elimination, because they are unable to keep up with the required minimums. With a current attrition rate of 70%, there is a lot of time utilized on personnel who will never make it through the EOD pipeline due to physical ability. Additionally, those slots are wasted and could have been used for someone that had a better chance at making it through the pipeline. It has been determined that the students who DOR do so because they did not understand the physical requirements needed to become an EOD technician when they were recruited.
There is a disconnect between the recruiting standards and the real world EOD pipeline standards. As stated above, the only pre-screening that is accomplished is a 1.5 mile run and one-minute of push-ups. The problem with EOD recruiting is the lack of pre-screening is affecting the attrition rate and limiting the quality candidates needed to enter the pipeline. Currently, there is more focus from Air Force recruiting to get the proper number of EOD candidates, not making sure those candidates are the right fit for the job. One course of action to fix the recruiting problem is to implement more pre-screening for EOD at the recruiting stations.
There have been a number of papers written about different pre-screening methods and techniques (Spencer, 2011; Swierkowski, 2002); however, for this paper, we are going to focus on the physical fitness side of the recruiting and the reason why this should be a requirement when recruiting EOD candidates. More specifically, instead of focusing on exact physical fitness requirements, we are going to outline the course of action that there needs to be more physical fitness pre-screening done for USAF EOD recruiting.
There needs to be more physical fitness pre-screening, because the USAF is losing a tremendous amount of recruits do to lack of physical fitness. When some students arrive at the EOD pipeline, they are unable to run 1.5 miles within 15-minutes, even after a few weeks of conditioning training with instructors ("TWG Minutes," 16 Mar 18). Recruiters need to focus more on quality candidates that have good fitness and less on the number of candidates that sign-up for EOD. Currently, this type of quality over quantity recruiting is happening within the USAF special operations community; however, it is not being mimicked enough in the EOD community. This recruiting puts a heavy focus on physical fitness and makes sure recruits understand what they are signing up for, before they enter the military.
The USAF needs to learn from the special operations community and implement stricter physical fitness standards pre-screening for EOD recruits. If the USAF were to implement stricter pre-screening into EOD recruiting, there could be a number of second and third order effects. Looking at the negative effects first: there could be a drop in recruiting numbers due to the fact recruiters might be unable to find qualified recruits. This drop in recruiting numbers could lead to a wider gap of graduates through the EOD pipeline, severely hindering the sustainment capabilities of USAF EOD. On the other hand, there could be a number of positive effects if stricter pre-screening were to be implemented. First, the attrition rate at the prelim school could decrease; this decrease in attrition could then increase the graduation numbers from NAVSCOL, enabling the proper sustainment for USAF EOD.
There are a number of constraining factors for implementing this course of action, but we only have time to discuss two main points: lack of scientific evidence EOD needs certain physical standards, and lack of being able to change the recruiting process within the USAF EOD leadership. There are a number of mission sets within EOD that require proper physical fitness, but there have not been any scientific studies done to explain the fitness required to fulfill these duties. Currently, there is a two-year study being conducted for USAF EOD at the headquarters level to understand the physical fitness needs.
Once this study is complete, it will give EOD leadership a better understanding of how they can pre-screen personnel and what are the true requirements the job entails. Secondly, it is impossible for EOD leadership to change the USAF level recruiting procedures internally. EOD leadership can make recommendations, but it is not within their scope of authority; the Air Force Recruiting Center Commander is the approval authority. There must be buy-in from all parties in order to change EOD recruiting and this can be a huge challenge within the USAF. Overall, once the physical fitness study is complete, the recruiting commander can understand the scientific need for the physical fitness requirement, thus implementing stricter pre-screening for recruits.
In conclusion, there is a problem with the current USAF EOD recruitment standards. The course of action addressed to fix EOD recruiting is to increase the physical fitness pre-screening being conducted at the recruiting centers, similar to USAF special operations, in order to obtain proper candidates for the EOD pipeline. If this is not done properly, we will continue to have a shortage of EOD graduates; this shortage could severely hinder USAF EOD capabilities in the future. This action cannot be solely accomplished by USAF EOD leadership; it must be signed off by the Air Force Recruiting Center Commander in order to have lasting effects. If something is not done soon, the USAF could see a personnel shortage similar to the pilot shortage we are currently experiencing in 2018.
References
Explosive Ordnance Disposal (EOD) Training Working Group (TWG) Minutes. (16 Mar 18).
Spencer, C. E. H. (2011). Raising Army EOD Entry Requirements, 3.
Swierkowski, S. M. (2002). Tactics, Methods and Techniques to Improve Special Forces In-Service Enlisted Recruiting, 112.
U.S. Air Force – Special Ops. (2018, January 1). Retrieved June 2, 2018, from https://www.airforce.com/careers/featured-careers/special-operations
Related Topics