Confusing things with Nature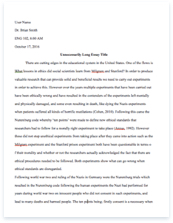 The whole doc is available only for registered users
A limited time offer! Get a custom sample essay written according to your requirements urgent 3h delivery guaranteed
Order Now
I respectfully appeal for readmission to University of South Dakota for the Fall semester of 2014. This letter is to explain my reasoning for wanting to return to USD, my future goals as a USD student, and post plans for after attending USD. While attending USD as an undergrad student I've enjoyed studying there immensely! My plans for wanting to return to USD is simply to further my education under which I was successful at doing while attending USD. I feel as though I conformed to the status in which USD holds its students, and I was strongly committed to attaining my degree as all students should be. USD was very beneficial for my growth as a student and also as a person. While studying at USD, I took pride in knowing I had all the help I needed to succeed and be productive in completing all my course work.
The professors were more than helpful and always took extra time to assist me in extra study time or provide me with extra help in gathering more research for completing projects. These few examples alone are reason enough to want to further any students education at USD, but these are a few of my reasonings from my past experience at USD as to why I want to further my education at the University of South Dakota. I am aware that I could do much better to affect improvement in my academic standing.
In preparation for resuming my studies at USD, I plan to enroll in fewer classes which conform to my schedule which would help me to focus more of my attention on not only completing my course work, but also completing the work with good grades. My primary goal for attending USD in the fall of 2014 is achieve something no one in my immediate family has done, and thats to graduate with an undergrad and complete a mission I set out to accomplish after leaving high school. I understand students at USD are held to a certain standard and responsibility to be successful productive students in and outside the classroom. Also, while attending USD I understand there is a standard of having school spirit and school pride in being a Coyote as and athlete and as a student!
These are the things I took pride in while attending USD, and Im sure all students take pride in being a Coyote while attending USD. I've gain an enormous amount of experience during my short tenure studying at USD. I have developed so many relationships with fellow classmates and have furthered those relationships while being away for some time while pursuing my professional basketball career in Europe. I plan to exhaust all the help I need to be successful in obtaining my bachelors degree. I would also use the tutoring services at the Accessibility Center. I will need to get A's & B's to be in good academic standing. One thing that I learned in studies post USD at Aurora University which is worthy of note, is that my failures has been a learning experience.. I've learned to use what some might call failures as motivation and an inspiration to succeed and exceed past other's expectations of my progression. I know I can be successful! I want to be successful and I believe I will be successful!
In closing, Open to high school sophomores and juniors interested in pursuing careers in accounting or majoring in business, students earned one college credit with the successful completion of the Summer Accounting Institute. Students completing the five-day institute were: Ashlyn O'Daniel and Zoe Cosato of Redfield, S.D.; Lauren Schmidt of Deshler, Neb.; Megan Erickson of Montrose, S.D.; Bobbie-Jo O'Neil of Balaton, Minn.; Shelby Riggs and Noah Thompson of Mitchell, S.D.; Mark Ahlers and Christopher Jansen of Sheldon, Iowa; Kyran Medicine Eagle of Chamberlain, S.D.; Lydia Homandberg of Slayton, Minn.; Teddy Beth McMahon of Wisner, Neb.; Raina David of Mount Vernon, Iowa; Melissa Gunnink, Gavin Salonen, Lucas Hoffman and Cole Harder of Sioux Falls, S.D.; Hannah Person of Polk, Neb.; Viola Ishmael of Gayville, S.D.; Matt Leiferman of White, S.D.; Katie Storm of Archer, Iowa; Brook Benes of Lincoln, Neb.; Dominika Jedinak of Council Bluffs, Iowa; Wade Weber of Emery, S.D.; Ryan Styles and Allison Odens of Vermillion; Farruzah Hutchison and Fatmata Coomber of Grand Forks, N.D.; Maria Schwader of Winfred, S.D. and Leah Rogness of Astoria, S.D.
This year's institute, which was July 13 through July 17, included field trips to a nationally-recognized public accounting firm and various regional businesses, as well as seminars and lectures featuring some of the area's top accountants. Participants also explored career opportunities in accounting and finance, listened to faculty presentations and participated in fun events, including a pizza party at Prentis Park in Vermillion, an afternoon and evening at Wild Water West in Sioux Falls, S.D., and bowling and movies throughout the week. Team and individual awards were also presented to camp participants, and four students received scholarships to attend USD to study accounting.
Sponsors of the Summer Accounting Institute included Deloitte; Eide Bailly; KPMG; McGladrey & Pullen Certified Public Accountants; The South Dakota CPA Society; Ernst & Young; Daniel, Meyer, Casey, Peterson & Associates, Ltd.; Jones, Kramer & Haber, LLP; Daktronics; South Dakota Investment Council; USD Beacom Opportunity Fund; Ketel Thorstenson, LLP; Brandt, Solomon and Anderson LLP; Steven Sikorski; and Williams and Company, PC.
About The University of South Dakota
Founded in 1862, The University of South Dakota is designated as the only public liberal arts university in the state and is home to a comprehensive College of Arts and Sciences, School of Education, School of Health Sciences, the state's only School of Law, School of Medicine, the accredited Beacom School of Business and the College of Fine Arts. USD has an enrollment of more than 10,200 students taught by more than 400 faculty members. More information is available at www.usd.edu/press/news.
This material is available in an alternate format upon request. Please contact University Relations at 605-677-5759. If you are a person with a disability and need a special accommodation to fully participate in any university activity or event, please contact Disability Services at 605-677-6389 as soon as possible, but no later than 48 hours before the event, so that appropriate arrangements may be made.
Related Topics