Comparing the ending of Esquivel's Like Water for Chocolate to Camus' The Outsider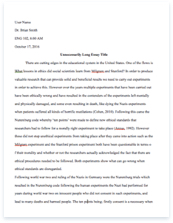 The whole doc is available only for registered users
A limited time offer! Get a custom sample essay written according to your requirements urgent 3h delivery guaranteed
Order Now
In both Like Water for Chocolate and The Outsider, the main characters experience a blissful realization at the end of the book while facing imminent death. With the exception of the last few pages of each book, the two main characters, Tita and Meursault are largely static in their development; their interactions with people do not change, nor do their attitudes throughout the novel. In Tita's case, the years of abuse from her family (mostly mother,) physical and mental, coupled with the constant sense of oppression she felt, lead her to become so emotional that she had an often-destructive impact on the world around her. However in Meursault's case, he is passive his entire life to the point of absurdity. The final pages of Like Water for Chocolate and The Outsider provide both main characters with similar realizations, although through very different life circumstances, while facing death.
Although the deaths of Tita and Meursault are very different in context, their revelations share the common theme of rebirth. Both characters experience what they had been pursuing throughout the course of the novel only at the end while accepting imminent death. When Tita dies, she finds a "figure of Pedro waiting for her" as she had been searching for love her entire life. And upon Meursault's imminent death, he discovers that death "made me realize that I'd been happy, and that I was happy still" after spending his life in painful apathy. It may seem unfair to the reader that these two characters have found what they have been searching for only because of death; however both characters experience a sort of life after death. Even though Meursault's newfound happiness is so close to his death he says, "I, too, felt ready to start life all over again.
" This idea in Meursault's mind that he will experience a rebirth is put here by Camus show Meursault's hope, something he has not experienced throughout the entire novel. This idea of rebirth is very similar to Tita's scenario in Like Water for Chocolate. After Tita's death she sees Pedro again and the author writes "Never again would they be apart." This tells the reader that Tita continues to be 'alive' even after death. Very similar to Meursault's insinuated rebirth except for one large difference: that Tita actually dies. Meursault's revelation is before his death, after saying his anger has "emptied me of hope." Meursault's anticipation of rebirth comes after he has accepted death as a certainty, whereas Tita's rebirth comes more literally after she has died.
Tita and Meursault's realizations upon death are similar as they are both being liberated from the troubles that they have faced their entire lives. When Tita dies, the Esquivel intentionally makes it sound like a liberation from her sorrowful life." Little by little her vision began to brighten until the tunnel again appeared before her eyes. There at this entrance was the luminous figure of Pedro waiting for her." This idea of the "tunnel again appearing before her eyes" and the "luminous figure of Pedro" is a play on the Christian ideal of what happens when you die (seeing God at the end of the tunnel.) This image of seeing the luminous figure upon death tells the reader about how this is a sort of liberation for Tita; going to a better place. This symbolized Tita's freedom from the materialistic world around her. It signaled the beginning of an afterlife that would be with Pedro, free of all the eyes watching them. Meursault's new found freedom is from the indifference from which he has suffered his entire life. For the first time, Meursault is feeling emotions, and is totally aware that he is doing so.
Once Meursault has accepted his death as a foregone conclusion, he states, "I felt calm again." This is totally different to how Meursault has acted throughout the novel. He starts telling us about how he "felt." Using the world "felt" often and discussing his feelings. This shows a total change from the beginning as he showed zero signs of emotion. Meursault had not known he was happy, thus showing the total change he made in character throughout the book, especially at the end, nearing his death. Meursault goes even further to state "I realized that I'd been happy, and that I was still happy." This sentence tells the reader a lot as he uses the word "realized." This shows that up until this point, Meursault had not known he was happy, thus showing the total change he made in character throughout the book, especially at the end nearing his death. This "realization" is liberation for him from the indifference he has shown throughout the novel. The realizations experienced by Tita and Meursault were a source of liberation from struggles faced earlier in their lives.
The endings of Esquivel's Like Water for Chocolate and Camus' The Outsider share many differences and similarities. The two main characters, which are largely static throughout the novels, experience revelations in the face of death. Both of these revelations are liberations from troubles they face during the novel. These liberations come in the form of rebirth. As the lives of these characters are ending, the salvation they receive is in the form of afterlife, or rebirth. We see this directly in the death of Tita as her spirit stays alive, and Meursault whose emotions manifest as a desire to "start all over again." The conclusions of these novels are perhaps the most crucial parts as the main characters evolve from static to dynamic as they undergo massive changes.
Related Topics