Comic Conventions in Educating Rita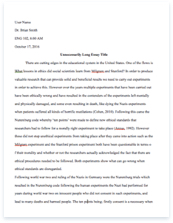 The whole doc is available only for registered users
Pages: 2
Word count: 441
Category: Comedy
A limited time offer! Get a custom sample essay written according to your requirements urgent 3h delivery guaranteed
Order Now
The 1980's play Educating Rita by Willy Russel shows many of the main features of comedy.
It involves two different societies clashing, for example. Rita, a hairdresser who comes from a working class family and is married to Denny whose aim in life is to have a baby, wants to get educated. She meets Frank, her tutor in the open University who comes from an upper class family.
In the beginning, Rita appears to be the typical working class women. She is uneducated, speaks in a strong dialect and hardly knows any literature. In contrast to that, Frank appears to be very typical as well, for his class. He speaks proper Oxford English and has a broad knowledge of the literature and is very well educated. But later in the play, the reader learns, that both Frank and Rita are not stereotypes of their class. Rita is very clever and knows what she wants from life and that she wouldn't give up fighting for what she wants, while Frank is slightly depressed, has a drinking problem, problems with his partner and is disappointed of life.
He seems to be superior in the beginning, but throughout the play, Rita seems to teach him new ways and new views. He is impressed and likes her naïvety and her honest way.
The play also includes tragic elements, like Rita's wish to belong somewhere, even if she feels she doesn't fit in, neither in the upper class, because of her lack of education, nor in the working class, because she wants to 'sing another song' as she says. She's torn between her family, her husband and the life predicted for her and her 'new life' with Frank, she desires to live. The relationship between Rita and Frank also is quite tragic, because both feel affection for each other, but are unable to show them. Frank feels unattended by Rita, when she stops telling him every detail of her life. And the reader never gets to know, whether their relationship develops any further, since he gets send away in the end. Another tragic point is Frank's drinking problem, which also leads to funny
scenes.
The play is set in a safe space, Frank's office, where Rita and Frank can talk about everything, without thinking about the consequences.
It makes the readers change the way they think about life, because it shows that not everybody can be judged by their social class, job or looking.
I would consider Educating Rita a typical comedy, Russel uses many of the typical comic conventions and the comedy definitely makes the reader laugh.
Related Topics