Characteristic Of Project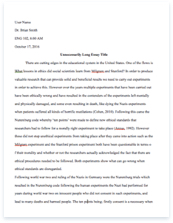 The whole doc is available only for registered users
A limited time offer! Get a custom sample essay written according to your requirements urgent 3h delivery guaranteed
Order Now
1) Importance
It is of utmost importance that all the parties associated with project must understand the importance of project. Often top level management fails to understand the importance of project and such projects often tend to fail in achieving its goals. If the project is not considered important by management and teams working on it, it has tendency to get sidelined when prioritizing projects comes in action. 2) Scope
End results for project should be clearly defined. There should be well defined list of all goals and actions taken to complete these end results. It helps to reduce complexities in planning and avoid ambiguities in assigning responsibilities. 3) Life Cycle and finite due date
Every project is defined by different attributes. It goes through a lifecycle and terminates with the due date. Lifecycle consists of different phases, it builds up, reaches to it is peak point and then declines. The interdependencies and resources vary in every phase of lifecycle of project. 4) Interdependencies
All projects are dependent on other entities and other entities are dependent on projects. It is extremely important for project manager to take all these interdependencies in consideration. The interdependencies can be in form of resources or requirements and interact with each other regularly.
5) Uniqueness
Every project is different from other projects. And it is unique in its requirements. Some similarities can be seen from time to time, however there are always exceptions and customizations issues that manager has to deal with. For this to be handled efficiently project manager has to be alert about the direction project is heading and its uniqueness. 6) Resources
Every project has resources allocated. Resources can be associated with finance, labor, time, technology and many more. It is very important to find the balance between all these resources. Many times project has to struggle with other projects for resources which forms basis of conflict. 7) Conflict
Every project needs different resources and personnel in different phases of lifecycle. Project manager is constantly exposed to conflicts raised due to the competing for resources. Sometimes these conflicts can be in different teams of one parent project. Conflict resolution plays important role in every project and hence it is important characteristic.
Work Experience Application:
In my internship, I noticed for the first time understanding the importance of project is essential. I observed there were few customers who had big, ongoing projects with company and there were other small customers with smaller project. In the pressure of retaining old and big customers, the smaller projects from new customers used to get ignored, Due to the irregularities, delays and overall substandard output the new customers never returned resulting in loss of revenues.
I was first introduced to the project lifecycle and due date in my work period with MindTree Ltd. The IT projects have different lifecycles than typical project life cycle; the resources required and risk associated with project used to depend upon the phase that project is in. Projects were highly interdependent. E.g. Testing team for certain software cannot start testing software until unless development team delivers the product. Resource management used to be critical since need of resources for every project used to vary according to external entities affecting project.
Related Topics