Changes in Identity In Robertson Davies' novel Fifth Business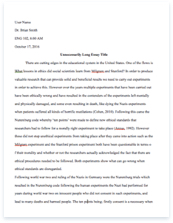 The whole doc is available only for registered users
A limited time offer! Get a custom sample essay written according to your requirements urgent 3h delivery guaranteed
Order Now
Changes in Identity In Robertson Davies' novel Fifth Business, the author uses the events that took place in Deptford to reveal character identity. Three characters in the novel from Deptford: Boy Staunton, Dunstan Ramsay and Paul Dempster, leave Deptford to look for a new identity to get rid of their past one. Though for some, the journey was a difficult one, it ends up turning out for the best overall. The three main characters of the novel, all of whom to some extent try to escape their small town background, change their identity to become people of consequence. All in some way take on a new identity. Stuck in this transformation is the assumption that one's original self, especially one's small town origins, must be abandoned before one can become significant in the world, which shows how desperate these people are to get rid of their old indentity and claim a new one. The first character in which this is apparent in is, Paul Dempster. Who, as an outsider in Deptford due to his mother?s identity, tries to find a new identity for himself in a number of different ways.
Firstly, Paul Dempster grows up as an outcast in Deptford. Through his mother's ?simpleness' leading the tight social world of the town, to cast out his whole family and force's Paul to leave the town and create a new image for himself. Paul runs away to the circus in his early teens because of the mental abuse he took from the town because of his mothers incident with the tramp. Dunstable comment's, "Paul was not a village favourite, and the dislike so many people felt for his mother – dislike for the queer and persistently unfortunate – they attached to the unoffending son," (Davies' 40) illustrates how the town treated Paul because of his mother's actions. With the way that they did treat Paul and his entire family, it?s no wonder why he wanted to change his identity. Paul leaves his past because of the actions by his mother and the guilt he feels because his "birth was what robbed her of her sanity," (Davies' 260).
This quote explains why Paul left Deptford. However, while Boy merely tries to ignore his Deptford past, Paul tries to create a completely new one and Paul asks Dunstan to write an autobiography that "in general terms that he was to be a child of the Baltic vastness, reared perhaps by gnomelike Lapps after the death of his explorer parents, who were probably Russians of high birth." (Davies' 231).
However Paul does not want his book to represent his past life in Deptford because he did not want the rest of the world to view Deptford as a corrupted town. Therefore, Paul Dempster is a troubled child because of his mother's actions in Deptford which in turn force Paul to leave Deptford and to create a new identity for himself. The second person who attempts to build a new life by changing his identity is Dunstable Ramsey.
Dunstable Ramsey is haunted by the guilt of Mary Dempster over his entire life and he must create a new identity for himself. After a snowball hit Mary in the head (the snowball that hit Mary was thrown by Boy Staunton meant for Ramsay), and her preacher husband is crying over her, young Ramsey?s only thought is that he is "Watching a ?scene', and my parents had always warned against scenes as very serious breaches of propriety." (Davies' 39).
The actions of Mary bewilder Dunstan because Mary committed a serious crime in Deptford. Later in life Dunstan falls in love with his nurse named Diana who renames him after Saint Dunstan, who is "Mad about learning, terribly stiff and stern and scowly, and an absolute wizard at withstanding temptation." (Davies' 93).
His new name does not replace his old identity, but rather makes him double-named and double-identified. This helps Dunstan as he tries to replace his old life with a brand new one. Therefore, Dunstan changes his name to start a new identity and he will never forget his Deptford past, and in fact, he becomes obsessed with it. This is particularly apparent with Mary Dempster because of his role in Mary getting hit with a snowball and subsequently having a premature baby. The third person in the novel who attempts to change his indentity into a more positive one. An identity that does not relate to Deptford, is Percy Staunton Percy Boyd Staunton is at the centre of the snowball incident. This incident happens to turn out to be the architect in the action of the novel. It forces Percy to allow the incident to suppress his memory and leave Deptford to create a new identity for himself. He really did not feel to much remorse for his actions so, he moves to Toronto and inherits the family sugar business.
Although this is not his first choice for a career, he settles for it in order to change his identity. He also drops a letter from his middle name, becoming "Boy" Staunton, and begins to build a new ruling-class identity for his renamed self. "As Ramsay explains, "he was always the quintessence of something that somebody else had recognized and defined," (Davies' 147), his new identity allows Boy to start a new life and leave Deptford in the past. Also, Boy brings with him into his new life his Deptford wife Leola, whom he tries to change into "the perfect wife for a rising young entrepreneur in sugar." (Davies' 151) She cannot lose her small-town background as well as Boy, and she falls by the wayside, eventually committing suicide. Although, Boy is the adversary type character of the novel, Fifth Business, his new identity embraces him as one of the most powerful men in Canada. However, he will always hold the guilt from the snowball incident which occurred in Deptford, no matter how hard he may try to forget it.
To conclude, the actions, by the main three characters in the novel, that occurred in Deptford, change the whole basis of the novel. So, while Boy and Magnus have taken on new identities and tried to displace their old ones, Dunstan takes on a new identity that complements the old, therefore making his transformation into a success. Not to say that the other two transformations were not a success. They just did not take place as quickly and easily as Dunstans did.
Related Topics