Case Study of Nupath Foods Ltd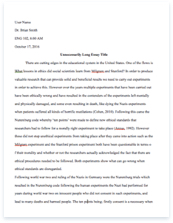 The whole doc is available only for registered users
A limited time offer! Get a custom sample essay written according to your requirements urgent 3h delivery guaranteed
Order Now
Denise Roberge, brand manager of Nupth Foods Ltd, had improved sales of her company product recently. Her superior, James Ornath, wanted to reward her by promoting her to the position of marketing research coordinator. This decision was not well-received by Roberge, who assumed that Ornath was following her previous employer's footsteps of sexist practices. She felt insecure about her current position and faced a dilemma as whether to change Ornath's decision or to tender her resignation.
SYMPTOMS AND CAUSES OF THE SITUATION
PERCEPTION
SYMPTOMS
She felt that Ornath's positive comments about the promotion were just a smokescreen of letting her know that her career had come to a standstill in the sales department. Ornath's intention of letting Roberge have a broader experience in the company was perceived as him being jealous of her success and giving her a lower profile job scope.
CAUSES
Roberge had assumed that Ornath was trying to stop her from advancing up the corporate ladder. She assumed that Ornath was acting in the same manner as with her previous employer, where sexist behavior existed. Ornath was the vice-president of marketing. By transferring her to his department, Roberge would be under his observation and will have limited career opportunities. (Hellriegel, Slocum and Woodman, 1998). It leads to her to form a perceptual defence against the idea of accepting the post. Hellriegel, Slocum and Woodman (1998 pg 86) defines perceptual defence as 'the tendency for people to protect themselves against ideas, objects or situations that are threatening.' Once a person's biased view of the situation is established, it will be unlikely to change.
MISCOMMUNICATION (NON-VERBAL CUES)
SYMPTOMS
Roberge's astonishment was detected by Ornath but he had misinterpreted her silence and weak response. He had noticed her looking bewildered upon hearing the news and assumed that she was overjoyed.
CAUSES
Ornath thought that Roberge's view on her promotion was identical to his as he had assumed similarity between the both of them. McKenna (2006, pg163) classify assumed similarity as 'the tendency to see others as having the same characteristics more like our own'. He had attributed the motives and emotions that he possessed based on his past experiences with the research department to Roberge.
The misunderstandings worsened due to the fact that both of them did not know each other well. As it was a face-to-face conversation, Roberge did not dare to speak up and challenge the decision so as to prevent from coming across as disrespectful. Ornath failed to seek her opinion regarding the job transfer and had to "fill in the unknowns" about her based on his own thinking. He thought that she was bewildered because she was happy with the promotion. Therefore, he had failed to notice the non-verbal cues that she had displayed due to her discontent.
STEREOTYPING LEADERSHIP
SYMPTOMS
She believed that Nupath Food Ltd was following her previous employer by limiting her career path when she was informed that she would be taking over the job of marketing research coordinator.
CAUSES
The sexist experience that Roberge suffered had misled her into thinking that Ornath was doing the same thing as well. As the situation was similar to the previous one, she stereotyped that Ornath was biased against females in the company. Jex (2002, Pg 87) defines stereotyping as 'the tendency to assign attributes to someone solely on the basis of a category of people, of which that person is a member.' Roberge had taken into view that Ornath's decision was flawed on 'the basis of a single instance' (Martin, 2005, pg 91).
SOCIAL IDENTITY
SYMPTOMS
Roberge thought that being in market research doesn't help her to get into the top management.
CAUSES
McShane and Travaglione (Pg 77) state that 'social identity is a person's self perception of him or herself as a member in various groups.' Roberge was discontented with the promotion as she was pleased with her current status. Her present position can only be obtained by a handful of people and being a female makes it even harder. The fact that she had just improved the sales of the company justified the hard work that was put in. This made her treasure her position even more and was not willing to give it up.
LACK OF MOTIVATION
SYMPTOMS
Roberge was unmotivated due to her negative thinking of her being sidelined and given a "backroom" job.
CAUSES
Motivation has been defined as 'the psychological process that gives behavior purpose and direction' (Kreitner, 1995). She believed that there was little significance in doing research work and there was low task identity associated with it as the job scope did not allow her to be outstanding at Nupath. There was also a variation of skill variety as she was doing sales all along since her previous job. For example, as a sales manager, she might be good in communication and persuasion skills but she was unable to utilize her abilities to the fullest at a research department where analytical skills and patience might prove to be more important.
It was stated in the case study that she had been involved in sales since her previous job and therefore have little or no experience in research. Roberge might be fearful that she could not perform as well and deliver the results that are on par with her current sales job. The incentives were insufficient to motivate her. The job transfer was just a lateral promotion with a slight pay increase which was unable to satisfy Roberge's ambition to get promoted.
JOHARI WINDOW
SYMPTOMS
Ornath had thought that by recommending Roberge to be a market research coordinator, she could follow in his footsteps of advancing her career by having a broader experience in the company. Roberge's view was that she had been sidelined and being in marketing research was not the solution of getting recognized and promoted.
CAUSES
Roberge did not know that Ornath had been a market research coordinator before and that the job had greatly enhanced his experience in the company. There is a lot of information in the "hidden area" of their Johari Windows (refer to Appendix 1) which are unknown to each other. Ornath's misinterpretation of Roberge's attitude towards the transfer proves that he had limited knowledge on her "open area".
CORRECTIVE MEASURES THAT THE ORGANISATION SHOULD TAKE
Nupath Foods Ltd could solve the problem by implementing job enrichment and rotation into Roberge's new job. One of the reasons why Roberge shunned the post of a researcher was that she felt the job was insignificant. Nupath Foods Ltd can enrich the job positions with titles and attempt to increase greater levels of motivators into them (Jex, 2002) so that they will sound attractive to the person holding the post. For example, instead of Market Research Coordinator, they could rename the post as "Market Research Executive". Incentives such as increasing the number of days off and having flexible working hours can also be implemented.
The company can also adopt gender equality as one of its core values or corporate rules to prevent its female employees from feeling discriminated. Having an equal ratio of both sexes at the higher management level will also help in maintaining the image. As women tend to be family carers in the family (Robbins & Barnwell, 2002), a childcare room or centre can be set up within the company to accommodate their needs and allow them to concentrate on their work, while being assured that their children will be well taken care of.
Jex (2002) argues that having job rotation will allow the employee to learn a wide variety of new skills. The idea is that people who know how to do someone else's job will have respect for what that person is doing, and this breeds a sense of cooperation. Nupath could place its employees in different departments for a period of time so that they can understand the different working environment and have a better view of how the whole company functions. This method helps to prevent any fallacy that arises from any rumor or grapevine that can cause certain positions or departments to be unpopular.
Nupath can create environments that seek to make ability the main criteria for appointment to a job regardless of gender. This can be done by defining the job which 'concentrates on the requirement of the tasks' (Robbins & Barnwell, 2002, pg 41). The company can also increase the number of interactions between its employees by having a staff lounge for them to relax in during lunch and tea breaks. Occasional feedback sessions between superiors and their subordinates can be held to improve their relationships. Family days can also be organized to aid in the communication process.
REFERENCES
Hellriegal, D, Slocum, JW, Jr, Woodman, RW 1998, 'Chapter 3 – Perception and Attribution', _Organizational Behaviour,_ 8th edn, South Western College Publishing, Cincinnati, Ohio
Jex, SM 2002, _Organizational Psychology_, 1st edn, John Wiley & Sons, New York,USA.
Kreitner R 1995, _Management,_ 6th edn, Houghton Mifflin Company, Boston.
Luft, J 1984, _Group Processes_, Palo Alto, Ca, Mayfield
Martin, J 2005, _Organizational Behaviour and Management,_ 3rd edn, Thomson Learning, Italy.
McShane, S, Travaglione, T 2005, _Organizational Behaviour_, Enhanced Edition, McGraw-Hill, Australia.
Robbins, SP, Barnwell, N 2002, Organisational Theory, 4th edn, Prentice Hall, New South Wales, Australia.
Related Topics