Assisted Suicide is Ethical Decision That Have to Face The End of Life Issue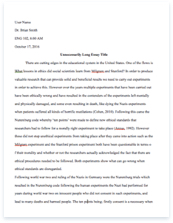 The whole doc is available only for registered users
A limited time offer! Get a custom sample essay written according to your requirements urgent 3h delivery guaranteed
Order Now
Ethics is often referred to as what is right and what is wrong. What people should do in reference to rights, obligations, and benefits to society, fairness, and virtues. It is someone's own moral belief and conduct and can have many meanings to it (Velasquez, Andrea, Shanks, & Meyer, 2010). There are nine steps to the ethical decision making process. These steps are; First step is to, clearly defining the issues. Second step is to; determine the facts of the situation. The Third step is to; determine the stakeholders, the values at stake, and the obligation and interest of each stakeholder. The fourth step is to determine what options are available and evaluate them. The fifth step is to decide what should be done. The Sixth step is to justify the decision made by identifying reasons that support the decision. The Seventh step is to implement the decision. The eight step is to evaluate the outcomes of the decision, and finally the ninth step is to examine how to prevent the issues from recurring (McWay, 2nd, 2014).
As a healthcare worker, we are often faced with ethical decisions. Some of the decisions that have to face are end of life issues, donor organs, criminal coming in for care and physician assisted suicide. With the end of life, discussions can be hard for any family member to have to face. One of the most common issues are in establishing plans of care for patients are their condition and prognosis; failure from the family members to appreciate the patient's condition and prognosis; failure to apply judgment; offering the choice of care or no care; prolonging life and quality of life (Lang & Quill, 2004). Often family members do not want to let go or accept their family member diagnosis. This often results into a problem with the decision making for the patient that is not always, what is best for the patient.
This is why it is essential for patient to have advance directives to help the family make those tough decisions. If there is no advance directive then the physician faces critical care decisions. At first the decision was to resuscitate a patient or not to. Now decisions are chosen for nutrition, hydration, and future interventions aimed at cure. Ethically, as a physician you have an obligation to make the best decision for the patient. If the quality of life is gone then you are ethically responsible to educate the family on those decisions that need to be addressed (Lang & Quill, 2004). Sometimes, even with an advance directive, the family still has a hard time making a decision. It is the responsibility of the physician and healthcare team to help guide them along. Being a healthcare worker for a long time, I have seen this too often. It is important not only to have an advanced directive but speak to you family about your wishes while you are in sound mind and body so everyone is on the same page when it comes to end if life care.. Family tends to hold on to their loved one even when it is not the right thing to do because of suffering.
Physician assisted suicide is a big topic for discussion and another huge ethical decision that healthcare workers face. Physician assisted suicide is when a physician provides terminally ill patients with a prescription for a lethal dose of medicine that the patient intend to use to end their own life. (Starks, Dudzinski, & White, 2013) Most patients that are thinking about suicide are given receive treatment as though their decision-making capacity is compromised and health care providers intervene and provide life-sustaining treatments. Physicians are in the business of saving life's not taking them. The other side of this is if a patient is terminally ill and they are of sound mind and body and can make informed decisions. If they chose how they want to carry out their life towards the end of life if the result is to avoid unbearable suffering at the end of life. Some other arguments include respect for autonomy, justice, compassion, individual liberty, and honesty and transparency.
The arguments against physician-assisted suicide are sanctity of life, passive distinction, and potential for abuse, professional integrity, and fallibility of the profession. I think there needs to be a process involved with this decision and execution to make sure that is the correct course of action. According to Richard Doerflinger "campaigning to end certain people's lives doesn't end suffering – it passes on the suffering to other similar people, who now have to fear they are the next people in line to be seen as having worthless lives. And people who have died from a drug overdose have no freedom of choice at all. Moreover, societies that authorize suicide as a 'choice' for some people soon end up placing pressure on them to 'do the right thing' and kill themselves… Seeing suicide as a solution for some illnesses can only undermine the willingness of doctors and society to learn how to show real compassion and address patients' pain and other problems.
In states that have legalized assisted suicide, in fact, most patients request the lethal drugs not due to pain (or even fear of future pain), but due to concerns like 'loss of dignity' and 'becoming a burden on others' – attitudes that these laws encourage. The solution is to care for people in ways that assure them that they have dignity and it is a privilege, not a burden, to care for them as long as they live.' (Doerflinger, 2017)
Currently, states like Oregon, Washington, and Vermont it illegal for a physician to assist in dying. Voters approved initially to help legalize this topic. In other states, though it is currently illegal and therefore remains a big debate (Starks, Dudzinski, & White, 2013). I personally think it should be legal and have strict guidelines formed around it to ensure that it is used properly and that the patient can make an informed decision.
In Conclusion, working in the healthcare field is very demanding, as a healthcare worker you face many tough decisions throughout your day but some of the toughest decisions come when facing an ethical decision. It is tough but you have to take personal feelings out of it and remember your training and always think what is best for the patients.
Related Topics