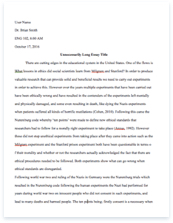 The whole doc is available only for registered users
A limited time offer! Get a custom sample essay written according to your requirements urgent 3h delivery guaranteed
Order Now
What theories of learning and teaching influenced, and were developed by, your planning, teaching, assessment and evaluation of a unit of work? Critically evaluate and analyse the contribution of these theories and their application in the unit of work to student attainment.
– I cannot teach anybody anything, I can only make them think – Socrates
Introduction
This essay will discuss the influence of pedagogical theories of learning and teaching on the planning, teaching, assessment and evaluation of a scheme of work for a middle set year 7 English class. The intention is to evaluate and analyse pedagogical theories' contribution to practise in the classroom.
The scheme of work (see Appendix A) was created for a larger than average Academy in north-east Birmingham with an under-staffed English Department. It has 2 full-time English staff, 4 trainee teachers and 4 teachers who teach other subjects or have other responsibilities. A new head of department has resulted in a new long term plan for Key Stage 3, shortening the time available to teach year 7 Charles Dickens', "A Christmas Carol" from 6 weeks to 2. Although two Assessing Pupils' Progress (APP) assessments must be completed per half term to provide frequent summative reviews of pupil attainment, an APP had been completed the lesson prior to this scheme of work (SOW) and therefore assessment was formative throughout, using Assessment for Learning (AfL) day-to-day (Nuffield Foundation, 2009): plenaries; mini-plenaries; pupil feedback; marking; hot-seating; and questioning (DCSF, 2004). According to William and Black (2006) this raises standards in education through student-teacher dialogue and flexible learning activities.
No scheme of work was provided for teaching "A Christmas Carol" and no guidance for required national curriculum or assessment foci. As a result, the teacher decided that the 6 lesson SOW taught this autumn term over 2 weeks would have a broad reading focus, informed by areas of weakness identified in the previous APP.
Schemes of work are created in order to build upon existing knowledge and support assimilation of knowledge through connected topics and skills, showing progression in learning (Capel et al, 2009; Pollard 2008). Byers and Rose (2004) warn that tiered classes can deny pupils the benefits of a mixed ability class, by homogenising learning roles. However, pupils come to the Academy from over 50 primary schools resulting in a variety of abilities and inevitable inconsistency between pupils with the same target level, despite the introduction of APP to regulate grading and support consistency between KS2 and KS3 (DCSF, 2010). In accordance with the Framework for Secondary English (DCSF, 2008a) and John (2006), planning should be adapted to different abilities and ages, and open to change. This was facilitated by developing the scheme of work in the second half of the autumn term, after 8 previous weeks teaching and learning experience, providing time to assess and understand individual needs, strengths and weaknesses, alongside the data from Primary schools.
During this time, it became clear that the year 7 class contained a range of abilities, despite being set, with target levels based on KS2 of 4c to 6a and even pupils capable of writing descriptively at a level 6 struggled with reading skills, particularly using quotes and close textual analysis. This scheme of work focused on improving these weaknesses, through differentiated tasks, effective resources and outcomes, to ensure accessibility for all in line with the Every Child Matters policy (DCSF 2004) which calls for every child to have the chance to enjoy and achieve at school.
Capel et al (2009) stress the importance of considering how pupils learn. To facilitate learning for each pupil and ensure they meet the learning objectives, teaching styles, activities and resources must be varied to incorporate the different learning styles throughout the class (McCormick and Leask, 2009). It is also important to recognise that individual pupil's learning styles can vary depending on the learning and context (Burton, 2009); allowing pupils flexibility to learn using mind-maps, lists, pictures etc. encourages deep learning, where students are engaged, rather than strategic or surface-apathetic learning, focusing on attainment (Entwistle, 1989). Pupils in the class are aware that when asked to write, unless stated, they can use mind-maps, lists, flow diagrams etc, in line with their preferred learning style.
Alongside the varying ability levels throughout the class, a number of students also had Specific Educational Needs (SEN). Two pupils were School Action Plus (SA+): one with Specific Learning Difficulties (SpLD), pupil A, and one with Behavioural, Emotional and Social Difficulties (BESD), pupil B. Two students were School Action (SA): one with Moderate Learning Difficulties, pupil C and one with BESD, pupil D. It is the student teacher's responsibility and duty by law to take responsibility to support the learning of pupils with SEN (Cohen et al, 2010). As is quite common with SpLD and MLD (Petty, 2009), pupils A and C require extra processing time for information; pupils B and D need lessons to be fast-paced to keep their interest. Managing these varied needs is difficult, but a number of techniques suggested by Petty (2009) helped during lessons, such as ensuring instructions are clear and precise, given both verbally and visually (see Appendix B); defining new and key words explicitly, such as empathy in lesson 5; sentence stems; fast-paced activities; using mind-maps (lesson 1) and handouts (throughout the SOW); and varying teaching styles to assist visual processors (visual-audio-kinaesthetic activities throughout SOW). Ofsted (2007) claimed that kinaesthetic activities also benefit boys (Ofsted, 2007).
Complying with departmental policy and advice (School, 2009), the scheme of work was required to follow the English National Curriculum. According to the National Curriculum English programme of study for reading (National Curriculum 2007), study of texts from English literary heritage, such as Dickens, should be based on whole texts, but, as proposed by Kress and Van Leeuwen (2006) should also be supported by the use of film and drama to create a multimodal learning environment alongside the printed text. Christmas Carol uses challenging yet imaginative language, covering another of the National Curriculum reading foci (2007). Each lesson, the appropriate 'chapter' of the film was shown to consolidate learning and understanding, for those struggling with Dickens' language and plot (Davison and Dowson, 2003).
Alongside requirements to adhere to the National Curriculum and KS2 targets, it was important that the SOW involved challenging yet achievable tasks and objectives to adhere to the Professional Standards for Qualified Teacher Status, linked, in order to be successful, to the wider curriculum (John, 2006). The three overarching learning objectives for the SOW, taken from the National Curriculum, were: "extract and interpret information, events, main points and ideas; from texts infer and deduce meanings, recognising the writers' intentions; understand how meaning is constructed within sentences and across texts as a whole" (DCSF, 2008: 6).
Supporting the SOW through progression in learning is the well-planned lesson (Capel et al, 2009). Byers and Rose (2004) do state that detailed short-term plans are not always necessary, but this would not apply to trainee teachers, who use plans as a strategy for teaching and a cue during the lesson (Reece and Walker, 2000). They also aid assessing pupil progress. Therefore, the lessons used for this SOW are thoroughly planned, using: learning objectives, learning outcomes, Personal Learning and Thinking Skills (PLTS), Social and Emotional Aspects to Learning (SEAL) (National Curriculum, 2010) and a three-point structure of starter, main and plenary, with timed activities and resources. Before discussing the rationale behind using all of these in turn, this essay will give a quick overview of each lesson; any theory referred to in the overview will be discussed following it.
The novel, "A Christmas Carol", is split in to 5 chapters, which logically divided the lessons equally, leaving one for a persuasive speech lesson on the last day of term. The first lesson in the sequence set the social and historical setting of the author and the text, and introduced the main characters, in line with the English Programme of Study (National Curriculum, 2007). Activities included analysing the front cover of the book; guessing the time period; and a short animation of Dickens. Most pupils recognised the Victorian era, and asked eager questions on children's living conditions. Then, whilst listening to the first half of Chapter 1 with a transcript, pupils had to fill out a table focusing on the characters Marley, Scrooge and Bob Cratchit. Pupils found this activity difficult; they struggled to listen and write at the same time.
The handout was too complicated for most, and needed differentiation. After discussing Scrooge's emblematic name, pupils focused on the text describing Scrooge and were asked to identify similes, metaphors and unfamiliar vocabulary. Once the teacher reviewed these definitions (a scaffolding activity), they found the activity rewarding, as they could see their progress. The second part of Chapter 1 had a different focus. Whilst watching the animated adaptation, pupils were asked to consider what Dickens' social, political and moral message was. Again, with scaffolding, pupils could apply these terms to Dickens' story. The plenary asked pupils to write on a post-it note one thing they learned, one thing they found difficult and one thing they would like to find out whilst studying 'A Christmas Carol'; most put the listening activity as difficult.
The second lesson looked at regret. Pupils read a script of a scene adapted from the novel and wrote down their level of understanding from 1-10; understanding ranged from 2-9. Pupils looked at Scrooge's regrets and how the Ghost of Christmas Past emphasised this, by watching a clip from the film. Pupils then rewrote the conversation in language they understood, before performing the piece in front of the class. By presenting their work to the class, pupils were also deepening their ability to "learn to think" (Davison and Dowson, 2003:87). To consolidate, pupils wrote down the lessons they thought Scrooge had learnt before revisiting the original script and reassessing their understanding out of 10 compared to the beginning of the lesson. They enjoyed the freedom of group work, although more 'training' is needed to ensure pupils stay on track. Despite this, each pupil's understanding of the script increased: every pupil had a score of 7 or higher.
In lesson 3 the main activities focused on the Ghost of Christmas Present. By closely reading a descriptive passage, pupils were asked to draw the Ghost, labelling him using direct quotes. Having covered quotes in term 1, a definition of a quote was not provided; in hindsight, key words need to always be defined to ensure learning is not interrupted. Also, considering Bruner's spiral curriculum, revisiting key words helps to achieve full understanding. Whilst watching half of Chapter 2, pupils wrote down differences and similarities between the Cratchit family and Scrooge's nephew. They then listened to the second half and completed a sheet using Point Evidence Analysis (PEA). Most pupils found PEA difficult, again highlighting the need for more work on quotes.
Whilst reading chapter 5 in lesson 4, pupils used inference and deduction to guess who, in the future, the dead man was (Scrooge), before writing a letter to Scrooge, advising him on how to improve his morals. Pupils lacked confidence to infer and deduce, despite modelling an example, scaffolding examples, and previous work using the skill, stressing the need for further focus on the skill. They found advisary writing a much easier concept to grasp; this is something the teacher can improve further over the year as it is an essential skill for GCSE.
The first half of lesson 5 focused on close-textual analysis. Once more, pupils found using quotes a struggle, leading the teacher to revise future lesson plans to integrate more quote-based learning. The second half required pupils to write a Christmas card from Scrooge to a character, apologising and promising to improve in a specific way, whilst watching the film. This allowed pupils to engage in multi-tasking, whilst empathising with the character (SEAL).
The last lesson in the scheme of work summed up the book with pupils identifying persuasive techniques and writing a persuasive speech to perform in front a judge (the teacher. Again, pupils enjoyed identifying persuasive techniques and wrote high-quality speeches. The focus for improvement needs to be on developing structure in writing.
Over the two week SOW, pupils were also assigned an independent learning project to research Dickens' life and times. The Academy policy states that each week pupils must be given, "opportunities to develop as independent learners" (School, 2009:9). According to Marshall and Rowland (1993), independent learning encourages students to identify and solve problems, think creatively and assess their own progress. Pupils' were asked to build upon the basic knowledge they had gained in lesson 1, giving them the responsibility for their learning and differentiating through outcome, by learning style (poster, essay, etc) and detail. This also provided another means of formative assessment. There was a definite correlation between ability and quality of the homework: high ability students produced beautifully presented posters with accurate information; lower ability students put less effort in to the presentation. It is important not consider the effort in attaining the information and reproducing it, allowing for differentiation in outcome (Marshall and Rowland, 1993).
To allow all pupils to access learning, lesson objectives were differentiated to give choice and challenge, and were skill-specific. This sets expectations and provides a context (Capel et al, 2009). Following the school policy (School, 2009), objectives and outcomes were discussed at the beginning of the lesson and displayed throughout in the must/should/could format, as suggested by Fleming and Stevens (2004) to be most beneficial to students to differentiate by ability. Bloom's taxonomy provided key words for differentiated learning objectives, as it too relies on the assumption that not all objectives have equal cognitive merit; rather, skills can be ranked from low- to high-order and through this progression, pupils can be assessed and challenged (Capel et al, 2009). The SOW takes this progression in to consideration, allowing all pupils access to the lower level skills whilst challenging higher ability pupils. Lessons 1-3 did not link objectives to assessment levels, to discourage assessment-focused/surface learning; rather pupils had to do their best (Entwhistle, 1989). Lessons 4-6 attributed levels to each objective to encourage motivation through targets (Bentham, 2002). Learning outcomes were student-focused, to ensure the lesson centred on learning rather than teaching (Petty, 2009).
English has a strong position with regard to Personal Learning and Thinking Skills (PLTS) and Social and Emotional Aspects to Learning (SEAL) (National Curriculum, 2010). The PLTS framework consists of six foci, all of which were touched on in the SOW: independent enquirers, creative thinkers, team workers, self-managers, effective participators and reflective learners. Including SEAL and PLTS in every lesson, to comply with Academy policy (School, 2009), is not a challenge, as they can be found in nearly every English lesson. Rather, the task is to ensure the language used in lessons makes PLTS and SEAL explicit, deepening learning and improving emotional literacy. The SOW drew on elements from all four SEAL areas (self-awareness, motivation, managing feelings and social skills and empathy) over the 6 lessons (DCSF, 2008b). Discussing pupils' feelings of regret in lesson 2 and relating them to Scrooge's feelings encouraged SEAL and reflective learning, as did the focus on empathy in lesson 5. By relating the story to pupils' lives, they were able to identify with characters and engage in deeper learning, although they found empathy a more tangible emotion than regret; understandable for young people of 11/12 years old.
Planning a variety of teaching strategies through the SOW can help students perceive the course more positively (The Edinburgh Centre for Teaching, Learning and Assessment, 1997). The teaching strategies in the SOW were mainly closed styles, where the teacher either controls the class through whole class or individual activities; or framed styles, which provides a structure for the students to interpret and contribute to learning (McCormick and Leask, 2009). The rationale for this was that 11-12 year olds are entering what Piaget called a period of Formal Operations, where they are only just beginning to use logic to understand abstract ideas and hypothesise about outcomes (Pollard, 2008). Despite criticism of his theory of Cognitive Stages of Development as too linear and generalised (Capel et al, 2009), Piaget recognised this age as a stage of heightened geocentricism (Piaget's constructivist theory is concerned with individual learning, placing little emphasis on the teacher).
It is undeniable that this age is a period of tremendous change, especially in the British Education System, where pupils move to secondary school, start puberty and development as young adults; the SOW had to account for pupils' self-awareness and self-consciousness. This could also be defined as reaching the 'esteem' level of Maslow's Hierarchy of Need (Petty, 2009). Having attempted active group work with the class previously, it was obvious that they must be comfortable with the topic and each other to succeed in learning. Therefore, this type of learning was minimised, as pupils work towards taking ownership of their learning (Jaques and Salmon, 2008). Group work was used once the topic had been introduced, in lesson 2 and in lesson 6, but still using a framed style (see Appendix B).
Both closed and framed styles of teaching encourage learning to be a two-way conversation with the teacher, ensuring pupils engage in meaningful 'self-talk'. In lesson 1 and 5, pupils were asked to feedback on a post-it note what they had learned, what they found easy and things they would like to know more about; using this technique the teacher knew that in lesson 1 many pupils struggled with the Point-Evidence-Analysis structure. This technique helps the teacher to ensure pupils reach the upper limit of their Zone of Proximal Development (ZPD), the difference between a child's level working alone and their level with some assistance. Through co-operation and interaction, but not direct instruction, Vygotsky believed that children would gain more from learning, than they would independently (Petty, 2009); this is known as scaffolding. In lesson 2, pupils were asked to read a script of a scene adapted from the novel and wrote down their level of understanding from 1-10. At the end of the lesson pupils reread the script and reassessed their understanding out of 10 compared to the beginning of the lesson; no pupils understanding was reduced.
The methods of teaching for each lesson in the scheme of work were influenced by a number of other theories. Gardner's theory of multiple intelligences values different intelligences as equal to traditional logical and linguistic intelligence. He called for a broader education using differentiated activities, methodologies and exercises which aid pupils with different strengths and weaknesses to access the curriculum (Petty, 2009). This was used, for example, in lesson 1, as the active listening activity used 2 variations of handout to account for the range of ability in the class.
Accepting Gardner's theory of multiple intelligences naturally led to the inclusion of the Visual-Audio-Reading-Kinaesthetic (VARK) theory of different learning styles in the SOW. The first lesson included visual clues of Dickens times and a short animation, to introduce the social and historical setting (National Curriculum, 2007), before a close-textual analysis activity (visual). Pupils then completed a table using the audio and transcript for Chapter 1. Most pupils preferred to read the transcript than listen to the audio. In lesson 2, learning was mainly kinaesthetic, with pupils having 10 minutes to write their own script before acting it out in small groups. They were given a purposefully short time to encourage spontaneity in their performance, but pupils struggled with embarrassment and confidence.
Argyris and Schön's single- and double-looped learning theory helped the teacher to reflect upon the lesson planning after lesson 2 (Smith, 2001). The SOW assumed that as by lesson 6 the class had been working together on the topic for 5 hours, their confidence would grow and another 'performance' was planned. According to Bruner's spiral curriculum, pupils should revisit areas that they find difficult to build their understanding and ability until they fully understand (Capel et al, 2009). He called this a 'spiral curriculum': difficult topics should be taught at a young age and revisited repeatedly until they are mastered. Speaking and listening are an important part of the GCSE qualification that pupils often find difficult; regular practise should, according to Bruner, lead to improvement (Capel et al, 2009). However, pupils found acting so difficult in lesson 2, that the plan was adapted to allow pupils to work in pairs. Argyris and Schön (Smith, 2001) consider this to be a single-loop learning cycle, where a problem is found and a solution is resolved by working backwards. An alternative solution, the double-loop, will be discussed later in the essay.
The range of theory that instructed and informed this SOW can largely be labelled as constructivist, that learning is a personal cognitive construction of meaning, "an interaction between thinking and experience" (Pollard, 2008:175). The Present-Apply-Review (PAR) model ensured that the range of constructivist theories, such as multiple intelligences, the spiral curriculum, social development theory etc were consolidated, so that errors and omissions are corrected and new learning takes place by reviewing and repeating prior learning (Petty, 2009). What is more, the SOW encouraged active participation through independent learning (Burns and Myhill, 2004).
Finding a balance between these pedagogical theories and government and academy policy is difficult; they are inherently contradictory. This essay will discuss how the SOW could have been improved by evaluating planning and student attainment, whilst analysing the pedagogical theory that informed the lessons.
During the SOW pupil attainment could be assessed, using AfL linked to the learning objectives, which highlighted some notable issues for improvement and some areas of success, as discussed earlier. Unlike subjects such as maths and science, student attainment is difficult to measure and can be subjective. This aside, it is often obvious when a pupil is struggling if AfL is used correctly and regularly. For example, in this SOW students struggled to use quotes; this was made clear through hands-down questioning, reading pupil's work, asking pupils to reiterate instructions in their words, hands-up questioning, and their ability to complete Directed Activities Related to Texts (DARTS). One activity where this was particularly obvious was the active listening activity in lesson 1, where no pupils finished the table. Merely revisiting this exercise, as suggested by Bruner's spiral curriculum, would not help them to learn; they needed to practise active listening with a shorter audio and fewer questions, to scaffold their skills.
By combining Bruner with Vygotsky's socio-constructivist approach, pupils' learning can be deepened by revisiting the activity and providing more support. This approach would not be suitable for other problems encountered in the SOW, such as complicated language. In lesson 1, pupils were asked to underline pre-1914 vocab. Pupils didn't know what pre- or vocab meant and had no idea of the significance of 1914. Merely revisiting these words, as suggested by Bruner, will not help pupils to understand them; words are invalid without meaning. Vygotsky called the association of an abstract word with value 'meaning-making', where previous knowledge informs and directs cognitive constructions, aiding new connections between neurons (Petty, 2009). Although Ofsted (2007) think that language in the classroom should be student-centered, new vocabulary must still be introduced. First, a new word must be defined, relative to previous learning and associated words, before it can be used and revisited to ensure deep understanding. A balance must be found, using language that challenges pupils, but doesn't abandon most of the class.
Bloom's taxonomy defines intelligence through subtle word-differences such as analyse and understand. This quasi-scientific theory presumes that learning is sequential, and doesn't take in to consideration that evaluating something quite simple could be easier than analysing something very complex. Either way, for this classification to work, pupils need to comprehend these words and the actions they entail, before they can understand where they stand on the 'ladder'. A class-level solution is to use challenging words as key words and create a glossary to define them. Piaget called this type of learning assimilating and accommodating (Petty, 2009), although he placed little importance on language acquisition, calling it 'internalised action'.
This is in stark contrast the linguist Chomsky, who believed that the human capacity to acquire language to be an innate trait that must be nurtured and supported; Vygotsky too placed more emphasis on language, describing both speech and thinking as activities (Liu and Mathews, 2005). Cultural acquisition is inherent in language acquisition, therefore all dialogue is subjective. This seems to be overlooked in Vygotsky's social theory: it perceives learning as context and situation dependent, but there is no allowance for learning in the classroom for different cultures, a common feature of classrooms in the 21st Century. William and Blake (2006) do not consider the effects of culture, or other external influences such as gender, parents' attitudes and culture in their social model of assessment. Brofenbeener, on the other hand, said that external considerations have the most weight and their effects will ripple throughout a child's 'layers' of development (Paquette and Ryan, 2001).
In the classroom then, rather than divide learning into individual (Piaget) or social (Vygotsky), it seems more intuitive to accept that learning socially will never result in the same learning by each individual, but that dialogue can aid an individual's learning through social interaction (Philips, 1995). Another way of perceiving it is to exceed Vygotsky and Bruner's idea of learning through social interaction and see learning as a means of building upon pre-programmed areas of the brain that allow for emotional responses and motor reflexes, extending them and allowing pupils to learn to read and write (Pinker, 2002). Put simply, allowing for flexibility in learning styles and outcomes in individuals, on an activity-by-activity basis, rather than having a generalised profile of each student, encourages inclusivity.
William and Blake (2006), as is common in constructivist theory, concentrate on the cognitive development of pupils, supporting them in reaching their ZPD. This theory does not take in to consideration the practicalities of the classroom, where teachers are increasingly target- and data-driven, resulting in strategic learning (Entwhistle, 1989), creating an environment where creativity and originality have no home, and are replaced with objectives, outcomes and levels. Klien (2009) argues that having prescript outcomes has lead to the death of the imagination; the outcome is now a C-grade at GCSE. The obsession with measuring has resulted, very clearly in this class, with pupils who are driven by results, even at 11 and 12.
Shirley Williams, former Education Secretary (Williams, 2009) blames suffocating government control. She uses an statement from the Commons departmental committee to support her point: "We received substantial evidence that teaching to the test, to an extent which narrows the curriculum and puts sustained learning at risk, is widespread…Teaching to the test means that pupils may not retain, or may not even possess in the first place, the skills which are supposedly evidenced by test results." (Williams, 2009:1). Argyris and Schön's learning theory would suggest that, to achieve meaningful change the building blocks of the education system must not merely be rearranged, but that the bricks themselves and the underlying foundation must be revised (Smith, 2001); how this impacts on the classroom will unravel with the new 'free-school' policy, but pessimistically, the evidence above suggests a much bigger step is needed.
Due to academy policy (School, 2009) this SOW had to use objectives and pupil attainment is measured against them. The 3 overarching objectives, (1. extract and interpret information, events, main points and ideas; 2. from texts infer and deduce meanings, recognising the writers' intentions; 3. understand how meaning is constructed within sentences and across texts as a whole) were achieved with mixed success. Pupils grasped objective 3 and to some extent objective 2, easily identifying literary devices and forming meaningful links between emotions and characters across the text, recognising Dickens' social, political and moral intention. Students struggled, however, to infer and deduce meaning in order to interpret information from extracts (objective 1). As mentioned previously, this skill must be revisited (Bruner), using single-loop learning cycle, revising teaching strategies and learning styles, scaffolding activities, to support understanding. This is a skill required for GCSE so heavily scaffolding is 'affordable' for a year or so. It is also important to ensure those who have grasped the skill are sufficiently pushed.
Having planned, taught and evaluated the SOW, there are a number of implications that I, the teacher, have for my future practise. Firstly, I recognise that previously taught skills are often perceived to be new by pupils. According to Bruner (Capel et al, 2009), using a maths example, the number of concrete examples needed for a child to understand fractions in year 5 will be substantially higher than a child in year 11. Pupils in my class have been taught quotes and the PEA structure by me over a series of lessons in a previous SOW, yet approached the subject with similar unfamiliarity in this SOW, requiring more support and scaffolding than the lesson plans allotted. As a result, student-teacher dialogue often felt rushed by the end of the lesson.
The second improvement would be, therefore, to include structured open questioning, a high order skill (Pollard, 2008), to ensure pupils are pushed to the edge of their ZPD by synthesising information. Practically, this requires planned questions, written in to PowerPoints and plans. Hands-down questioning seemed to work best in this situation, giving pupils time to process information, knowing that they may be asked to answer the question. This is a process I plan to use with all my classes and there was a dramatic improvement in engagement when pressure was applied.
On reflecting on this SOW, the final improvement for my future practise will be to develop my routines further, particularly my use of key words. A stumbling block throughout the 6 lesson was the need to define words essential to the activity. I hope that visual learners will find posters of key terms on the walls and a written glossary helpful, whilst I am in the processing of planning kinaesthetic lessons on using quotes for the next SOW, pre-1914 poetry.
These improvements will impact upon my future teaching, and will lead to further reflection and improvement on their success. Writing, planning, delivering and evaluating a SOW, in light of pedagogical theory has given me a greater understanding and knowledge of how theory applies to my everyday practise through an active role. Constructivism is the most enduring pedagogical theory, which permeates every lesson in this SOW, through different academics' interpretations. Seeing lessons I planned with the best intentions not go to plan provides a perfect platform for reflective thinking in relation to that theory, leading, consequentially, to improvements in my teaching and therefore my pupils' learning. This has been an invaluable exercise.
References
Bentham, S., Motivation in Bentham, S,. (2002) Psychology and Education, London: Routledge
Burton, D. Ways Pupils Learn in Capel, S., Leak, M. and Turner. (2009) Learning to Teach in the Secondary School: a companion to school experience (5th edition), Oxon: Routledge
Burns, C. and Myhill, D. (2004) Interactive or inactive: a consideration of the nature of interaction in whole class teaching, vol 34:1 Cambridge Journal of Education, Cambridge: Carfax Publishing
Byers, R. and Rose, R., (2004) Planning the Curriculum for Pupils with Special Educational Needs: a practical guide (2nd edition). London: David Fulton Publishers
Capel, S., Leak, M. and Turner, (2009) Learning to Teach in the Secondary School: a companion to school experience (5th edition), Oxon: Routledge
Cohen, L., Manion, L., Morrison, K. and Wyse, D. (2010) A Guide to Teaching Practise (5th edition). Oxon: Routledge
Davison, J and Dowson, J. (2003) Learning to Teach English in the Secondary School, Oxon: Routledge Department for Children, Schools and Families (2004) Assessment for Learning (Afl): whole-school training materials, London: DCSF
Department for Children, Schools and Families (2004) Every Child Matters: Change for Children, London: DCSF
Department for Children, Schools and Families (2008a) The Framework for Secondary English: overview and learning objectives, London: DCSF
Department for Children, Schools and Families (2008b) Promoting Social and Emotional Skills Through the Subject Curriculum, London: DCSF
Department for Children, Schools and Families (2010) Assessing Pupils' Progress, London: DCSF [www] http://nationalstrategies.standards.dcsf.gov.uk/primary/assessment/assessingpupilsprogressapp (accessed on 24/12/2010)
Entwistle, N. (1989) Styles of Teaching and Learning: an integrated outline of educational psychology for students, teachers and lecturers, Oxon: Routledge
Fleming, M. and Stevens, D., (2004) Teaching English in the Secondary School, London: David Fulton Publishers Ltd
Jaques, D. and Salmon, G. (2008) Learning in Groups: a handbook for face-to-face and online environments (4th edition), Oxon: Routledge
John, P. (2006) Lesson Planning and the Student Teacher: re-thinking the dominant model, New York: Routledge
Kress, G. and Van Leeuwen, T., (2006) The Grammar of Visual Design, Oxon: Routledge
Lindsey, M. and Yandell, J. (2009) Working with the National Curriculum in Davison, J. and Dowson, J. (2009) Learning to Teach English in the Secondary School, Oxon: Routledge
Liu, C. and Mathews, R. (2005) Vygotsky's Philosophy: constructivism and its criticisms examined, vol 6:3 International Education Journal
McCormick, J. and Leask, M., Teaching Styles in Capel, S., Leak, M. and Turner. (2009) Learning to Teach in the Secondary School: a companion to school experience (5th edition), Oxon: Routledge
National Curriculum (2007) English Programme of Study for Key Stage 3 and Attainment Targets, Qualifications and Curriculum Authority
National Curriculum (2010) A Framework of Personal, Learning and Thinking Skills, Qualifications and Curriculum Authority [www] http://curriculum.qcda.gov.uk/uploads/PLTS_framework_tcm8-1811.pdf (accessed on 3 January 2011)
Nuffield Foundation (2009) Policy and research seminar on National Assessment Arrangements for Key Stage 3, London: National Foundation for Educational Research
Ofsted (2007) Narrowing the Gap: the inspection of children's services, London: Crown Copyright
Paquette, D. and Ryan, J. (2001) Bronfenbrenner's Ecological Systems Theory; (1 of 4), National Louis University [www] http://pt3.nl.edu/paquetteryanwebquest.pdf#search=%22ecological%20theory%22
(accessed online 7 January 2011)
Petty, G. (2009) Teaching Today: a practical guide (4th edition). Cheltenham: Nelson Thorne
Pinker, S. (2002) The Blank Slate: the modern denial of human nature, London: Penguin Press
Pollard, A. (2008) Reflective Teaching: evidence-informed professional practise (3rd edition), London: Continuum International
Reece, I. and Walker, S. (2000) Teaching Training and Learning: a practical guide, Sunderland: Business Education
School A (2009) School Policy
Smith, M. (2001) Chris Argyris: theories of action, double-loop learning and organizational learning', the Encyclopedia of Informal Education [www] www.infed.org/thinkers/argyris.htm (accessed online 7 January 2011)
William, D. and Paul, B. (2006) Inside the Black Box: raising standards through classroom assessment, Slough: NFER
Related Topics