Article 23 of the Indian Constitution – Tool of Protection Against Exploitation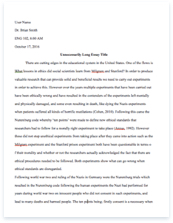 The whole doc is available only for registered users
A limited time offer! Get a custom sample essay written according to your requirements urgent 3h delivery guaranteed
Order Now
* Gaurav Jain v. Union of India, AIR 1997 SC 3021
* In the matter of: Prison Reforms Enhancement of Wages of Prisoners, AIR 1983 Ker.261 * Labourers Working on Salal Hydro Project v. State of Jammu & Kashmir,AIR 1984 SC 177 * Nihal Singh v. Ram Bai, AIR 1987 MP 126
* People's Union of Democratic Rights v. Union of India, AIR 1982 SC 1473 * Raj Bahadur v. Legal Remembrancer, Govt. of West Bengal, AIR 1953 Cal 522 * Ram Kumar v. State of Bihar, AIR 1984 SC 537
* Rohit Vasavada v. Ge. Man., IFFCO, AIR 1984 Guj 102
* R.K Tangkhul v. R.S. Khullakpa, AIR 1961 Man 1
* Sanjit Roy v. State of Rajasthan, AIR 1983 SC 328
* State of Gujarat v. Hon'ble High Court of Gujarat, AIR 1998 SC 3186 * Suraj v. State of Madhya Pradesh, AIR 1960 MP 303
* Vasudevan v. Mittal, AIR 1962 Bom 53
* Vishal Jeet v. Union of India, AIR 1990 SC 1412
CHAPTER I
————————————————-
Introduction and Research Methodology
1.1 INTRODUCTION
Article 23 has assumed great significance in recent times and has become potent instrument in the hands of the Courts to ameliorate the pitiable condition of the poor in the country. Article 23 of the Constitution prohibits traffic in human being and beggar and other similar forms of forced labour. The second part of this Article declares that any contravention of this provision shall be an offence punishable in accordance with law. 1.2 OBJECTIVE OF THE STUDY
The research project has been carried out with the following objectives:
* The basic objective behind carrying out this research project is to understand the meaning of exploitation and its forms. * Also to find out nexus (if any) between Article 23 and it serving as a protector against exploitation. 1.3 SCOPE
The scope of the present research is limited to analyzing Art 23 of the Indian Constitution and this article providing for the protection against exploitation. In this research project the researcher attempts to analyze the forms and ways by which a citizen of the country is exploited. Looking at the vastness of the project the researcher has confined the scope of the study to analyze the topic. The researcher has tried to cover the aspects connected with the said topic and analyze them in an elaborative manner with the help of relevant case laws.
1.4 RESEARCH METHODLOGY
The quality and value of research depends upon the proper and particular methodology adopted for the completion of research work. Looking at the vastness of the research topic – doctrinal Legal research methodology has been adopted. The researcher has taken help of both the primary as well as the secondary sources.
1.5 RESEARCH PROBLEM
* Whether fundamental rights contained in Article 23 are enforceable against the State only. The researcher has taken up the following problem because it is very important to know whether the rights contained in Article 23 can be enforced against the whole world. * Whether the services and labour provided by a person to another for remuneration less than the minimum wage, the labour provided by him would fall under the ambit of the words "forced labour" under Article 23. Researcher came up with the above stated problem so as to find out the wideness and scope of the words "forced labour" under Article 23 of the Indian Constitution.
1.6 HYPOTHESIS
In order to conduct a research work, some important hypotheses are to be formulated. The focal points and assumptions are normally available through the formulation of hypothesis. The major hypotheses developed on the basis of study are as follows: * The term 'Traffic in human beings' would also include slavery. * The act of Jacob Martin would be termed as an offence under the purview of Article 23 of the Indian Constitution.
1.7 LITERAURE REVIEW
Books referred:
* Jain, M.P., 'Indian Constitutional Law', Lexis Nexis Butterworths Wadhwa Nagpur, Sixth Edition 2010.
In this book, the author explains each and every single aspect very elaborately and also explains such aspect with relevant case laws and judicial decisions.
* Pandey, J.N., 'The Constitutional Law of India', 47th Edition. This book contains numerous case laws which are relevant and thus it helps in better understanding of the topic with ease. Also, the case laws are very briefly stated so as to give an idea and gist of the case in a significant manner.
CHAPTER II
————————————————-
Right against Exploitation
Article 23, being a fundamental Right, have assumed great significance and have become potent instruments in the hands of the Courts to ameliorate the pitiable condition of the poor in the country. According to Article 23 (1), traffic in human beings, beggar, and other similar forms of forced labour are prohibited and any contravention of this provision shall be an offence punishable in accordance with law. Article 23 (1) proscribes three unsocial practices, viz.
1) beggar;
2) traffic in human beings;
3) forced labour.
A significant feature of Article 23 (1) is that it protects the individual not only against the State but also against the private citizens. 2.1
ABOLISHMENT OF BEGGAR
The term beggar means compulsory work without payment. Beggar is labour or service which a person is forced is forced to give without receiving any remuneration for it. The practice was widely prevalent in the erstwhile princely States in India before the advent of the Constitution. It was a great evil and has, therefore, been abolished through Article 23 (1). Withholding of pay of government employee as a punishment has been held to be invalid in view of Art.23, which prohibits beggar. It is a Fundamental right of a citizen of India not to be compelled to work without wages. A village custom requiring every house-holder to offer a day's free labour to village head-man infringes Art. 23(1).
2.2 TRAFFIC IN HUMAN BEINGS
The expression 'traffic in human beings', commonly known as slavery, implies the buying and selling of human beings as if they are chattels, and such a practice is constitutionally abolished. Traffic in women for immoral purposes is also covered by this expression. It was held in Nihal Singh v. Ram Bai, that the sale of women is considered as "traffic in human being" which is prohibited by Art.23 of the Constitution and any action based on such a contract, cannot at all be entertained. Therefore, the suit by the buyer of a woman is not maintainable.
2.3 FORCED LABOUR
The Supreme Court has given an expansive significance to the term "forced labour" used in Art.23 (1) in a series of cases beginning with the Asiad case in 1982. The Court has insisted that Art.23 is intended to abolish every form of forced labour even it has origin in a contract. Art.23 strikes at forced labour in whatever form it may manifest itself, because it is violative of human dignity and is contrary to the basic human values. In the case of Sanjit Roy v. State of Rajasthan, payment by the State of wages lower than the minimum wages to persons employed on famine relief work was held invalid under Art.23. In the case of State of Gujarat v. Hon'ble High Court of Gujarat,the Supreme Court held that under Art.23 no one shall be forced to provide labour or service against his will even though it be under a contract of service.
In Rohit Vasavada v. Ge. Man., IFFCO, the pitiable conditions of contract labour working in a fertilizer factory run by a cooperative society were brought to the notice of the Gujarat High Court. The workers had to handle urea manually without adequate safeguards; their health was in jeopardy and proper wages were not being paid to them. The High Court charactersed this form of labour as forced labour prohibited by Art.23. In the case of Labourers Working on Salal Hydro Project v. State of Jammu & Kashmir, the Supreme Court found that the workmen employed on the project were being denied the rights and benefits ensured to the workmen under various labour laws.
The court directed the Central Government to ensure that the contractors at the project implemented the various labour laws. The Court also directed the Central Government to identify the inter-State workers at the project site and ensure to them the benefits of the Inter-State Migrant Workmen Act. Similarly, in Ram Kumar v. State of Bihar, the Court directed the State to pay minimum wages to the employees at the ferries at Bhagalpur and Sultanganj which fell under the purview of the Act.
2.4 HARD LABOUR BY PRISONERS
The Kerela High Court has declared that the prisoners are entitled to payment of reasonable wages for the work taken from them. In the case of State of Gujarat v. Hon'ble High Court of Gujarat, the Court has ruled that the prisoners sentenced to rigorous imprisonment can be made to do hard labour. But, even then, he should be paid equitable wages for his work. No prisoner can be made to do labour free of wages. 2.5 BONDED LABOUR
A serious socio-economic problem in India has been that of bonded labour. The Supreme Court has ruled that bonded labour is unconstitutional under Art. 23 as it can be regarded as a form of forced labour. To give effect to Art. 23, Parliament has enacted the Bonded Labour System Act, 1976. This Act strikes at the system of bonded labour.
2.6 PROSTITUTION
The expression "traffic in human beings" used in Art. 23 is very wide one and includes he prohibition of traffic in women for immoral purposes. Trafficking in human beings take place for the purpose of exploitation which in general could be categorized as (a) Sex -based and (b) Non-Sex-based. The former category includes trafficking for prostitution, Commercial sexual abuse, Pedophilia, Pornography, Cyber sex, and different types of disguised sexual exploitation that take place in some of the massage parlors, beauty parlors, bars, and other manifestations like call girl racket, friends clubs, etc. Non sex based trafficking could be for different types of servitude, like domestic labor, industrial labor, adoption, organ transplant, camel racing marriage related rackets etc.
But the growing traffic in women is principally for the purpose of prostitution. Prostitution is an international problem which can be found in both developing and industrialized nations. Unfortunately, society remains tolerant of this abominable crime against women. There are ways of getting women into prostitution that are common to many countries; then there are particular methods unique to a country. Probably the three most common methods are false employment promises, false marriages and kidnapping.
But what makes women and girls vulnerable are economic distress, desertion by their spouses, sexually exploitative social customs and family traditions. In the case of Vishal Jeet v. Union of India , the Sureme Court has directed the State Governments to instruct their law enforcing authorities to take action under te law to eradicate child prostitution. The question of rehabilitation of prostitutes and their children was brought before the Supreme Court in the case of Gaurav Jain v. Union of India, through a public interest litigation. The Court issued several directions relating to the rehabilitation of the children of the prostitutes, child prostitutes and establishment of juvenile homes for them.
CHAPTER III
————————————————-
Case Study: Jacob Martin's Case with Regards to Human Trafficking
Jacob Martin, the former India batsman, has been arrested in Delhi on Tuesday night in connection with a 2003 human-trafficking case. The case, registered at the Indira Gandhi International Airport police station, alleged that Martin had taken a youth to the UK on the pretext of playing cricket there in exchange for money. The issue came to notice, according to a PTI report, when one Nimesh Kumar was found travelling with a fake passport. He subsequently disclosed that his trip had been arranged with the help of Martin and an associate for a sum of Rs 7 lakh.
"Martin formed a bogus team – 'Ajwa Sports Club' – and identified himself as a playing member," RA Sanjeev, the Deputy Commissioner of Police at the Indira Gandhi International Airport, was quoted as saying by PTI. According to the report, Martin was repeatedly asked to assist the investigation but refused to do so. The Supreme Court, last week, rejected an anticipatory bail plea filed by Martin and asked him to surrender. The Delhi Police announced a cash reward of Rs 25,000 for anyone who would provide information about him. Martin played 10 ODIs for India between September 1999 and October 2001, averaging 22.57. He represented Baroda and Railways on the Indian domestic circuit, and his last first-class appearance was in December 2009.
Delhi Police had announced a reward of Rs 25,000 to anyone who would provide information about Martin. The Vadodara-based cricketer was wanted in connection with a case registered at IGI airport police station in 2003. He had allegedly taken some youth to the UK on the pretext of playing club cricket there in 2003 after taking money from them. Police at the Capital's Indira Gandhi International (IGI) Airport have arrested two persons on charges of human trafficking. The incident came to light on May 8 when a person named Raj Kumar, a resident of Punjab was intending to go Poland and Italy (passport no. E-8012072) from Delhi airport.
On checking his passport immigration officers found that the POE stamp affixed on page No.32 was seems to be doubtful. The passport was seized by the immigration officials and sent for verification.
"After verification, the passport was found to be forged and a case was registered in IGI Airport, New Delhi. On July 4, the accused Raj Kumar was arrested. During investigations Rajkumar disclosed that his journey/POE stamp was arranged by an agent named Rakesh Kumar, resident of Uttam Nagar area of west Delhi against the payment of Rs. 5.50 lakh, out of which Rs. 3.20 lakh was given to the agent and the rest of the amount was to be paid, when the person reached Poland and Italy," said an airport police official.
"On July 4 the agent Rakesh Kumar was arrested from Uttam Nagar and investigations followed. Rakesh Kumar disclosed that he had arranged a POE stamp through another agent Satish Kumar and his associate Anil Dhawan, both residents of Patel Nagar in Delhi. On July 5 Satish Kumar was also arrested.
Both the accused were produced in Dwarka Court and sent to judicial custody. Three passports were recovered from Rakesh Kumar and further investigations are on," he added. The former cricketer, Jacob Martin, who carried a reward of Rs. 25, 000 on his head, has been arrested by the Delhi Police in a human trafficking case. His alleged involvement came to light during the interrogation of Nimesh Kumar, who was found travelling on a fake passport on December 11, 2004, when he arrived at the Indira Gandhi International Airport from the United Kingdom. Nimesh purportedly told the police that he had paid Rs.7 lakh to his agent, Rajender Bhat, who along with his accomplices Jacob and Janak Lal, had arranged for his U.K. visit. He was also said to have told the police that Jacob formed a bogus cricket team and made him manager.
The team visited the U.K. in September 2004. While the other members returned to India, Nimesh stayed behind. The family members and relatives of Nimesh also named Jacob and Rajender as being part of the trafficking racket. The police procured a non-bailable warrant against Rajender and Jacob as they did not join the investigation. Rajender, who was arrested on January 3, 2011, purportedly told the police that he had received only Rs.25,000 as his share in the money and the balance was kept by the cricketer.
The police carried out several raids on Jacob's house at Vadodara in Gujarat, but he evaded arrest. Revenue records and the property owned by the cricketer were also scrutinised to ascertain his income details. On February 1, Jacob filed an application in a Dwarka court here seeking anticipatory bail. But it dismissed the application and asked him to join the investigation. The cricketer then filed another application seeking cancellation of the non-bailable warrant, but it was also dismissed. He then moved the Delhi High Court, but did not get any relief. On April 18, Jacob filed a special leave petition for anticipatory bail in the Supreme Court and it was dismissed the next day. Finally, he was arrested by the IGI Airport police on Tuesday at Babarpur in Shahdara, following a tip-off.
CHAPTER IV
————————————————-
Conclusion and Observation
OUTCOME OF HYPOTHESIS
The first hypothesis taken up by the researcher as:
The term 'Traffic in human beings' would also include slavery, stands correct because it implies the buying and selling of human beings as if they are chattels which therefore falls under the category of slavery. The second hypothesis taken up as: the act of Jacob martin would be termed as an offence under the purview of Article 23 of the Indian Constitution. This also stands correct because Jacob Martin was found taking some youth with himself which would fall under an offence of trafficking as his act was found to be of selling youth outside India and hence it would be covered under Article 23 of the Indian Constitution.
CONCLUSION
India is a source, destination, and transit country for men, women, and children trafficked for the purposes of forced labour and commercial sexual exploitation. Internal forced labour may constitute India's largest trafficking problem; men, women, and children are held in debt bondage and face forced labour working in brick kilns, rice mills, agriculture, and embroidery factories. Women and girls are trafficked within the country for the purposes of commercial sexual exploitation and forced marriage especially in those areas where the sex ratio is highly skewed in favour of men.
Children are subjected to forced labour as factory workers, domestic servants, beggars, and agriculture workers, and have been used as armed combatants by some terrorist and insurgent groups. Trafficking in human beings, especially in women, and children has become a matter of serious national and international concern. Women and children – boys and girls – have been exposed to unprecedented vulnerabilities commercial exploitation of these vulnerabilities has become a massive organized crime and a multimillion dollar business. Trafficking of children is a worldwide phenomenon affecting large numbers of boys and girls everyday. Children and their families are often lured by the promise of better employment and a more prosperous life far from their homes. Others are kidnapped and sold. Trafficking violates a child's right to grow up in a family environment and exposes him or her to a range of dangers, including violence and sexual abuse.
In India, a large number of children are trafficked not only for the sex 'trade' but also for other forms of non-sex based exploitation that includes servitude of various kinds, as domestic labour, industrial labour, agricultural labour, begging, organ trade and false marriage.
RECOMMENDATIONS
Role of State
1) Government at local level and source areas should create compulsory high quality education, employment opportunities and income generation programme. 2) Government should include gender centred education curricula in schools and introduce subjects of child sexual abuse and trafficking. 3) The government of different nations must share the information with each other to evolve a programme that will help both the countries in preventing trafficking.
Trafficking in human beings, especially children, is a form of modern day slavery and requires a holistic, multi-sectoral approach to address the complex dimension of the problem. It is a problem that violates the rights and dignity of the victims and therefore requires essentially a child rights perspective while working on its eradication. In the fight against trafficking government organizations, non-governmental organizations, civil society, pressure groups, international bodies, all have to play an important role. Law cannot be the only instrument to take care of all problems.
BIBLIOGRAPHY
Books Referred:-
* Jain, M.P., Indian Constitutional Law, Lexis Nexis Butterworths Wadhwa Nagpur, Sixth Edition 2010. * Pandey, J.N., The Constitutional Law of
India, 47th Edition. * Prof. Bhansali S.R, The Constitution of India, Volume 2, foreword by Hon'ble Mr. Justice Dalveer Bhandari (Judge of Supreme Court) , India Publishing House (Jodhpur). * Dj De, The Constitution of India 3rd Edition, Volume- III, Asia law House Hyderabad. * Dr. Kashyap C. Subhash , "The Constitution of India" Volume- II, Universal Law Publishing Company. |
|
Website Visited:
(1) www.legalservice.com.
(2) www.vakilno.1.com
(3) www.mightylaw.com.
(4) www.manupatra.com.
(5) www.legalsutra.com.
(6) www.wikipedia.com.
(7) www.Indiakanoon.com
(8) www.timesofindia.indiatimes.com
Professional site
ESPN CRICINFO. April 27, 2011. Jacob Martin arrested in human-trafficking case
Newspaper Article
* Kumar, Nimesh. "human trafficking." Times of India on the web. 27 January, 2011
* Jadli, Anurag. "Human traffickers nabbed at Delhi airport." Mid Day on the web. 8 August, 2011
* Kumar, Ashok. "Evasive Jacob Martin arrested, at last." The Hindu on the web. 27 April 2011
——————————————–
[ 1 ]. Vasudevan v. Mittal, AIR 1962 Bom 53
[ 2 ]. People's Union of Democratic Rights v. Union of India, AIR 1982 SC
1473 [ 3 ]. Commissioner of Scheduled Castes and Scheduled Tribes, First Rep., pg 22-27 [ 4 ]. Suraj v. State of Madhya Pradesh, AIR 1960 MP 303
[ 5 ]. R.K Tangkhul v. R.S. Khullakpa, AIR 1961 Man 1
[ 6 ]. Raj Bahadur v. Legal Remembrancer, Govt. of West Bengal, AIR 1953 Cal 522 [ 7 ]. AIR 1987 MP 126
[ 8 ]. Supra Note.2
[ 9 ]. AIR 1983 SC 328
[ 10 ]. AIR 1998 SC 3186
[ 11 ]. AIR 1984 Guj 102
[ 12 ]. AIR 1984 SC 177
[ 13 ]. AIR 1984 SC 537
[ 14 ]. In the matter of : Prison Reforms Enhancement of Wages of Prisoners, AIR 1983 Ker.261 [ 15 ]. Supra Note.9
[ 16 ]. Jain M.P., 'Indian Constitutional Law', Sixth Edition 2010 [ 17 ]. http://www.womenpowerconnect.org/focus_human_trafficking.php, visited on January 27, 2012 [ 18 ]. AIR 1990 SC 1412
[ 19 ]. AIR 1997 SC 3021
[ 20 ]. ESPN CRICINFO. April 27, 2011. Jacob Martin arrested in human-trafficking case [ 21 ]. Kumar, Nimesh. "human trafficking." Times of India on the web. 27 January, 2011 [ 22 ]. Kumar, Ashok. "Evasive Jacob Martin arrested, at last." The Hindu on the web. 27 April 2011
[ 23 ]. Jadli, Anurag. "Human traffickers nabbed at Delhi airport." Mid Day on the web. 8 August, 2011
Related Topics