Argumentative: Is Internet Filters in Public Libraries Needed?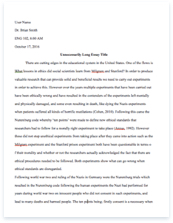 The whole doc is available only for registered users
A limited time offer! Get a custom sample essay written according to your requirements urgent 3h delivery guaranteed
Order Now
Is internet filters in public libraries needed? Are they more helpful or harmful then anticipated? In recent research I have learned pro's and con's on this argument. I have come to my own conclusion of internet filters.
Low income family's are not likely to have computer and or internet access at home. A lot of schools require in-depth research on homework assignments in which the internet can help. A person who has been diagnosed with breast cancer might want to research symptoms, certain medications and treatments. A art major might what to explore didn't typed of art work. In these cases one would depend on the public library for researching homework, medical symptoms or types of drugs. These filters could cause interference in education on certain topics .
Seeing as the library is a public place a parent would have concerns as to what their children are exposed to or have access to. The need to protect children from accessing inappropriate or harmful materials online became a big concern in late 1990's. The internet was fairly new to the publics eye, and was growing quickly. The unlimited access of any subject was available at a touch of a button. The need for content blocking software and parent controlling systems grew quickly.
So what exactly is filtering and or content control. What all does a filter, filter? Internet filters are software programs that control what is shown while a computer user is viewing pages on the World Wide Web. The 1990's the filters were designed to protect minors from viewing pornography, hate speech and other controversial online content. They work by intercepting and blocking attempts to view particular web pages and can be controlled by the administrator. In the attempt to grasp this problem congress wanted to control what could be viewed on web pages. The Communications Decency Act of 1996 (CDA) was passed to stop internet users from communicating material that would be offensive to minors. The law carried fines and imprisonment for offenders but this was blocked by federal courts. The law was turned over to the Supreme Court as unconstitutional violation of the First Amendment.
In 1998 the Child Online Protection Act (COPA) was passed. This law was to be more specific an not offensive to the First Amendment. At the same time Senator John McCain introduced a bill to the Senate that became known as the Children's Internet Protection Act (CIPA) and was signed into law December 2000. The main purpose of this bill was to protect children from being exposed to visual images that are obscene and or child pornography. The CIPA required public libraries to install filtering software on all computers with internet access or else they would loose federal funding. In 2001 The American Library Association among others appealed the courts decisions stating that it was unconstitutional. The United States District Court did in fact agree that the CIPA was unconstitutional but was upheld by the Supreme Court in 2003. As it stands now public libraries will do without federal funding so they will have to use filtering software on their computers.
The ALA web sight defines freedom as the right to anybody that seeks and retrieves information from all points of view without restriction. By installing filters this restricts people from knowledge. While most would agree illegal material or pornography should not be in our public libraries, this is a place to access unlimited gathering and processing of different types of information. Free access to all types of information enables greater self-education which can lead to better decision making; because censoring one aspect of the internet could lead to censoring the whole thing, public libraries had to decide on how to filter their systems.
Some libraries choose not to filter all. Some choose to only filter and censor computers in the children's section and leaving adult access computers in the open. Those who decided not to filter some of their computers implement sign up sheets, and or permissions forms for internet use in children areas. Minors would have to have some kind of consent or supervision to use unfiltered computers. Unfiltered computers could be arranged in such a way that anything offensive and or inappropriate can be reduced to the viewing of a child's eye. Some helpful tools would be cubicles or privacy screens. Some chose to simply block all computers and post internet user policies. The user who tried to access anything that obtained inappropriate information that was blocked by the filter would post a message that would read "violation or access to this site has been blocked". If the user persisted to access this type of information a library attendant would approach the user and inform them that they were breaking library policy.
If the embarrassment of being called out on it wasn't enough an the user persisted to access these sights the user would be asked to leave. The internet is not a book, nor is it a magazine on a shelf. A librarian wouldn't or could not tare out pages in a book that obtains inappropriate language. A piece of art that might contain brief nudity couldn't be deleted from a book just because someone didn't agree with the content. A public library can not lose their reputation of being a place with free access to different types of knowledge. The ALA states that libraries should provide information presenting all points of view on current and historical issues regardless of origin, back-ground or views of those contributing to their creation. In obtaining goals and different idea's libraries should not prevent access to any kind of information and the government should be the one who decides what information is accessed though filters. With the work of library staff and responsible parents we should decide how far the use of the internet should go with our children.
Works Cited:
"Why blocking software is wrong for public libraries." Cyber-Liberties: American Civil Liberties union Freedom Network. www.ALA.com
www.securitysupervisor.com
Reno .v. American Civil Liberties Union
Google
infopeople.org/resources/filtering
Outofthejungle.blogspot.com
www.ncsl.org/default.aspx
www.internetfilters.org
Related Topics