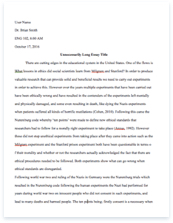 The whole doc is available only for registered users
A limited time offer! Get a custom sample essay written according to your requirements urgent 3h delivery guaranteed
Order Now
Using both persuasive thinking and scientific thinking can be a real helpful way to solve real life solutions. Both of these techniques are used daily by almost everyone whether we know we are using them or not. Persuasive thinking is often defined by having the ability to use our thoughts and words to persuade individuals or groups of a different way of thinking or acting on a situation. When you think of the word scientific thinking you might think this does not necessarily apply to you because of the word scientific.
But we all use this way of thinking also even if it is not apparent to us. Scientific thinking on the other hand is a way of testing theories through specific research and evidence that is often presented. Scientific thinking uses steps to evaluate a situation which are observation, hypothesis formulation, experimentation and verification. Using both of these ways of thinking can provide different methods of coming up with solutions to things that occur in your life.
The first thinking method we will look at is persuasive thinking. Persuasive thinking is "An Emotional Appeal strategy in the pursuit of persuasive thinking would use what are called the root elements: values, biases and beliefs which are established early in life and help to form our convictions (Kirby & Goodpaster, 2007)." A real word persuasive thinking example I have in my life is usually at work. I am charge of a numerous amount of people within a certain building every day. I must make sure they are on task and stay on task. I must also make sure they are properly trained at their job and that they are doing their job correctly according to company standards.
Now provided that each employee has the proper tools to do their job I must also help and coach them along the way in order to be more productive each day and to develop their skills. This is where persuasive thinking comes into play. Often at times employees think they have or will try a different way of completing a task. We have a companywide way of doing things and we must not deviate from these standards. Often at times it takes sitting someone down and coaching them back through the proper way of doing things. When someone is not working to their potential or completing a task a specific way it can often upset me. Using persuasive thinking to try to get them back on track I must also remember to stay calm in the moment and think each step through because different employees react different ways simply because everyone is emotionally different.
The best effective way I have found when using persuasive thinking is first thinking about who the audience is. What background or demographic and how you should go about persuading them. Next you must convey your though out plan to this person and submit solid facts to support your thoughts. One of the best ways to think of this process is "Effective persuasion becomes a negotiating and learning process through which a persuader leads colleagues to a problem's shared solution." It is a difficult and time-consuming process. (Harrison, Kim, 2013)."
The other side of thinking involves scientifically thinking about problems and coming up with a solution in a scientific manner. Scientific thinking is "the intention to seek knowledge that transforms implicit theory revision into scientific thinking. Theory revision becomes something one does, rather than something that happens to one outside of conscious awareness. (Kuhn, Deanna, 2010)." Using scientific thinking can easily be a good way to solve any of life's dilemmas once you slow down and observe all of the rules and steps needed to complete this. One way of using scientific thinking is using this method when cooking.
I love to cook and try out new recipes but they aren't always the way they should taste. Using the scientific thinking when making a pasta sauce I came up with this. The problem or observation made when cooking homemade pasta sauce was that it was missing something in the end process. The taste was off a little. The hypothesis of this would be that because it tasted off it needed something added to it such as salt or sugar to make the taste more appealing. The experimental phase of this would be that a little at a time I added both salt and sugar and continued to cook on a low heat until the taste was appealing to me and my family. The conclusion of this would be that because the taste was off that it needed some extra ingredients such as salt or sugar to balance out all of the ingredients involved in the cooking process.
Whether you prefer one method of thinking over the other is your preference. But both of these methods of thinking have been shown to help with and improve your thinking skills. And both of these methods can be learned to help improve the way you think and act as a thinker.
References
Harrison, K. (2013). Cutting Edge PR, Ideas and information to boost your PR career. Retrieved from http://www.cuttingedgepr.com/articles/empcomm_foursteps.asp
Kirby, G., & Goodpaster, J., (2007). Thinking: An interdisciplinary Approach to Critical and Creative thought, (4th Ed) Pearson Prentice Hall.
Kuhn, D. (2010). What is Scientific Thinking and How Does it Develop?. Retrieved from http://www.educationforthinking.org/sites/default/files/pdf/05-02WhatIsScientificThinking.pdf
Related Topics