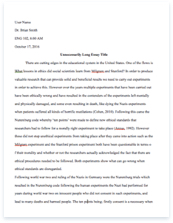 The whole doc is available only for registered users
A limited time offer! Get a custom sample essay written according to your requirements urgent 3h delivery guaranteed
Order Now
In John Updike's short story, "A&P," Sammy, the narrator, watches three girls one afternoon while he works as a cashier in an "A&P" grocery store. The girls are attractive in their bikinis, but clearly they do not impress the store manager, Lengel, who publically embarrasses them, leading Sammy to quit his job. In the end, no one notices his heroic protest, and he starts to worry whether his future will be miserable. I do not think so; I believe he makes the right decision, resigning not only to impress the girls, but also to rebel against the policy-based views in society. Although he fails to obtain respect from the girls, his decision, his first step in transforming his unsatisfactory life, may help him realize who he is and who he wants to be.
Sammy wants to change his life before he meets the girls; their arrival seems to trigger him to realize more fully his dissatisfaction. They demonstrate traits he admires. Their stunning appearance triggers his appreciation of beauty; their attention-grabbing ability triggers his desire to be distinctive; maybe Queenie's leadership triggers his desire to be himself. As she walks in with "a kind of prim face" (Updike 1493), he explains, "Walking into the A&P…I suppose it's the only kind of face you can have" (1493). While he's busy watching her wander around, he expounds how "the store's pretty empty, it being Thursday afternoon, so there was nothing much to do" (1494). He notices she's different from her two friends, even from her steps. "Not this queen" (1493), he says several times in his observations, emphasizing her uniqueness. When he sees his queen embarrassed by Lengel, he feels he has to stand up and be the "unsuspected hero" (1496), forcing him to make the right decision for himself. Although she does not notice his resignation, he does something with free will. Influenced by the girls, he explains how much he disdains his working environment, including his co-workers and the customers. The A&P is located in the "north of Boston and there's people in this town haven't seen the ocean for twenty years" (1494), he says reinforcing how odd it is that three girls come in wearing only bathing suits. Sammy has a mocking tone to describe his co-worker, Stokesie.
When Stokesie expresses his appreciation for the girls, Sammy explains that "Stokesie's married, with two babies chalked up on his fuselage already" (1494). He "thinks he's going to be manager some sunny day, maybe in 1990 when it's called the Great Alexandrov and Petrooshki Tea Company or something" (1494). Clearly, Sammy does not anticipate a future like Stokesie's. Additionally, he does not respect the store manager, Lengel, calling him "pretty dreary, [and he] teaches Sunday school" (1495). He "hides all day" (1495) in his office "marked MANAGER" (1495). Sammy does not give much respect to the customers either, implying that they are animals:"…I got [a customer] feathers smoothed" (1492) and "[they are] like scared pigs in a chute" (1496). Later, he equates the customers with "sheep" (1493), complaining how the fifty-year-old "witch" (1492) "starts giving [him] hell" (1492) when he accidently rings an item twice. Though it may seems these thoughts come after Sammy sees the girls, the resentful tone reveals how he already dislikes his job before he meets the girls. Quitting has been rooted in his mind for a long time.
Though Sammy "fe[els]…the world [is] going to be [hard] to [him] hereafter" (1497), his future is now in his own hands. Like most young men, Sammy seeks happiness, freedom, an exciting life. If he spends his life behind a register observing others, he might never satisfy his desires. When Queenie explains that she is just getting "a jar of herring snacks" (1495) for her mother, Sammy "slid[es] right down her voice into her living room. Her father and the other men were standing around in ice-cream coats and bow ties and the women were in sandals picking up herring snacks on toothpicks off a big glass plate and they were all holding drinks the color of water with olives and sprigs of mint in them" (1495). Sammy sarcastically mocks how his parents "get lemonade" (1495) when they "have somebody over" (1495), even "if it's a real racy affair Schlitz in tall glasses with 'They'll Do It Every Time' cartoons stenciled on" (1495).
As Sammy runs out to the parking lot to "look around for [his] girls…they're gone, of course" (1496). "Of course." Of course, he is aware that the girls will not notice his resignation. He quits the job for himself. He makes his decision not because "it seems to [him] that once you begin a gesture its fatal not to go through with it" (1496), but he needs to take action, to break through the cage of imagination. In contrast to Lengel's "old and gray" (1496) face inside the store, "outside the sunshine is skating around on the asphalt" (1496). Sammy's departure to the parking lot represents his first step into his future, with the sun shining; his farewell to the past, leaving Lengel's "dark gray" (1497) face and "stiff[ing]" (1497) back.
Sammy's resignation may not seem like a practical choice; on the other hand, it may lead to a better future. It certainly requires moral courage. Because Sammy's present world is unsatisfactory, he lives in an imagined one, where he observes everyone else. If he quits, he can step into a better world, one he has yet to imagine, but one that may be brighter than the "dark gray" (1497) of Lengel's face or the monotony of Stokesie's future. Quitting represents his first step out of his imaginary world. What is left now is the practical world which will force him to face reality and may eventually lead him to find happiness, however difficult the path.
Works Cited
Updike, John. "A&P." The Norton Anthology Of Short Fiction. 7. Bausch, Richard, and R.V. Cassill. New York: W W Norton & Co Inc, 2006. Print.
Related Topics