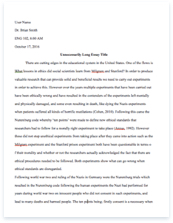 The whole doc is available only for registered users
A limited time offer! Get a custom sample essay written according to your requirements urgent 3h delivery guaranteed
Order Now
Bakalian, A., & Bozorgmehr, M. (2011). Middle Eastern and Muslim American Studies Since 9/11. Sociological Forum, 26(3), 714-728. doi:10.1111/j.1573-7861.2011.01273.x This article discusses how Arab's migrated to the United States and the labeling of various groups of Arabs as well as confusion with other Middle Easterners. Moreover, it talks about how racism and discrimination of the Arab Americans ever since September 11, 2001. Additionally, it points out that many Arab Americans that are not too fluent in English and are not citizens of the United States are seldom social and more private with their life. Beth Hoke, (2015) Muslim Culture Retrieved from http://sharonpluralism.org/cultural- protocols/muslim-culture/
The article explains how Muslim's is practiced by more than one cultural group and although this is true many cultures may change some things of the Muslim belief according to fit their cultural beliefs. Most importantly, the article states that Muslims believe in similar religious things without discrimination such as Judgement day, Holy Scriptures, among others. Praying can be done anywhere and at any time, especially if driving; yet the importance of having prayer as the main focus without disruptions is crucially essential. It also states that prayer mats are to be respected by not being stepped on with shoes and for the most part prayers take place in assigned places on Fridays. This is whether it is at the home of the person, although most men will pray at mosques since it is believed to create a stronger community bond. Pets are usually kept outside of the Muslim home only to protect the prayer area of becoming contaminated by uncleanliness.
Nonetheless, the article also points that in the Western cultures many Muslim may have them indoors which can be seen as disrespectful for other Muslim people because of the contact with prayer mats and area. The article goes into many other factors that are a part of the Muslim belief that are seen as disrespectful if not followed such as giving a person something with the left hand or having a fixed eye contact as well as touching a person's feet when sitting close to them. Lastly, another topic discussed is the respect that is given to their elders. Although, as the article states, Western cultures may be more flexible, it is best to ask an elder how they want to be addressed. An example is, Mr. Smith or Mr. Benjamin.
The article goes in depth about Muslim beliefs. Bigner J. Working with Gay and Lesbian Parents. Journal of Couple & Relationship Therapy [serial online]. June 2004; 3(2/3):85-93. Available from: SocINDEX with Full Text, Ipswich, MA. Accessed January 16, 2015. This article is about how homosexuality has become one of the most critical issues in adolescent health care. How young people are struggling with the problems of sexual identity. Study was conducted showing 10% of adolescents are sure of their homosexuality and while others are still going back and forth between heterosexual and homosexuality trying to establish their identity. Most adolescents fee if their gay the risk for sexual transmitted diseases are low but studies show the percentage of STD's in the gay community is up 65%. Important factors to remember are building identity, educating them on STD transmission and building self-confidence.
Bittle, A. (2013). I am Asian American. The Education Digest, 79(4), 57-60. Retrieved from
http://search.proquest.com/docview/1464619083?accountid=458 This article is about how some individuals try to figure out if they are Asian Americans. These individuals question their identity because most of them have origins in East Asia, Southeast Asia, and Indian subcontinent (Bittle, 2013). The article also discusses how Asian Americans have endure racial discrimination in the United States. The article also provides information on how some Asian American students become invisible because they are placed with other racial groups. Plus, it also explain how these students are stereotyped by teachers, which also creates students to become invisible. Finally, the article discusses the importance of addressing bias in school in order to make the invisible students visible in the classroom and school activities. Heinrich, R. K., Corbine, J. L., & Thomas, K. R. (1990). Counseling Native Americans. Journal of Counseling and Development : JCD, 69(2), 128. Retrieved from http://search.proquest.com/docview/219100493?accountid=458
This article is about White counselors who are providing services to Native Americans. The article provides information on the issues that White counselors have to face when providing services to Native Americans. For example, one of the issues that White counselors have to face when providing services to Native Americans is that the values of Native Americans are considerably different than the values of the White counselors. The article also discusses Native American healing practices and how these healing practices can be incorporated into the counseling process. Finally, the article discusses that it is important for White counselors to learn culturally relevant metaphors in order for healing and change to occur in Native Americans. Horse, P. G. (2005). Native American identity. New Directions For Student Services, (109), 61- 68.
This article is about how some individuals in the Native American community question their identity as Native Americans. This article discusses how Native Americans question their identity because of the different terms use to identify them. The terms use to identity Native Americans are American Indian, Indian, and Native American. The article also discusses about the racism that Native Americans have to face in the privilege world of the Whites. It also talks about the struggles that many Native Americans have to go through in order to be able to maintain their identity and not conform to the dominated society. Finally, the article also provides information on how colonialism affected the Native American culture, but it also share information on how many Native American are returning to their tradition tribal knowledge, language, and practices (Horse, 2005). Levoy, B. (2013). Etiquette for the differently abled. Veterinary Economics, 54(6), 16. Retrieved from http://search.proquest.com/docview/1416208290?accountid=458
This article talks about how to teach proper etiquette to the disabled so that they are treated in the same manner. Studies show that at least 54 million Americans qualify as having a disability, but have been treated very poorly not on purpose but just because people are unaware on how to communicate with people who have a disability. For someone with a hearing disability you want to look directly at the person and speak slowly and clearly it is not necessary to yell for this person to respond. It also advises you certain words that you should avoid when dealing with a person with a known disability because those words could be very hurtful. Important factors that you should remember is to be respectful, treat them as they are a human being and never pretend to understand them if you don't. The person with the disability you have to teach them to be patient as people may not know these etiquettes.
Provide them with the training that they need to be successful. Living in America (2011) Retrieved from http://www.arabstereotypes.org/who-are-arab- americans/arab-american-culture/living-america In the following article the hospitality and religion facts of the American Arabic life is discussed. The items that are very important to an Arabic because it makes them feel closer to their homeland are covered such as embroidery in that can be displayed on walls, ornamental brass plates, as well as wood ornaments that are popular and come from Lebanon. Additionally, hospitality is of the utmost importance and it is given with some traditional dishes in sizable quantities to ensure that if uninvited guests arrive there will be enough food for everyone. Moreover, the front rooms such as living room, or kitchen are common areas of hospitality. Religious beliefs vary from Christianity to Muslim beliefs. Arab Americans have artifacts in their residence that are cultural and religious to them.
Oliver, M. F. (2011). Postmodern Application Within Latino Culture. Practice Theory and Research, 2. This is a great source for history and culture of African Americans and the misunderstanding as s and historical identities. This Article also provides some information about Muslims and how they practice and preserve their religion as African Americans. Oliver, M. F. (2011). Postmodern Application Within Latino Culture. Practice Theory and Research, 2. This article sheds light on whether racism and social injustice are embedded into the U.S health care. Research has shown that practitioners have abused the "system" with maltreatment discrimination and abuse of African Americans by some institutions. The article states, "The principles of human flourishin is the key to evaluating the moral weight of culture in ethics". Because African Americans are a non-dominant group, many share a similar history of racial and social oppression in the United States. This has been detrmental and has adversely influenced their chances at quality health care in this country.
Oliver, M. F. (2011). Postmodern Application Within Latino Culture. Practice Theory and Research, 2. This source shows that in the past year, drug and alcohol had a bigger increase in U.S. born Latinos than in Latino's from other countries. New guidelines for treating Latinos with substance abuse problems have come about. Some include for the therapist or worker to not hold attitudes and beliefs that can detrimentally influence their thinking and perceptions of another is to be multicultural, sensitive, responsive and knowledge and to understand about ethnically and racially diverse cultures. There is also the description to educate, so research and practice organizational change. Each professional worker must assess their biases. Oliver, M. F. (2011). Postmodern Application Within Latino Culture. Practice Theory and Research, 2. This source is shown to give therapist an idea of how to provide therapy to Latino cultures and races.
Narrative Therapy may be a good fit among the Latino culture because the theory of Narrative is, people are the experts of their own lives. Practitioners feel people hold their own skills to solve and their own competencies that will help to reduce the problem. Narrative therapy is based on the idea that each person is their own expert in their lives. It seems a good fit for Latinos since Latinos attitudes are about respect, empathy and trust. Who to trust better then themselves. Pal, S. (2009). Enabling the differently abled. I-Manager's Journal on Educational Psychology, 3(2), 13-26. Retrieved from http://search.proquest.com/docview/1473907322?accountid=458 This article talks about how people enable the differently abled and don't allow them to learn things on their own and when they go to college or try and pursue a career outside of high school they have a hard time keeping up.
They state that disable learners must not be disadvantaged in education and very important to make sure that the learners are not unfairly treated in assessment situations. Colleges have an obligation to anticipate the needs of the learners and to make reasonable adjustment, and if we are enabling them they won't receive a fair chance when they are on their own and you're unavailable to provide assistance. Important factors to remember is to allow the disabled the same opportunity by given the access to a computer so they are able to navigate, provide them with learning materials and allow them to solve the answers on their own. This does not mean you cannot provide some assistance but you have to allow them to be self-sufficient. Remafedi, Gary, M.D., M.P.H., & Blum, Robert, M.D., P.H.D. (1986).
Working with gay and lesbian adolescents. Pediatric Annals, 15(11), 773-774,779-780,782-783.
Retrieved from http://search.proquest.com/docview/1023315986?accountid=458 In this article, it talks about how therapist will be working with gay and lesbian parents more in the future, because of the increase of both gay fathers and lesbian mothers. Even though there is not much literature about these individuals and their families it is clear they experience a distinctive and more complex social-psychological environment than other individuals. Many couple and relationship therapists will have little clinical training and experience working with gay and lesbian parents and their children. Important key factors they must remember are helping clients to achieve healthy, new personal identity, directing and encouraging client socialization and assist clients in addressing intimate relationships.
Sohaib N. Sultan (2014) Ramadan, Day1: What is Ramadan? Retrieved from http://time.com/2936016/ramadan/ In this article the definition of and thoughts of Ramadan are expressed. Ramadan is a religious celebration that is shown by showing God thankfulness for their blessings by acts of fasting, and reconciliation among other acts. Wang, D., & Kleiner, B. H. (2001). Discrimination against Asian Americans. Equal Opportunities International, 20(5-7), 64-69. Retrieved from http://search.proquest.com/docview/199564119?accountid=458
This is a well written article on the discrimination that Asian American faced and are still facing in the United States. The article provides information on the origin of the discrimination that Asian Americans face when they first stepped on Unite States soil. For example, the earliest discrimination that Asian Americans face was when they were placed in concentration camp because they were consider enemy aliens. The article also explain how the United States passed a racialization law that allowed Asians to live in the United States legally, which eased the discrimination that Asian Americans had to face. Finally, the article discuses information on the new types of discrimination that Asian Americans have to face today in the United States. .Widner, D., & Chicoine, S. (2011).
It's All in the Name: Employment Discrimination Against Arab Americans. Sociological Forum,26(4), 806-823. doi:10.1111/j.1573- 7861.2011.01285.x This article discusses how Arab American's may be a target of discrimination ever since September 11, 2001. Many companies received resumes that were purposely plan of a study to see if last names of Arabs as oppose to American's would make a difference in getting interviewed. The result was that applicants with last names that were thought of Arab origin had to apply to more jobs before getting a call to be interviewed, than those with an American last name.
Related Topics