An Experimental Study on Oriya – English Accent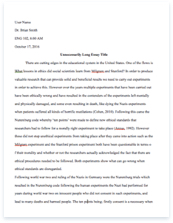 The whole doc is available only for registered users
A limited time offer! Get a custom sample essay written according to your requirements urgent 3h delivery guaranteed
Order Now
This Paper presents an experimental method to define the acoustic characteristics of the English accent of Oriya speakers. An attempt is made here to extract the acoustic features by labeling and segmenting the expression of words into corresponding syllables and phonemes. The accent features are demonstrated both in qualitative and quantitative way. And this study also highlights how the Oriya English accent changes the syllable structure and syllable stress pattern of English at the word level. Phonological and phonetic features which are correlated to the speaker's accent have been identified and their acoustic parametric values have been extracted and presented in quantitative way.
The English accent dependant features of Oriya speaker are measured in acoustic parameters such as duration of words, syllables and phonemes in second, fundamental frequency (F0) in Hz, frequency of first (F1), second (F2), third (F3) and fourth formants(F4) in Hz and intensity in dB which are perceptually unique. Oriya- English accent dependant features which show the common acoustic pattern across the Oriya speakers are defined by calculating the numerical acoustic values and by employing the statistical measurement upon these. By demonstrating the quality of sound through spectrograms, the physical manifestation of sound can be better studied.
The data for the study have been obtained through standard procedures. The data have been measured here to analyse the English accent of Oriya speaker recorded from five adult male speakers whose age between 18 to 22 years, and they have exposed to English as a second language for more than 10 years. The results show that all the Oriya speakers share some common and regular pattern of English accent. This pattern is categorized here as the speaker's accent dependant features. Further analysis reveals that all most all Oriya informants show unique sets of accent independent features; and in this sense, each informant accent shows unique acoustic characteristics where the accent variation is substantial. This accent variation may be happened due to the social, educational and geographical factors of the Oriya speakers who are exposed to English as a second language at later stage of Primary or early stage of High school education.
Key words: Spectrographic, spectrum, Oriya- English accent, minimal pairs, isolated vs. continuous speech, Oriya vowel system, English vowel system, Accent dependant feature, Accent independent features, substantial variation, negligible variation,
Related Topics