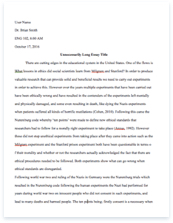 The whole doc is available only for registered users
A limited time offer! Get a custom sample essay written according to your requirements urgent 3h delivery guaranteed
Order Now
As Alex Sharpe's consultant, we recommend a portfolio of 78% S&P 500 and 22% of R.J Reynolds. This portfolio will generate an annual expected return of 8.86% (significantly higher than the index return 6.29%), while the risk increases by only less than 10%. In Qualitative Analysis, we find that tobacco industry tends to move with the market less than the toy industry, which indicates that R.J Reynolds can diversity the risk of the original portfolio better.
In Quantitative Analysis, we first use Treynor Measure as the ranking criteria and find R.J Reynolds a better choice. Then we employ the Markowitz Mean-Variance Analysis to plot the efficient frontier and construct strategy set. Combined with Alex Sharpe's risk profile, we find the optimal strategy.
For years, Alex Sharpe has been investing her children's educational savings in the V anguard Index
Fund which tracked the performance of S&P 500. However, in order to achieve higher returns, she tries to accomplish a more active strategy by adding one of the two companies' stocks to the V anguard Index:
R.J Reynolds Tobacco Company, the second-largest tobacco firm in the world. Hasbro, an American toy and game company the second-largest toy maker in the world.
To decide which stock to choose and how much weight she should put in each stock, we have to start with Alex Sharpe's IPS.
Policy Statement
As a conservative investor, Alex Sharpe wants to maximize the excess return for taking on any new risk. After new risky assets are added in, the risk of portfolio should increase by less than 10%. Annual expected returns are supposed to be higher than 6.29% (the expected return of S&P 500) to create a capital appreciation in a long (5-10 years) time horizon. Another two points should be emphasized:

Liquidity needs & Time Horizon: Since Alex Sharpe is going to build an education fund, shortterm income is less important than capital gains and liquidity needs are low.
PORTFOLIO MANAGEMENT
ALEX SHARPE'S PORTFOLIO
Unique preferences: Two securities are identical if they provide the same cash flows. 1
Qualitative Analysis
Since Alex Sharpe has a well-diversified market portfolio already, the risk of any asset added in can be measured by how much it moves with the market, which means not all variability of an asset should be considered in our analysis.
Because of the stable purchases made by certain consumer groups, cigarette industry has relatively inelastic demand. By contrast, the needs for toys and games tend to move with the economy more, for they are not necessary in our lives. Also, innovative toys and games require a large amount of fixed costs, while tobacco firms spend most of their money as variable costs like raw materials and advertising. Thus, toy companies are likely to have higher operating leverages. So theoretically Hasbro is riskier than R.J Reynolds. This will be demonstrated in the next part.
Quantitative Analysis
To begin with, we can overview the key statistics of S&P500, Reynolds and Hasbro. Monthly expected return is estimated by the geometric average of the five-year returns. As is mentioned above, we use beta to measure the risk of asset instead of standard deviation. Accordingly, Treynor Measure2 is adopted as a ranking criteria instead of Sharpe Ratio.
Related Topics