Adult General Education Development (GED) Barriers, Retention and Success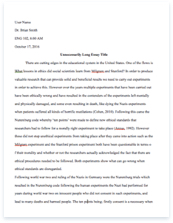 The whole doc is available only for registered users
A limited time offer! Get a custom sample essay written according to your requirements urgent 3h delivery guaranteed
Order Now
Pickard's (2013) literature examination of adult basic education participation rates reveals evidence suggesting students' life or "situational" factors play the largest role in determining high student attrition rates suffered by most programs. The author also notes that instructors and institutions play a vital role in student retention. Importantly, the article mentions limits: many studies lack sufficient theory for thorough understanding of this issue and relatively little literature exists to appreciate the phenomena of low adult literacy student retention. Most research focuses on learner attrition, retention and persistence; often, students lack motivation to attend. The examination also shows that defining persistence is difficult, but evidence confirms programs that focus on goal setting and sensitivity to student needs garner the most favorable results.
The author finds that most studies are descriptive anecdotal interviews, offering only qualitative information. Studies lack firm quantitative data, which is difficult to determine in part because students depart without notice. Though most studies are not generalizable due to small samples, Pickard (2013) suggests that institutions can do little to alleviate students' life conditions, arguing that programs should instead offer flexibility in adult literacy student scheduling, along with intentional support and extensive policy changes.
Zacharakis' et al. (2011) study of adult learner experiences examines motives for and barriers against attending and reasons for program success. They studied qualitative data from eight focus groups with a Strategic Analysis of Representations Approach (SARA) that measured saturation of common responses. Researchers used recordings, observations and debriefings of conversations with Adult Basic Education and English as a Second Language students guided by moderators. The researchers coded word frequencies and negotiated common terms to uncover overlapping subjects. The authors note that research on adult students is limited, yet it shows they are complex and not easily categorized; however, by verifying information with multiple data sets and strong adherence to neutrality, they revealed that personal barriers significantly hinder attendance and supportive instructors play a substantial role in student retention.
These students perceive barriers based on personal history and individual challenges. The authors are cautious to generalize the data because participants consisted of convenience samples of volunteers and those invited to join. In addition, the participants did not include those who dropped out of programs. The results indicate that recognizing adult difficulties with empathy and accommodations combined with robust student-teacher interactions aid in overcoming many of the existing barriers. In the article by Petty & Thomas (2014), the authors provide a literature review to identify barriers for adult learners and components of successful adult learning programs.
A few important themes emerge in this article, but it is limited in that recent, in-depth studies are needed for new information regarding learner retention. They provide general qualitative information based on previous research, but the research references no particular study nor measurable details. The authors say that because adult learners are so diverse, it is difficult to categorize them. In addition, persistence, which is measured by length of time spent in programs, is difficult to define, though it is directly related to personal motivation, all varying from person to person. Situational barriers, for example transportation problems, and institutional barriers, such as location, lead to most student disengagement.
The authors discuss instructor professional development and mention providing additional services, but the article lacks specifics. Overall, the research recommends that initial orientations, student-teacher relationships, goal setting and tailored instruction are crucial to adult learner success. When reviewing the findings of the articles, a clear pattern emerges as the articles complement each other: adult learners' life situations create difficulties curtailing their ability to continue in programs; nonetheless, institutions can alleviate barriers by offering flexible, supportive environments replete with competent instructors to facilitate student growth.
Petty & Thomas (2014) and Pickard (2013) both cite lack of research and information on adult learners and discuss qualitative data. Pickard (2013) specifically notes the need for more theory regarding adult learners and their engagement and participation in programs, while Petty & Thomas (2014), lacking specifics, say that more longitudinal studies are needed to gather information. Zacharakis et al. (2011) also say that research on adult students falls short. The authors used SARA to code highly contextualized qualitative data to provide their results, yet their detailed results support previous findings. While all three articles share the difficulty in labeling the variety of adult learners, they include the same situational barriers that learners face.
Petty & Thomas (2014) and Pickard (2013) say that motivation is a defining issue, though Zacharakis et al. (2011) establish overcoming exigence as the driving force behind persistence. Consistently in line with previous research, all three articles, Zacharakis et al. (2011) in particular, prominently corroborate reliable information, even though they all maintain that it is difficult to generalize the results to larger populations. Because of small sample sizes, institutions must use caution in applying the results locally. A notable limitation arises when defining persistence and retention, which are widely used to establish program effectiveness; they are not similarly defined across programs. Finally, because program dropouts are not interviewed, crucial information pertaining to student attrition is lost.
References
Petty, T., & Thomas, C. C. (2014). Approaches to a successful adult education program. College
Student Journal, 48(3), 473-480.
https://link-gale-com.access.library.miami.edu/apps/doc/A387058976/AONE?u=miami_richter&sid=AONE&xid=96e584f2
Pickard, A. (2013). Attrition happens: Towards an acknowledgement and accommodation
perspective of adult literacy student dropout. Journal of Research & Practice for Adult
Literacy, Secondary & Basic Education, 2(2), 114–126. http://search.ebscohost.com.access.library.miami.edu/login.aspx?direct=true&db=aph&AN=93352470&site=ehost-live
Zacharakis, J., Steichen, M., de Sabates, G. D., & Glass, D. (2011). Understanding the
experiences of adult learners: Content analysis of focus group data. Adult Basic
Education & Literacy Journal, 5(2), 84–95.
http://search.ebscohost.com.access.library.miami.edu/login.aspx?direct=true&db=aph&AN=65148833&site=ehost-live
Related Topics