Admission to Forest Institue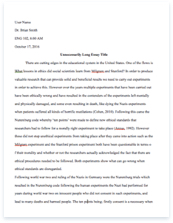 The whole doc is available only for registered users
A limited time offer! Get a custom sample essay written according to your requirements urgent 3h delivery guaranteed
Order Now
What personal knowledge, skills, attitudes, qualities, and life experiences do you posses that would make you a good professional psychologist? Elaborate on which of these you will bring to your training at Forest Institute. Which do you hope to develop during your training at Forest Institute?
            Each of us have different aspirations in life. Being responsibile and determined  are the key roles in being successful in life. They can help us to aspire higher goals. Sometimes the hardships that we go through in our lives discourages us from doing what we want.
            My name is  Sidra Kunnemann -McGuire. I am applying for the Doctor of Pyschology Program at the Forest Insitute of Professional Psychology . I believe that I have the capabilities needed to be accepted in this program. At the same time, I want to illustrate the qualities that I have that will help me succeed in pursuing my doctoral of psychology in this institution.
            The experiences that I had in my life shaped me into the person I am today. My family was not given the priviledge of having a comfortable home and sumptious meals. For short, I came from a poor family. I was awaken to the harsh realities of life at such an early age. These experiences contributed in honing me into the person I am today.
            When I was young, we used kerosene lamps as our source of light. We even used outhouses, which was hard to use because we did not have the proper lighting in our humble abode. For our water, they were placed in cream cans containing a dipper. People became pitiful towards our situation, but I felt that in some othe ways, we were still blessed.
            These unforgettable experiences paved the way for me to strive hard and succeed in life. As I grew older, I became highly motivated to improve my craft. I bore in mind that education is the key role in my success. Hindrances to my accomplishments boost my will rather than stop me from reaching my goals.
            I was fortunately given the great opportunity of travelling to different places. I was able to experience living, both in the different states of the United States and in other countries as well. With all of these, I have seen and experienced first hand the beauty of society's differences.  I became accustomed to their way of life, including the way they celebrate customs and traditions.
            I had my own share of contributions while I was living in the other countries. I once taught and helped enhance the interpersonal English skills of both the Japanese youth and the adults alike.
            I am proud to say that I am part of a military family. I have five children, all of whom are very active both in school and at home. Since the children were growing up fast, and there was an apparent need to move from one place to another, I had to  prioritize my goals in life. I had to sacrifice my own success for the sake of my family, especially that of my children.
            Having five children was not easy. I had to adopt a system that would allow me to cater to each child's needs. I was a hands on parent. I made sure that each child was at the designated place that they should be in all the time. I became very busy with school and family activities.
            Since I was promoting children's education, I coached a little league baseball. I even indulged myself in youth soccer and cheerleading. It was important that I teach these children the values and the importance of striving hard to achieve success. Having these activities also promoted camaraderie and teamwork to children. I know that in my own little way, I was able to share with them the values that have been inculcated in my system.
            I have always believed that education is an essential part of one's life. Even during my younger years, I have pictured myself receiving my doctoral degree from this institution. Afterwards, I want to try my luck and get accepted into the Army Health Professions Scholarship Program. Having all these in mind paved way for me to always strive hard and give my best. I realized that I can still be a professional psychologist even if I had a big family. The small steps I was making every year in my education would eventually lead me to my ultimate goal. Of course, I would never compromise or neglect my responsibilities as a parent.
            For a couple of years, I have been balancing my role as a parent and that of a student. I sought different ways to educate myself, including the nontraditional ways. I met people who could help me and whom I could learn from. Soon after, I indulged myself into trainings involving Domestic Violence, Child Abuse Investigations, and Forensic Interviewing.
            I cannot hinder myself from helping and being of service to others. In so doing, I took care of those families and their members who are in need. I not only contributed to my society, but I also learned a lot of new ideas from them.
Discuss why you believe that you are "fitted" for a future in being of service to the diverse human community as a professional psychologist.
             Each and everyone of us are capable of achieving greatness. I, for one, have always dreamt of becoming a professional psychologist. With all of my hardwork and dedication, I can fulfill my dreams of becoming an accomplished professional in the field. Likewise, I aim to be recognized for these accomplishments alongside with the colleagues I imagine working with.
            When admitted to this school, I plan to acquire more knowledge to further hone my craft. This knowledge will be relevant to my growth as a person, a parent, and as a psychologist. I believe the key to success is to have the willingness to learn. This is because by having the necessary education, one is able to enact his goals.
            However, one can learn not only within the four walls of a classroom with a textbook and pen in hand, but also through the different experiences one has through the course of life. I, for one, learned lessons at a tender age. Knowing the differences between right and wrong as a child taught me to give just value to life. Being honest, responsible, and dedicated are some of the qualities I live by.
            The challenges I faced through my childhood allowed me to be independent of the luxuries life can offer. I learned that money is not everything in this world, and that one can be content with the simple things in life. However, this does not mean that you never try harder. You never set goals that are too easy to achieve. But when you set the bar high, you work hard and make it happen.
            As a professional psychologist, I want to share my talents and knowledge to this fast and changing world. I believe I can make a difference. Also, I have what it takes to be in this field. I have several degrees, including a BA in CJAD and a BA in Psychology, qualifying me for the program. Even if I was only a few classes short from obtaining a degree in BA Forensics, I can make up for it, given my accomplishments and experiences.
            One of my goals is to adapt to the diverse and changing needs of a professional Psychologist. I want to function outside the traditional roles and to always be of service to mankind. With the kind of educational background and the experiences that I have, I believe that I can shine in my chosen field. I want to bring this knowledge with me when I study at the  Forest Insitute of Professional Psychology.
            I have a lot of plans as a professional psychologist. Since I am very much into kids, I can be a guidance counselor or a teacher in Special Education. Guidance counselors are usually a big influence in the life of students, especially those in their awkward stage. Since I have five children, I believe that I can apply their thoughts and feelings with that of my students. When my students are feeling confused and hopeless, I can reassure them of the love their parents have for them.
            The same thing goes when I indulge myself in Special Education. Those who are in Special Education mostly need guidance, care and a lot of patience. I can use my experiences as a parent and the exposure I had with the different cultures to deal with them. Future trainings and the foundation of knowledge I have acquired, together with my honed skills, will help me to use a systematic approach to answer questions, and resolve problems that could enhance the development of myself and others.
            Nothing is permanent in this world except change. Through change, we learn.
Related Topics