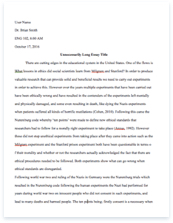 The whole doc is available only for registered users
A limited time offer! Get a custom sample essay written according to your requirements urgent 3h delivery guaranteed
Order Now
No individual is perfect in this world, however, everyone is blessed with unique strengths that can be used effectively to avoid drawbacks of weaknesses, and live a successful life. In person, God has blessed me with a number of strengths that have allowed me to prove myself as one of the best in the field. Self-confidence is an important strength that supported me in accepting challenges throughout my life, and goals were achieved through a self-disciplined and emotional maturity, which is one of my other imperative strengths. On the other hand, it is very important that an individual should incorporate his weaknesses in such a way that it may turn into strengths. Similarly, I am very altruistic, which often seems like a weakness in this rational and materialistic world. However, all these strengths and weaknesses have made me a stable and realistic person, who can bring some change in this globe.
I have finished my Undergraduate Degree in Chemical Engineering, and acquired working experience through effective management of my responsibilities towards family, work, and educational activities. Moreover, I have been associated with couple of firms, and worked with different people from diverse backgrounds, which resulted in efficient articulation of my communication skills that facilitated me in contributing effectively to in my community. During the last couple of years, I got the opportunity to work as Plant Engineer at a Waste Management facility that allowed me to be expert in the field.
However, it is very imperative that an individual must endeavor to improve and enhance his capabilities and skills, in order to survive in this competitive globalized world. In this regard, the Executive MBA program will allow me to achieve my objective of specializing in business field and becoming one of the top executive directors in the company. I have carried out comprehensive research regarding your institution and noted that effective articulation of knowledge and academic understandings are some of the imperative factors that will facilitate me in working effectively in my organization while attaining my Masters degree from your reputable educational institution.
After researching the profession, I have gained tremendous respect for it. I saw how this profession has been an important factor in so many organizations. I am immensely confident, love to accept challenges, and have been able to achieve my goals through right academic direction and my passion to learn different aspects of information technology, which makes me a potential student for your reputable institution. An excellent faculty plays a vital and crucial role in fulfillment of desire for a life-long process, and that is one of the reasons for choosing your reputable organization. In addition, offered courses for the abovementioned Masters Degree have been researched in detail, in order to understand the significance and application of business concepts in practical life.
Lastly, with the much that I have already achieved in my life and a strong commitment and obsession for more, I know that I will be taking to study business administration as my own way of contributing to the progress and development of my family, community, the entire world, and myself as well. Finally, I thank you very much for your kind attention to my application.
Related Topics